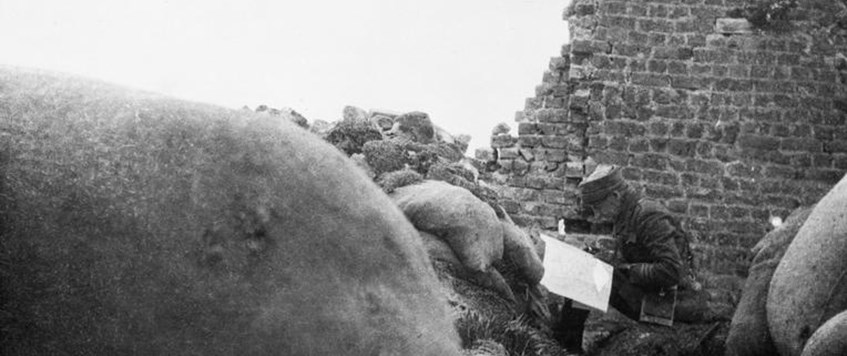 Phil Davies will be giving a talk on the Battle of Aubers Ridge, May 1915. 
Phil is a former Secretary of the South Wales Western front Association, now Chairman. A member of the W.F.A. since 1982. Served on the committee which funded and erected the Memorial to the 38th (Welsh) Division at Mametz Wood 1987. Undertook an advisory role on the Welsh Government's Cymru'n Cofio Committee which led Welsh national commemoration events for the 1914-18 Centenary. Former Deputy Head at Fitzalan High School, Cardiff. Co-prepared the book, "Lest We Forget" for the Church of St. Mary, GlynTaff and Hawthorn High School. Leader of many trips to the First World War Battlefields.
Zoom link to the meeting: https://us02web.zoom.us/j/88443471049?pwd=eldQL011VFV5anNuSUhwU3U2ZGRsZz09
Image: Colonel Napier CRA, in La Cordonnerie Farm. The German trenches were about 70 yards distant from this position. © IWM Q 56180
Canton Rugby Football Club, Lawrenny Avenue, Cardiff CF11 8BR.
07 Oct 2022 19:30