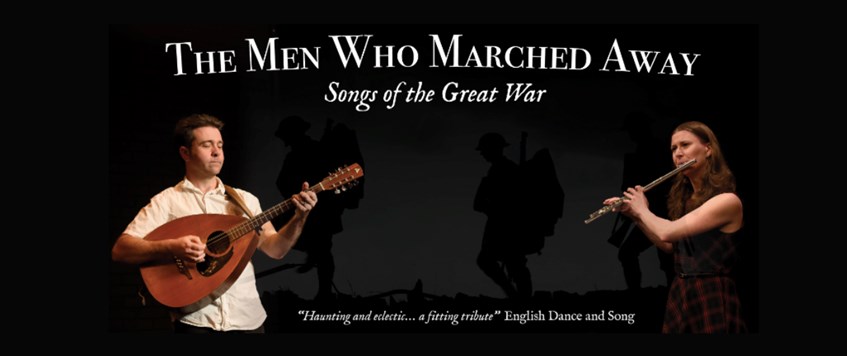 Acclaimed musicians Chris Green and Sophie Matthews use music and song to convey the story of "The War to End All Wars," -  created to celebrate the 100th anniversary of the First World War.
The Men Who Marched Away is a stunning mix of soldiers' songs, music hall numbers, and war poems set to new music and original compositions. There's not holding back from the horrors of showing how terrible the Great War was, but the concert also shows how brave and funny the soldiers and those left behind could be.
The Men Who Marched Away is a moving tribute to the fallen and a good reminder of what they gave up. It has plenty of well-known WW1 wartime songs, like 'Pack Up Your Troubles,' 'Tipperary,' and 'Goodbye-ee,' as well as brand-new musical settings of poems by May Wedderburn Cannan and C. Fox-Smith, who are not as well-known.
Tickets are 18€/15€
Available through: Green Matthews 
or purchase tickets directly here > The Men Who Marched Away 
St George's Memorial Church, B8900 IEPER
Concert: The Men Who Marched Away 'Songs of the Great War', mail@greenmatthews.co.uk
15 Apr 2023 20:00