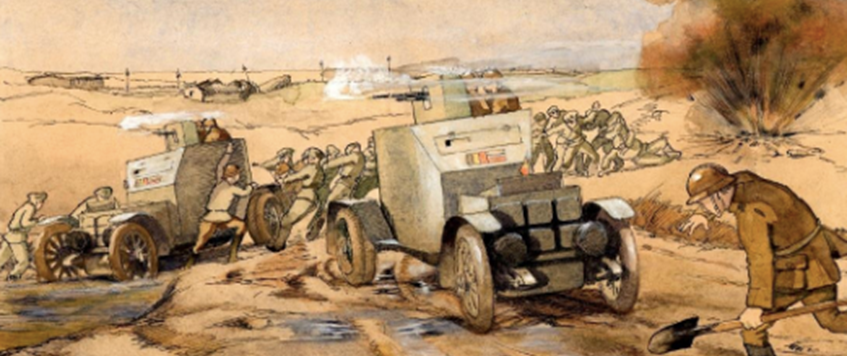 The Belgian Army's First Armoured Car Unit, organised in Paris and known as ACM, was transferred to Imperial Russia in 1915. The ACM-Belgians arrived in Saint Petersburg by the end of 1915 and in the summer of 1916 their combat cars were deployed on the Galician Front in western Ukraine against Austrian and German troops.
In 1917, the Belgians got involved in the Russian Revolution and got stuck in Kiev when the city was occupied by Bolshevik troops.
In early 1918, the ACM-men traveled by train through Siberia and had to ward off Bolshevik attempts to stop them. An American ship picked them up in Vladivostok, whereupon they crossed the Pacific Ocean and disembarked in San Francisco. This was the start of their grand tour with military parades across the USA to New York.
In this presentation, researcher and author August Thiry illustrates the amazing adventures of the Belgian armoured car unit during the Great War with many never before seen photographs. 
Part of a seminar series exploring the history of the First World War presented by In Flanders Fields Museum and the School of History, University of Kent in partnership with the Western Front Association and the Gateways Partnership
University of Kent, Keynes Lecture Theatre 3, Canterbury
'King Albert's Heroes. The Odyssey of a Belgian armoured corps, 1914-1918' with August Thiry (Independent scholar), ArtsHumsAdmissions@kent.ac.uk
24 Nov 2022 18:00