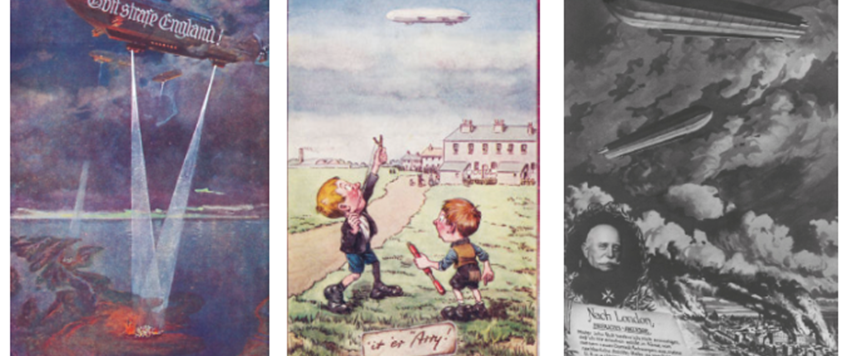 Germany's aerial bombing campaign against Britain was an unprecedented development in warfare. The civilian population found itself on the front line for the first time, and the public's anger, frustration and demands for retaliation were tempered by a remarkable resilience. This was expressed with humour through the medium of the humble picture postcard and a demand for souvenirs.
The talk will be given by David Marks. 
David is a committee member of The Great War Aviation Society and a longstanding member of the Airship Heritage Trust. He regularly lectures on Zeppelin raids, drawing on a unique and extensive collection of postcards and contemporary memorabilia. David also writes the Society's quarterly e-newsletter, 'Wind in the Wires', which has over 1,600 subscribers. David also regularly contributes to books, journals, magazines and other WW1 projects. His first book, 'Let the Zeppelins Come', focusing on the morale-boosting impact of comic postcards to the British public, was published in March 2017 and received national press coverage. His second book, 'The Zeppelin Offensive: A German Perspective in Pictures and Postcards', was published in October 2019. 

This talk is offered free of charge to all Great War Aviation Society members and subscribers to their free quarterly e-newsletter, 'Wind in the Wires'. To subscribe, click this link: https://bit.ly/3DWh9Ey.
Registration details will be sent to all subscribers in advance of the talk.
King's College London, Strand, London, WC2R 2LS
ONLINE: "Let the Zeppelins Come, I Don't Care" with David Marks, email@crossandcockade.com
18 May 2023 21:00