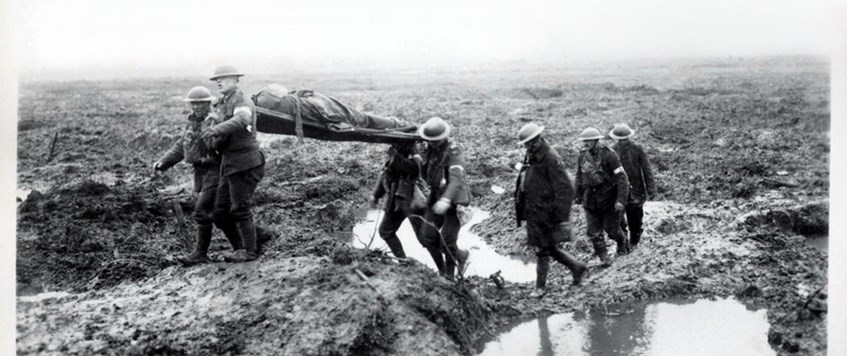 Visit the Worcestershire one day event to be held at St Helen's Church, Worcester on November 4th 2017, commemorating the end of the 3rd Battle of Ypres, also known as Passchendaele.
Between 31st July 1917 and 10th November 1917, 3 months of brutal fighting ended after the village of Passchendaele was finally captured from the Germans. Around 500,000 soldiers from both sides had been wounded, killed or were missing.  Several hundred men from Worcestershire lost their lives during the battle to take the village and many more would die in the following months from wounds received during the fighting on the Ypres Salient.
Our event, which will remember all those lost during the battle, but in particular the fallen of Worcestershire, will commence at 10am with a short service led by the local Royal British Legion Chaplain, the Last Post and a one minute silence to honour the fallen.  The service will be followed by a short opening ceremony by the Deputy Lord Lieutenant, Viscount Cobham.
Throughout the day there will be exhibits relating to the battle, and experts on hand to answer questions, discuss the involvement of ancestors and to comment on any memorabilia.
There will be 3 short talks relevant to 1917 as well and poetry and letter readings and a small children's activity area relevant to the Great War with the opportunity to make poppies and various other items and even dress up in some WW1 clothing.
This is also an excellent opportunity to view the inside of the historic church of St Helen's, thought to be the oldest site of Christian worship in Worcester.  Members of the church will be providing light refreshments during the event.
For further information please contact Sandra Taylor: tommy@rememberthefallen.co.uk
St Helen's Church, Fish Street, Worcester WR1 2HN
Remembering Passchendaele, tommy@rememberthefallen.co.uk
04 Nov 2017 10:00