Many Western Front Association members may be having to 'self isolate' at the moment, and this must be a real strain. 
To give yourself an interest members may wish to become involved with Project ALIAS, the full details of which are available here on the WFA web site: Project ALIAS: what is it and how is it going?
An example of just one of the men who are being examined by this project is detailed below.
Hugh William Ching was born in Brixton on 25 January 1887 to Richard (a grocer's assistant) and Ann. In 1906-07 as an apprentice with British Westinghouse, Trafford Park, he enrolled on Electrical Engineering courses at the Manchester Municipal School of Technology.[1]
Because there is an entry for him in De Ruvigny's Roll of Honour, we know Hugh joined the Queen's Victoria Rifles in 1912 and volunteered for foreign service in August 1914. 
It is likely that he used an alias because of his Chinese surname (there is no clue about his ethnicity that can be found, his father was born in Devon in 1843). The army recorded his name as Hugh William Power, and that is how he served, and ultimately died.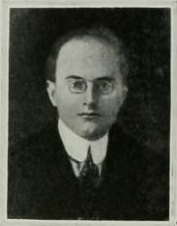 Hugh was killed on 26 March 1915. 
Writing to Hugh's wife his Captain commented: 'All who knew your husband appreciated him very much, he was in every way a good soldier, no higher praise can be given to a man". 2nd Lieutenant K. Lloyd wrote recalled him to be one of the staunch ones and said: "Ever since that first night when he took out a listening patrol, he has been a great rock of comfort to me. It is just the men like him that give such a feeling of confidence to us when we feel a touch of downheartnedness. I am glad to say I was able to go back to him for a moment after he had been hit and the last I heard of him he was calling "Good Luck" to his friends as they filed past him along the path.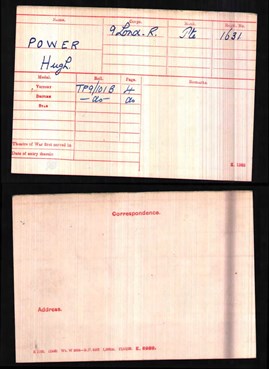 Above: his medal index card, which indicates the medals were issued under his assumed name.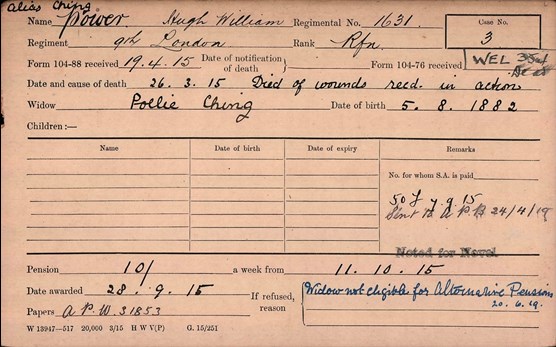 Above: the pension card showing the link between 'Power' and 'Ching'
Above: the further proof, within the pension records of an 'alias' being used.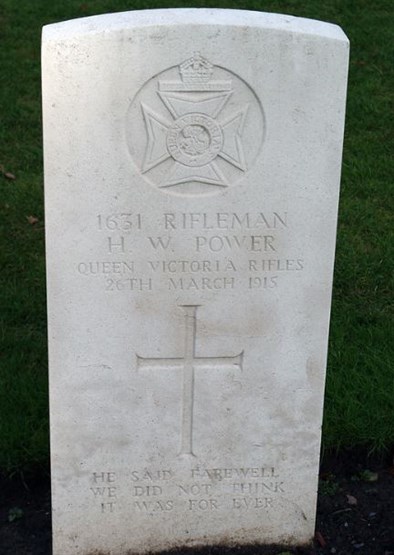 Hugh Ching's headstone at Ramparts Cemetery, near the Lille Gate in Ypres. 
If you would like to help us with Project ALIAS, please get in touch
Further details are here: 
Project ALIAS: A major scheme to locate men who served using a 'different' name
Project Alias: what is it and how's it going?
Project Alias and Project Capture - how WFA members are working on the Pension Records
Project ALIAS reveals the man who is listed twice
John Shirley - the soldier with two commemorations
Stewart McVey: The soldier with TWO aliases
[1] http://www.ww1.manchester.ac.uk/roll-of-honour/hugh-william-ching/