As most members will be aware, some years ago The Western Front Association saved from destruction millions of pension records of men who served during the Great War.
Several sets of these records have already been published by the WFA's partners Ancestry.co.uk via their 'Fold 3' platform and made accessible for WFA members via the association's website.
We are delighted to announce that the final set of records have now been fully digitised and made available. As detailed below, this represents the largest set of records which will undoubtedly greatly assist family researchers and historians in tracking down men who served and survived the conflict. This set can be described as 'Other Ranks, Survived' cards.
What is this 'final' set?
The final set of cards are those for men who survived the war and claimed (although were not necessarily granted) a pension. It is for British servicemen (sailors, soldiers, airmen) and not for other national contingents (although there are exceptions to this rule). It does not include officers whose cards were made available some months ago.
What do these 'Other Ranks Survived' cards tell us? 
This gives us the name, rank, number and regiment of the serviceman. Quite frequently it shows all regiments / regimental numbers (for instance when the men were transferred to different regiments - and frequently (if injured) to the Labour Corps). The cards also provide addresses in many cases.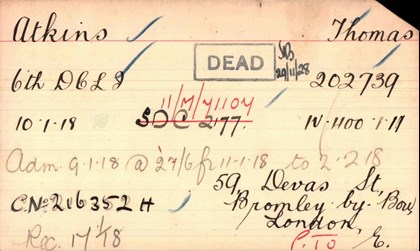 In numerous instances the cards also 'point to' the ledgers which were saved. They do not however provide next of kin details nor (generally) details of wounds received.
Sometimes there are 'gold nuggets' of further information. 
The benefit of these cards are that it is possible to identify men who survived (especially if there's an address on the card) and thereby open up further avenues for research in a way that has not been possible.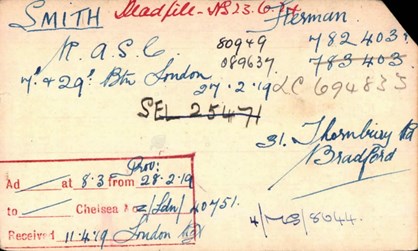 Are the cards a 'full set' or are they weeded?
This is a full set of cards and have not been weeded by the MoD nor damaged by the Luftwaffe in the Second World War. It is however limited to those men who claimed a pension (whether or not it was granted).
How many cards are there? 
It was originally thought these cards numbered 2.4 million. A revised figure of 2,917,148 has now been established.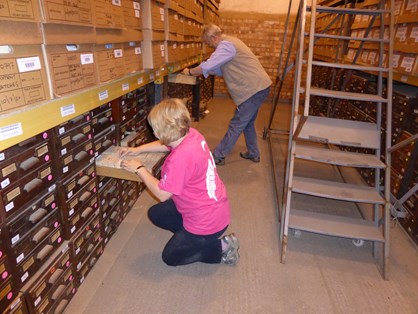 Above: The 2.9 million cards housed in 943 wooden drawers prior to digitisation.
Above: Just one of the drawers - this one containing the cards for the men between Brough, Henry and Brown, Cephas Henry - a total of 2740 cards split into two 'halves'. 
Are there more 'WFA' cards in the pipeline?
No this is the last of the releases. 
Is it possible to isolate the 'other ranks survived' from the other sets of cards?
Yes - see video below 
How do I find out more?
Please see the article via this link Examples of 'Other Ranks Survived' Cards
How do I view these if I'm not a member of The Western Front Association?
These are freely available to members of the WFA. Join us via this link JOIN THE WFA