Members received their August 2022 edition of Stand To! over the weekend.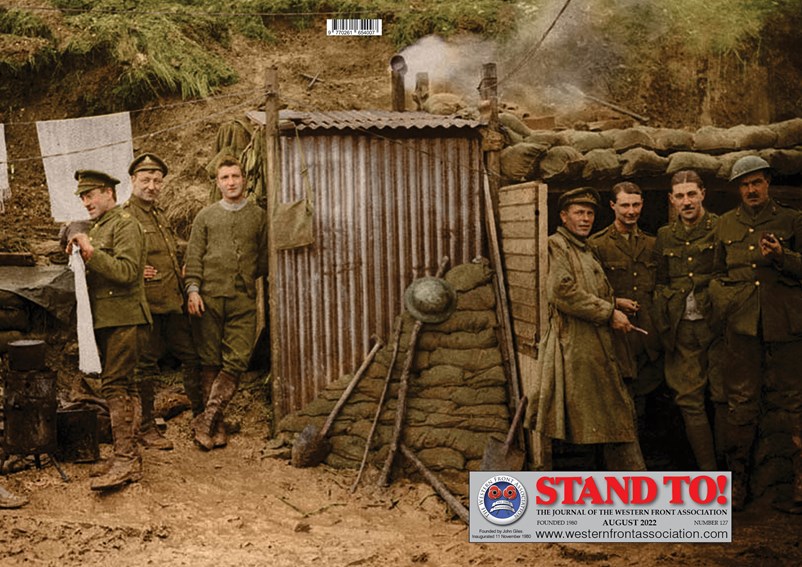 This extraordinary photograph which features across the front and rear cover shows artillerymen outside dugouts, Somme 1916.  A pot is steaming on a brazier made of a tin drum. © Colourised by Tom Marshall at PhotograFix.
Packed full of articles written with flair and a passion for original photographs and maps, and a set of insightful reviews of books on the First World War too - including a special report by Nick Cave on the iconic Battleground Europe series.
Articles in Stand To! this month include:
The Camera Returns (108) by Bob Grundy and Steve Wall
'Missing, No Evidence Available...' Whatever happened to Fred Eastwood? by Graham J Howie
2nd Lieutenant Joseph Maude, 6th Duke of Wellington's Regiment – Hero or Villain? by Chris Noble
Britain's Changing Influence Over the Design, Development and Deployment of Allied Tanks in the Great War by Cameron Ward
'The Scratch of the Surgeon's Knife' John Singer Sargent's Gassed by Gary Haines
Jackie the Baboon by Dirk Danschutter
Royal Navy Chaplains by Tom Scherb
Wounded Veterans of the First World War The impact of wounds and medical/psychological conditions as recorded in the pension ledgers by Peter Hodgkinson 
The Full Contents Listing for Stand To! No.1 to No.127 has also been brought up to date.