Just out, the member magazine of The Western Front Association. Bulletin. Issue No. 119. March 2021.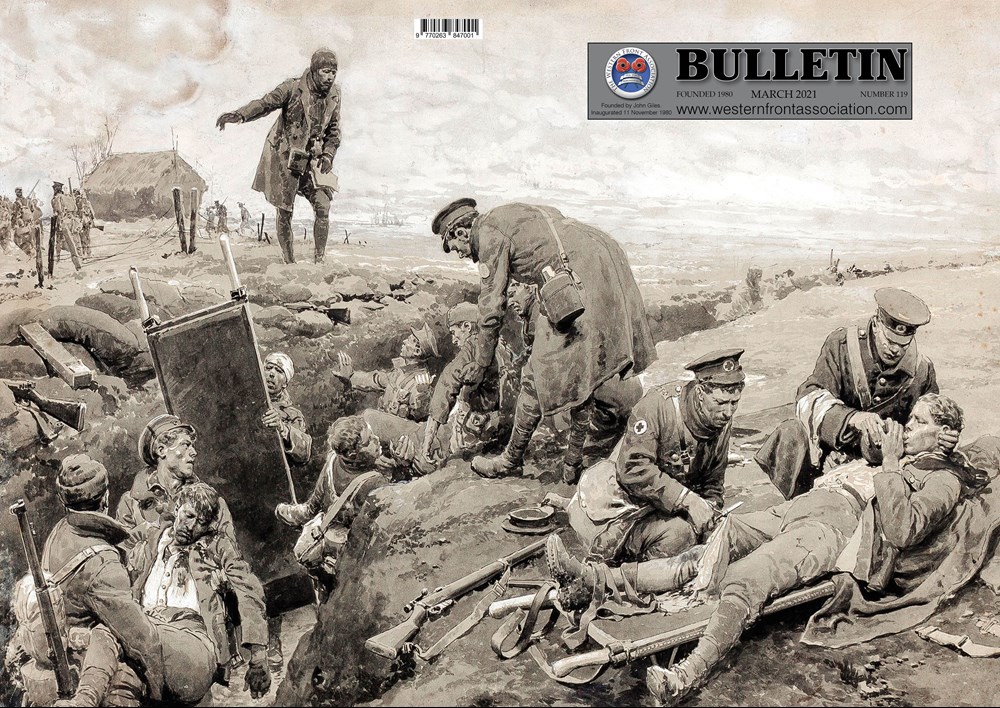 Front and Back Cover: The work of the Royal Army Medical Corps: First Aid in the trenches, R.A.M.C. orderlies gathering the wounded in a British trench after a successful advance. Illustration by Fortunino Matania (1881-1963) used in The Sphere, London, 6th March, 1915.
A squad of stretcher bearers, usually ten in number, has been in the trench with the men, occupying the position shown. They are now proceeding to render first aid to the wounded and to remove them on stretchers where necessary to the second line of bearers, who are at some little distance in the rear. Usually, this work takes place in the dusk or at full night-time. On this occasion, however a successful advance has been accomplished, and the British troops are now occupying the line of captured German trenches. Their own are, therefore, being cleared of wounded. These men will be carried by the second section of bearers down to a position where they will be met by Red Cross ambulance cars, which speedily convey them to hospital.
A prolific Great War artist Matania had a clear and perceptive eye for detail and realism in his work. There are splendidly printed reproductions of every magazine work which the artist completed for the weekly magazine The Sphere, published by the Illustrated London News. www.maryevans.com
Image courtesy of Abbott and Holder Ltd., 30 Museum St., London, WC1A 1LH. Picture dealers and conservators. www.abbottandholder.co.uk 
| | |
| --- | --- |
|  CONTENTS | Pages |
| Revolution, war and pandemic 1918-1919 by Sir Hew Strachan | 2/5 |
| Walking the beginnings of the Western Front by Dominiek Dendooven.                 | 5  |
| ExCo matters  | 6 |
| Digital & Development | 7/8  |
| Project Hometown | 9/11 |
| Pension Records | 12/13 |
| Stereoscope  | 14 |
| News from Ypres | 15/21 |
| German Trenches on Zonnebeke Road | 18 |
| Yorkshire Trench. | 19/20 |
| John McCrae and Windy | 22 |
| Communication Lines | 23 |
| Obituaries  | 24/25 |
| Rose Coombs Queen of the Battlefields by Professor Peter Simkins | 26/27 |
| Early members and their Veteran Stories | 27/28 |
| Bound in insert 2019-2020 Annual Report & Account | 1/24  |
| Branch Contacts & Lockdown Reports | 29/35 |
| Italian Army and the Isonzoby Bill Mitchinson  | 36/40 |
| Education Matters | 41/43 |
| Bolton and the Great War by Rob Thompson | 44/51 |
| Sam Sutcliffe's war | 52/55 |
| Garrison Library | 55/56 |