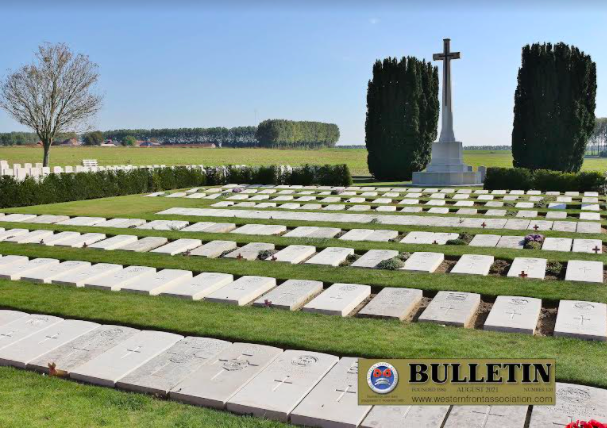 Bulletin - the internal magazine of The Western Front Association is published three times a year and includes national and branch notices, as well as articles. It is available to members in either print or digital form. 
August 2021 Contents 
The Experience of Mass Bereavement by Professor Mark Connelly : pages 3-6
12/13th June Virtual Conference: With NAM & BCMH. Three papers on the British Empire and Dominions at War: 1914/1919: pages 6-9
We Are The Legion:100th Anniversary by Julie Summers: pages 10-15
True Toll of NZ Wartime Crisis and Stress by Dr Christopher Pugsley: pages 16-17
British Red Cross Partnerships and Mr Goff by William Hanigan: pages 18-22
ExCo Matters: pages 23-28
Chair Address, European, Digital and Development Reports. Minutes of the 40th AGM held on 24th April by Zoom.
Branch Contacts, Meetings & Post-Lockdown Reports: pages 29-40
40th anniversary. Jonathan Nicholls 1980 memories: page 41
Education Matters by Eve Wilson: pages 42-44
Walking the Somme by Jeremy Clarke: pages 45-46
News from the Somme by Poppy Mercier: pages 47-48
News from Ypres by Dr Dominiek Dendoovan: pages 49-52
Nieuwpoort; Grandson reaches out to Granddad by Richard Jefferies: pages 52-53
Collateral Damage by Caroline Adams: pages 54-57
War Cabinet Despatch Box by Geoff Bridger: pages 57
March to the Marne by Ross Beadle: pages 58-62
Torpedoed three times in a morning by Richard Pursehouse: pages 63-64
Communication Lines: page 64