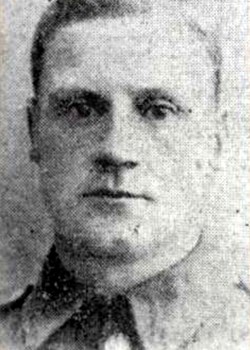 Born in Burnley, Lancashire in 1881
Stephen Healey was a coal miner and later a town corporation labourer. 
He was married to Ada Wilson, a cotton weaver, and lived at 57 Marlboro' St, Burnley. In 1911 Stephen was sharing accommodation with his young family, their 4 year old son Walter, and his sister and brother (she worked in turn in a cotton mill and he was in a mine).
By the time of the outbreak of war Stephen and Ada had two further children, Ada born in October 1914, and Stephen in March 1917.
Pre-war, Stephen had seen seven years service in the Reserves and so he re-enlisted into the Territorials (5th Bn East Lancs) in August 1914.
After serving in the UK with the 2/5th Battalion for over 2 years, he embarked for service on the Western Front in March 1917.
Initially serving near the Flemish coast, Stephen was soon embroiled in the 3rd Battle of Ypres following which he fell ill and was evacuated to the rear.
Age 37, Stephen died of sickness in the 24th General Hospital, Étaples on 1st January 1918. He is buried in Étaples Military Cemetery, France.
Cpl. Stephen Healey died of illness in the 24th General Hospital, Étaples on 1st January 1918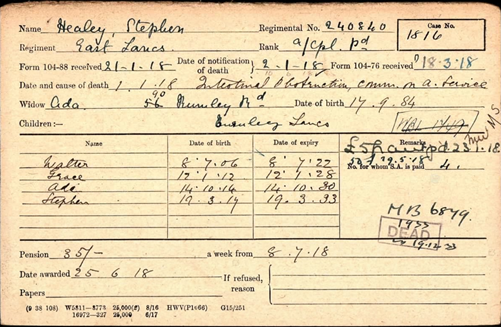 Above: The Pension Record Card for Stephen Healey - one of millions of pension records saved by The Western Front Association and available for members to access.  
1 January 1918 died of illness.
Research by David O'Mara
Sources:
UK, Commonwealth War Graves, 1914-1921.
UK, WWI Service Medal and Award Rolls, 1914-1920
1911 England Census
The Western Front Association Pension Records