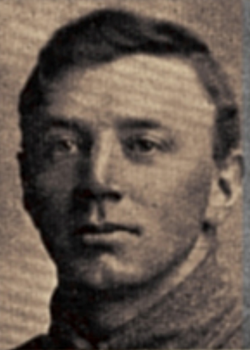 Born at Sleaford, Lincolnshire
John grew up at Oakworth, Yorkshire, where he lived and worked on his father's farm. After emigrating to Aukland, New Zealand in about 1913, he lived at Napier and enlisted into the Wellington Regiment in early 1915.
After his training, John embarked for overseas service on board the Willochra on 13 November 1915 bound for Egypt, and then on to the Western Front via Marseilles. After being injured during the 'trench acclimatisation' periods in front of Armentieres in May and June 1916, John died of his wounds on 10 June 1916. He is buried in Bailleul Communal Cemetery Extension.
Pte John Joseph Robinson, 2nd Bn Wellington Regiment, NZEF.
10 June 1916
Research by David O'Mara