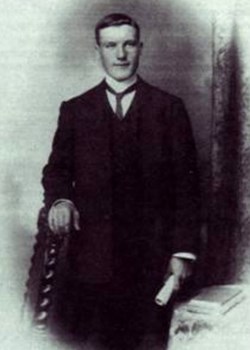 John MacGregor was born 11 February 1889 at Cawdor in the County of Nairnshire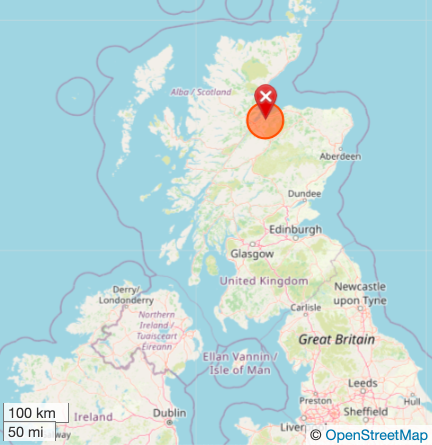 John was the third child of William and Hanna MacGregor.
John was brought up on a croft at Newlands of Urchany and was baptised at . He attended Geddes School, Cawdor School and Nairn Academy when he left full time education in 1907.
When he left school he was apprenticed to Mr George Tolmie of Nairn as a Master Carpenter and Stone Mason. He also joined the Nairn Garrison Artillery.
In 1908 his father died of a stroke and, as was the custom, the croft was handed on to the eldest son.
The following year, on his 20th birthday in 1909. John told his family that it was his intention to emigrate. He booked a passage with Cunard and left Scotland. He travelled to Canada from Liverpool, across the Atlantic to Montreal.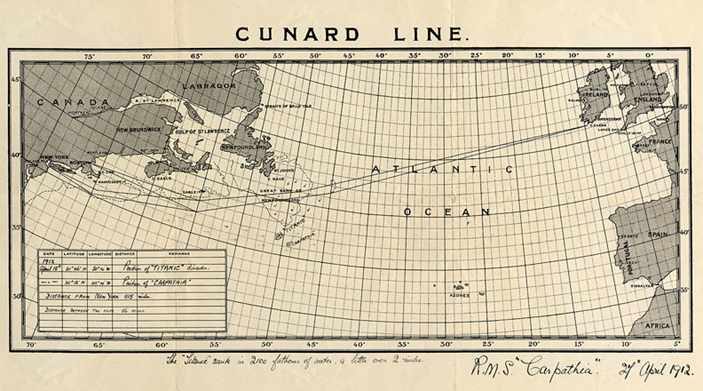 From Montreal he worked his way across Canada utilising his skills as a carpenter, mostly on the burgeoning railroads building trestle bridges, moving west as the work moved west.
On his route west he also worked as a cowboy. During this time he found a Cree Indian with a broken leg out on the prairie. He tended to him and returned him to his village where the Indians gave him geranium seeds as a thank you for helping one of their own. He then crossed the Rockies, went into America for a short time then returned to Canada in Vancouver where he worked on the construction of the University of British Columbia.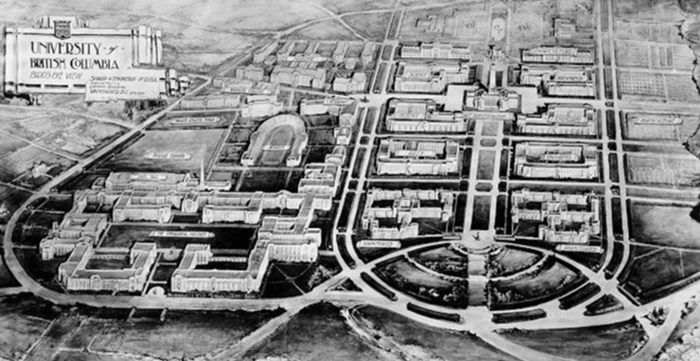 Whilst working on the University he found a map of the west coast of Canada and saw how remote the north west region was. In the autumn of 1912 he booked a passage north to Prince Rupert.
On his arrival at Prince Rupert he secured a job at the dry dock, again as a carpenter. He became friends with another worker, Archie MacPhee, who had spent time as a trapper. It was his tales of the backwoods that sent John off at weekends learning from Archie the art of setting traps and fishing. He eventually bought his own equipment and supplies and, in late 1913, he set out by canoe up the Skeena River for the backwoods north east of Prince Rupert. He built himself a log cabin and planted the geranium seeds the Cree had given him. When the leaves are crushed and mixed with fat or grease then applied to bare skin it apparently stops the midges from biting.
In the winter of 1914/15 a ranger passed his cabin and told him that Britain had been at war with Germany for six months. He immediately pulled his traps, greased and packed his tools, left a note on the door that he had gone to war, donned his snow shoes and set out cross country to the nearest railway at Terrace. He took food for 7 days. If he didn't make it in 7 days he would not make it at all. He travelled at night and slept by day, making the over mountain and cross-country journey in 5 days.
When he arrived in Prince Rupert he went to the recruiting office smelling and looking like a tramp. He was thrown out for 'being unfit for duty in the Canadian army'. He caught the next boat down to Vancouver, cleaned himself up and on 26 March 1915 he took the King's Shilling. He became 116031 Private John MacGregor of the 11th Canadian Mounted Rifles.

Initial training took place in Vancouver, following which the 2nd and 11th Mounted Rifles travelled by train back across Canada and then by ship over the Atlantic to England. The 11th were barracked at Shorncliffe Camp in Folkstone, Kent. By June 1915 the German advance had been halted and the war had become a static affair. Both sides were digging in their trench systems and it was found that cavalry were of little value in these conditions. It was decided that the mounted units would combine with the infantry. On 20 July 1915 John became a trooper with the 2nd Canadian Division. After a short leave with his family in Cawdor they embarked for France on 22 September 1915. Four days later they were in the front line around Ypres. The Battalion spent the next year in and out of the front line in various locations. The area they were sent to was very flat with the water table close to the surface and, as John described it, "We supped, slogged, shit and slept in deep unrelenting mud".
In August 1916 they were in the line on the Somme beyond Albert.
The Germans made counter assault after assault but were driven back each time. The 2nd called for artillery support. When it came it was too late and fell short. The Germans didn't bother to attack. They just joined in with their own artillery. The 2nd had so many casualties they were taken out of the line next day. On 25 September 1916 John was promoted from Private, straight to Sergeant. He realised it was dead men's shoes because the battalion had lost so many officers and NCOs. On 16 October 1916 they were pulled out of the Somme area and were sent to what was to become a very familiar phrase in Canadian military history: Vimy Ridge
The Germans had seized the town in 1914, together with the infamous ridge and all its fortifications. Thousands of British and French troops had died trying to take it, but now it was the turn of the Canadians. Prior to the main assault they had built training trenches where John drilled his men and the artillery had perfected the 'rolling barrage'. At 0530 hrs on 8 April 1917 (Easter Sunday) the attack began. The guns had already been blasting away for days when the rolling barrage started. John's C Company objective was the toughest. Cross 700 yards of defensive positions, (from the top of The Brae to the Station Car Park), capture the principal trench known as The Zwischen Stellung, fire three white flares to signal it had been taken, reverse the trenches and dig in. Eye witness reports of the attack state:
When the barrage started, Sgt MacGregor cried out, "What are we waiting Furr" and, climbing out of his trench, started forward roaring "Follow me boys, follow me". And follow him we did. Bullets whined, thudded and pinged through our ranks and grenades boomed splattering mud and shrapnel. Lucky for us the blowing snow hindered the snipers. Jock led us up the slopes behind, and sometimes in the creeping barrage, zig-zagging and leaping from crater to hillock to crater, but always forward. He was nearing our objective when a Hun machine gun rata-tat-tatted at his platoon. Yelling at us to lie low, Jock charged the machine gun nest, killed the crew and captured the gun. He saved many of our lives that day. When we reached the Black Line he called for the enemy to surrender. The German troops dropped their weapons and raised their hands.
They reached their objective in 30 minutes. Of its 23 officers, the 2nd CMR had lost 4 killed and 5 wounded. In four days the Canadians had lost 3,598 men killed and over 7,000 wounded. On 17 May 1917 John was commissioned in the field to Temp Lieutenant and was awarded the Distinguished Conduct Medal. This was the highest award short of the Victoria Cross that may be made to a soldier below the rank of Warrant Officer. The official citation reads:
116031 Sgt MacGregor, John
2nd Canadian Mounted Rifles
Distinguished Conduct Medal
For conspicuous gallantry and devotion to duty. He single handed captured an enemy machine gun and shot the crew, thereby undoubtedly saving his company from many casualties. London Gazette 30204 26-7-17
Over the next few months the 2nd Battalion moved in and out of the line over a wide front and, just before Christmas 1917, they were moved into the area of Hill 70.
On 28 December 1917 at Hill 70 John twice led reconnaissance patrols into No Man's Land through the snow wearing white sheets as camouflage. He was gaining experience and familiarity of the terrain, which would later prove useful. This was all to gain intelligence for a raid on 12 January 1918. C Company's lines were 50 yards from the Germans and they often used to shout pleasantries at each other. At 01200hrs, John's group of 18 Privates, 4 Corporals and a Sergeant set out. So as not to warn the enemy they set out in ones and twos making for a large shell hole to reassemble. They were discovered and came under attack from bombs and rifle fire. John knew it was futile to carry on with the existing plan but did not abandon the assault. He personally amended on the spot the GOC's orders by changing direction to another part of the line. Together with the Sergeant and a small party of men they went forward. They laid bathmats over the wire and stormed the trenches while the rest of his party gave covering fire. The German light machine gunner ran away. They bombed and bayoneted right and left and captured two prisoners. They were back in their lines by 0220 hrs. John had been hit in the hand but not seriously. After this action he was given 14 days leave and during that leave was promoted to Temporary Captain. For the recce and the attack he was awarded the first of his Military Crosses. The official citation reads:
Lt John MacGregor, D.C.M. Mtd. Rfl.
For conspicuous gallantry and devotion to duty. Whilst he was assembling his men prior to a raid, the enemy bombed the trench. He, however, changing the point of attack, led his men over the wire into the enemy's trench, and successfully dealt with the garrison of the trench and three concrete dug-outs, himself capturing one prisoner. He then withdrew his party and his prisoner successfully to our trenches. Before the raid he, together with a sergeant, had made several skilful and daring reconnaissances along the enemy wire, which materially assisted in the success of the enterprise.
London Gazette 30845 16 August 1918.
On 16 March 1918 the war diary again makes mention of John:
At about 4pm one of our planes was brought down in front of our lines. The enemy shelled the spot at once with high explosive and fired on the plane with machine guns. Upon seeing the plane fall, Captain MacGregor MC DCM of C Coy immediately went over the parapet and despite the heavy shelling and machine gun fire succeeded in getting both the pilot (who was wounded) and the observer to our trench.
He should have received a bar to his MC for this action but apparently the deed was not thought worthy enough.
In September 1918 the Canadian Divisions were moved to the front area near Cambrai.
The Canadian Corps was not given the city but were told to capture the high ground over the Sensée Valley and all three defence lines. This was not to be a short range battle like The Somme or Vimy Ridge but advances were measured in several miles. All other units agree that, for the Canadian 3rd Division, Cambrai turned out to be the bloodiest engagement of the war with greater losses than The Somme, Vimy Ridge or Passchendaele. The losses are due undoubtedly to the maps the commanders had to work with. The area of operations were where four maps joined together and the grid squares for the grid references didn't even match. There were also miles of barbed wire, deep mud and they were not to have the cover of a rolling barrage.
On 28 September the 7th and 9th Canadian Infantry Divisions failed in all their objectives. Those that came down the Douai Road were cut to pieces by machine guns. The following day, new plans were laid and reinforcements brought up. There were major problems with the positioning of the troops because of the maps. In the first 30 minutes of the advance, John's C Company was engaged in heavy fighting around grid 20A. They managed to clean up the machine gun nests, capturing five guns and dealing suitably with the crews. John had put one nest out of action single-handedly. The advance then stalled. They were outflanked on the left and for the first time in the history of the regiment men got cold feet and refused to go forward. John sized up the situation, grabbed a rifle and darted out into the open. He reached the enemy position almost unscathed, bullet holes in his tunic and a wound to his knee. He killed four, captured eight then went back for his men. He then got reports that the officers of D and B Companies had all been killed. He immediately took command of these men and led them forward.
The battle ebbed and flowed through 29 September and into the next day. The fighting died down for the night. John, with C Company had been on the go for 36 hours and, apart from using his shillelagh as a walking stick, he was ignoring the wound to his knee. On 30 September they were trying to achieve their target of seizing the bridges over the canal. John was way in front of his forward troops and undertook what was recorded in the records as "a personal Reccy". He moved south and found St Remy partially vacated so moved his men in. They were not yet at the bridges. He sent out patrols, found the way relatively clear and moved forward. They reached the dock in Grid A4c but could go no further. For three days their own artillery pounded their positions and no amount of messages sent to headquarters could get it stopped. Their advance was stopped by their own side, not by the Germans. For this action Capt John MacGregor DCM MC was awarded the Victoria Cross and the official citation reads:
For most conspicuous bravery, leadership, and self sacrificing devotion to duty. He led his company under intense fire, and when the advance was checked by machine guns, although wounded pushed on and located the enemy guns. He then ran forward in broad daylight, in the face of enemy fire from all directions, and with rifle and bayonet, single handed, put the enemy crews out of action, killing four and taking eight prisoners. His prompt action saved many casualties and enabled the advance to continue.
After reorganising his command under heavy fire he rendered most useful support to neighbouring troops. When the enemy were showing stubborn resistance, he went along the line regardless of danger, organised the platoons, took command of the leading waves, and continued the advance.
Later, after a personal daylight reconnaissance under heavy fire he established his company in Neuville St Remy, thereby greatly assisting the advance into Tilloy. Throughout the operations Captain MacGregor displayed magnificent bravery and heroic leadership.
In the final days of the war the allied troops chased and harried the German retreat. Near Crespin on the Belgian border three rivers have to be crossed. the Rhonnelle, the Aunelle and the Honnelle.
The 2nd CMR were given the job of capturing the bridges before they could be blown up. Six sappers were attached to each company to defuse the explosives. John's expertise in trapping proved useful in a reconnaissance role. He personally reconnoitered not just the approaches but he went onto the bridges themselves. At the Aunnelle and Honnelle bridges he reported that that the wire and explosives were in position but the enemy was not alert. The Grand Honnelle was seized and made safe without the enemy knowing. The other bridges, although not so easily taken, were made safe due to his supplied intelligence.
John's unit was then given the order to attempt to secure a bridgehead over the Condé Canal. John took two companies and reached the banks. The enemy blew the bridges and then withdrew in the night. The following morning they crossed the canal and then, with the remainder of the CMR, facing no major opposition, went on to liberate Mons.
The war diary of the 3rd Canadian Division described his reconnaissance work as "An outstanding piece of work".
The medal citation reads:-
5th to 8th November 1918, Quievrain and Quievrechain. Through his personal reconnaissances and initiative the bridges over The Honnelle River were secured. His prompt action in seizing the crossings did much towards the final rout of the enemy.
At Buckingham Palace on February 26th 1919 His Majesty the King decorated Captain John MacGregor with the Victoria Cross and also a bar to his Military Cross.
Aftermath
The Canadians left for home on 17 March 1919. Back in their homeland there were parades and receptions for the homecoming heroes and John, along with other VC holders, was always in great demand. He was demobilised and struck off the Expeditionary Force Register on 9 April 1919 in Vancouver and arrived back in Prince Rupert on 16 April 1919.
He now had to find work so with James Newall, an ex Sergeant whom John had befriended on the way home, set off back up the Skeena River to collect his tools. The door was off its hinges but the tools were still there. He took various jobs but found it hard to adapt to civilian life again. James was a fisherman, so he and John decided to buy their own boat. John would finance the project and James would supply the expertise. A boat was found, refitted and re-equipped. On their first trip one of John's crew was hauled overboard by a massive Halibut and sustained serious injuries. To save the man's life John let all the expensive gear go by cutting the lines and raced back to port. The man had no savings and the hospital bills were piling up. John decided to re-mortgage his boat, re-equip it and gave the left over money to the family to pay the bills.
Sometime in 1923 John was walking along one of the timber docks when he heard an explosion from one of the docked ships. The boat was well alight when he reached it so he jumped on deck and with an axe cut the lines and pushed it away from the dock. He then leant over the side and hacked a hole in the side to sink the vessel. His prompt action saved the wooden dock from going up in flames, which would have been disastrous for the local fishing industry. He was very seriously burned and ended up in the local hospital where Nurse Ethel Flower, who was later to become his wife, treated him.
They were married in Vancouver in 1924 but Ethel did not want to return to Prince Rupert. She wanted to settle down in Powell River. The town had a large paper mill and always wanted carpenters. John would also be able to make a fresh, anonymous start, as he hated the publicity of his awards. In July 1925, Ethel, with her new son James, moved into the house that John had built. At that time there was a vicious racket called 'The Hiring Squeeze'. The hiring bosses would ask for a percentage of pay in exchange for job security. John refused and was subsequently sacked. If it had been known that he was a war hero it would never have happened but it was John's decision to stay quiet. He then started working away from home, building the trestle bridges for the railroads and the buildings on hydro-electric schemes.
In 1929, the Prince of Wales decided to hold a dinner for all VC holders in London to mark the 11th anniversary of the end of the war. People all over Canada had been looking for John to attend. An old friend found him and told him of the dinner. He was persuaded to attend for the honour of the regiment, even though he knew he would lose his anonymity. He was rushed right across Canada and put on a ship in New York, which took him back to the UK for the dinner.
While he had been working away, Ethel had taken up giving piano lessons and had been teaching the children of one of the mill directors. She and his wife had become friends and Ethel had told her how unhappy she was that John was always working away. On his return home he was asked by the director why this was the case and, when John explained the circumstances, he was reinstated and others were sacked.
The depression was just beginning and people were being laid off. Sometimes John was able to intercede when he knew it would be a disaster for the family and those whose jobs were saved never knew who their benefactor was. By March 1937 the economy was picking up. James was growing and their second son Donald got a new bedroom when John had to extend the house. In 1938 a small group of pipers asked John if he would be their manager and President. In return they would wear the MacGregor Tartan. He accepted.
On 10 September 1939 Canada declared war on Germany. For months nothing happened and John seemingly made little or no effort to rejoin the colours. As a Major in the North Coast British Columbia Regiment, he could hope to be called to active duty but that didn't occur. Senior officers in reserve units were not wanted. In early June 1940, the phoney war ended with the Blitzkrieg of Belgium, Holland and France. For the allies the news was very serious and John told his family it was not going to be a short affair.
The official record states that, on 20 June 1940, John signed an application to join the Canadian Active Service Force. As he held the rank of Major in the 1st North British Columbia Regiment, he signed his application "John MacGregor, Major." The application was approved and he was appointed to the 2nd Battalion with effect from 1 July 1940. He was appointed company commander of one of the four companies in the 2nd Battalion.
The unofficial story told by highly-respected senior officers, differing only in respect of a few days in June 1940, is that on 2 June, John rode the ferry across to Victoria and enlisted as a private in the 2nd Canadian Scottish Regiment commanded by Lt Col. Babty. However, during the interwar years, General Pearkes VC, Col Cy Peck VC, a Col Nicholson and John had all kept in touch and, from time to time, met to fight the war all over again. A few days after John had enlisted General Pearkes VC came to inspect the troops. The General marched along the ranks followed by Col Babty as Battalion Commander, by Major Horne as Company Commander, then by Lt Green and finally by the RSM. The elderly and no longer quite so slim MacGregor stood at attention in the middle of the second rank as the inspecting party approached. Almost without stopping, as he passed John a poker faced General snapped "That man, in your office after parade." A puzzled Col. Babty repeated the order to Jack Horne, Jack repeated it to Lt Green and Denny Green, the Machiavellian planner, passed the order on to the Sergeant Major.
After the parade, a glaring RSM inspected John minutely from top to toe and found a thousand things wrong with his hat, his uniform, his shoes, his bearing and ended up calling him "a sloppy soldier" and a disgrace to the Company, the Regiment and to the "whole Canadian Bloody Army". The RSM himself marched him in to the office barking "Private MacGregor as ordered Sah."
The General stared out of the window. Col Babty and Maj Horne were stood stiffly at attention in their own office wondering what it was all about. John, as befits a private soldier stared fixedly at a point in the distance. Then the General turned to face 'Private MacGregor.'
He asked, "Where's the ribbon, Jock?" The General didn't wait for an answer. "Major John MacGregor VC MC and Bar, DCM. They wouldn't let you in I suppose. Well you're bloody well in now." He turned to address Col Babty. "You remember this man, he served you well in the last war and he will serve you well in this one. You've been looking for a new company commander. You're lucky it's going to be John."
Having been instantly promoted John now needed a new uniform. Brigadier Jack Adams of Brigade HQ, a man who became John's friend and was a pallbearer at his funeral, takes up the story. He ordered a staff car and took John to the tailor's shop the regimental officers used and recounts the conversation with the tailor thus.
"I want this man measured for an officers uniform right away."
"Well sir, I am pretty busy these da-"
"Today. Measure him NOW."
"Yes sir, right away sir."
When the measuring was done the tailor asked,
"A second lieutenant, sir?"
"A Major. And while you are writing it down, give him the 1915 Star, War Medal and Victory Medal."
The tailor straightened up a little. "Yes sir. I have those myself."
"Have you indeed? Now you can add a Distinguished Conduct Medal to those campaign ribbons. You do have one don't you?"
The tailor seemed to be getting a bit agitated.
"A DCM? No sir. Never had call for one. Haven't needed one all the time I've been in business. How soon would the Major like his uniform?"
"As soon as possible and let me see, I think you have a couple of Military Crosses too, don't you John?"
John had picked up on what was going on.
"MC and Bar. Yes sir. I do believe I do."
"You'll have those in stock." The Brigadier said, they're common enough, but when you order the DCM you'd better get a VC ribbon as well. It's just one of those isn't it John?"
The tailor faints and the customers exit, smiling.
In 1942, when Col Babty was reassigned, John was promoted to Lt Col and took over command of the Regiment. From the records he seemed to be a hands-on commander giving personal instruction to his recruits before handing them on to their fighting battalions. Throughout this time he was in and out of hospital, never for more than a few days but at a frequency that was unusual for a soldier.
In August 1943 he was sent to Britain for a four month detachment. He was able to meet his eldest son who had joined the Royal Canadian Air Force as a Pilot Officer. He was a rear gunner in bombers and been awarded a Distinguished Flying Cross. They both managed to travel to Nairn where John showed him around his childhood home.
John returned to Canada and was discharged from the Army on 11 May 1946. He then set up a block making and gravel business just outside Cranberry, Powell River. By late 1949 he was failing to turn up for work and his youngest son Donald was managing the business.
He had a yearning for fishing again and signed on as a deck hand. Once he had been a ship owner and skipper. The once fearless soldier was on a downward slope and he knew it.
He was suffering from repeated pains in his stomach so he was sent to the Shaunessy Veterans' Hospital in Vancouver. The hospital at first thought that there was nothing physically wrong with John so they consigned him to the Riverview Mental Hospital. At first he wouldn't go but when he became too sick for his wife to care for him he was admitted. River View did nothing to help and, in December 1950, they discharged him with the diagnosis, 'Involutional Phychosis' and his record was marked 'a malingerer'
His condition worsened and, in January 1951, he was readmitted to River View. The hospital still took the view there was nothing wrong and he just needed a better outlook on life. He was taken back on by The Powell River Company as a carpenter. He went over to Vancouver Island where he was site working again, building accommodation for lumbermen. For a while his outlook on life did get better but then his condition worsened. When he ate he vomited. There were no doctors on the logging site so he just took pain killers.
On 22 December 1951 he climbed a ladder to finish a roof when a great, searing pain hit his abdomen and he collapsed. A swelling the size of a grapefruit had slipped out from under his ribcage. The hospital in Alert Bay could do nothing for him but to ease the pain. He was flown out to Vancouver General Hospital where it was discovered that he didn't have a mental problem. He had cancer. They sewed him up and sent him back home. He was now with the family he had spent so much time apart from.
In June 1952, when Ethel his wife could no longer look after him, he was admitted to Powell River General Hospital. He died eight days later on 9 June 1952.
He was piped to his last resting place by the pipe band he had helped to form and was buried on 9 June 1952. Three holders of the Victoria Cross attended his funeral, Gen George Pearkes VC, Col Cy Peck VC and Capt Charles Train VC.
This was his last parade and the President of the Royal Canadian Legion gave the final salute.
In 2008 the Commonwealth War Graves Commission supplied a new headstone. His two sons attended the unveiling in wheelchairs. They died months later, only 11 days apart.
John's current descendants are his granddaughter, Jaye Roter, daughter of Donald, and her two daughters Megan and Ashley. They live in Edmonton, Alberta.
Jaye (left) is a Special Needs preschool teacher. Megan (second left) is 18 and has just left High School and wants to train in Animal Health Technology. Next is Jaye's husband Harvey who is a heavy-duty mechanic and, on the right, is Ashley aged 21 who is a City of Edmonton Peace Officer. These details are correct as at 1 June 2010. Jaye has given me permission to use any details from her uncle's book and has supplied me with family pictures so that the story of John MacGregor, Canada's most highly decorated soldier, can be told in his home town and country.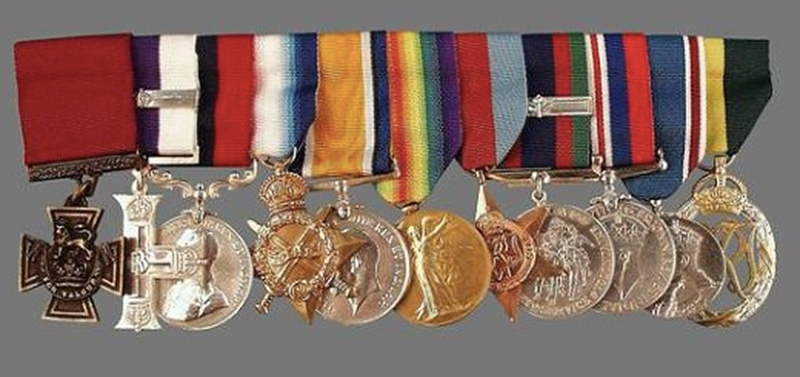 John MacGregor VC MC and Bar DCM
Canada's most highly decorated soldier.
John MacGregor's medal bar reads from left to right:-
Victoria Cross
Military Cross and Bar
Distinguished Conduct Medal
1914-18 Star
British War Medal 1914-18
The Victory Medal
1939-45 Star
Voluntary Service Medal Canada and Clasp
1939-45 War Medal
King George VI Coronation Medal 1937
Territorial Force Efficiency Decoration
The Efficiency Decoration allows him to use ED after his name as is seen on the grave headstone.
Article and images David M Shillabeer
Images: American.edu, University of British Columbia, Canadian Mounted Rifles, The Comprehensive Guide to the Victoria and George Cross,