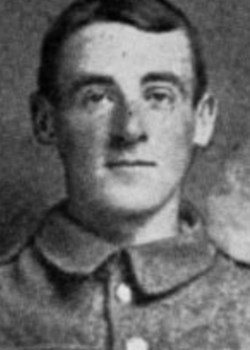 24370 Pte Bertie James Adams, 7th Bn East Lancashire Regt.
A weaver at Duckworth's Mill, Kelbrook, Bertie was born at Foulridge, Lancashire in 1895. He enlisted into the East Lancashire Regiment at Nelson in 1915 and was sent to the Western Front in August 1916 where he was thrown straight into the Battle of the Somme.
On the opening day of the Battle of the Ancre, Bertie took part in the successful opening actions from Stuff Trench but was killed in action during the follow-up operations the following day (14 November). He is buried in Regina Trench Cemetery, Grandcourt, Somme.
14 November 1916 killed in action
Research by David O'Mara