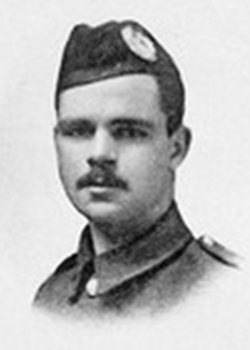 Eugene Linley was born in Inverness in 1893
His father Fred was from Huddersfield; his mother was Ellen Louisa. 
At the 1901 Scotland census records show that the 8 year old Eugene was living on Muirfield Road, Inverness with his parents and brothers Frederick Kay [b.1890] and Richard Musgrave [b.1898] and a 19 year old domestic servant Mary Fraser.
He enlisted in September 1914. 
The 5th (Service) Battalion Cameron Highlanders was formed at Inverness in August 1914 as a battalion of volunteers responding to Kitchener's call to arms. The Battalion was in 26 Brigade in 9th (Scottish) Division. They moved to train in Aldershot and in February 1915 were in Bordon. The 5th Camerons went to France on 10 May 1915.
Lance Corporal Linley was in 'B' Company in July 1916 when XIII Corps was committed to capturing the high ground at Longueval on 14 July. The attack was led by 26 Brigade with 8th Black Watch and 10th Argyll and Sutherland Highlanders leading, supported by 9th Seaforth Highlanders, with 5th Cameron Highlanders in reserve. The plan envisaged 26 Brigade seizing Longueval whereupon 27 Brigade would pass through to capture the dominating ground of Delville Wood to the north-east.
The assaulting troops quickly fought their way into Longueval where they became involved in brutal close-quarters hand-to-hand action, into which 27 Brigade were introduced in support. On 15 July, with all but the northern quarter of Longueval in British control, the South African Brigade was moved up to capture Delville Wood. The Germans stubbornly defended the wood for three days defying every attempt to drive them out - the fighting degenerating into a hideous struggle amongst the burning and blasted tree stumps. At daybreak on 18 July heavy enemy shelling which went on all day heralded a determined counter attack by the German 8th Infantry Division. The surviving elements of 26 Brigade attempted to reinforce the South Africans who held on until 3rd Division entered the battle to relieve the survivors on 20 July. By this time British, South African and German corpses were strewn throughout Longueval and Delville Wood. The situation had become quite desperate; German snipers made it impossible even to bring up drinking water; casualty evacuation was only achieved at huge risk and there was no possibility of recovering the bodies of the dead.
Lance Corporal Linley of B Company was reported missing on 18 July 1916 during the Battle of the Somme. He is commemorated on the Thiepval Memorial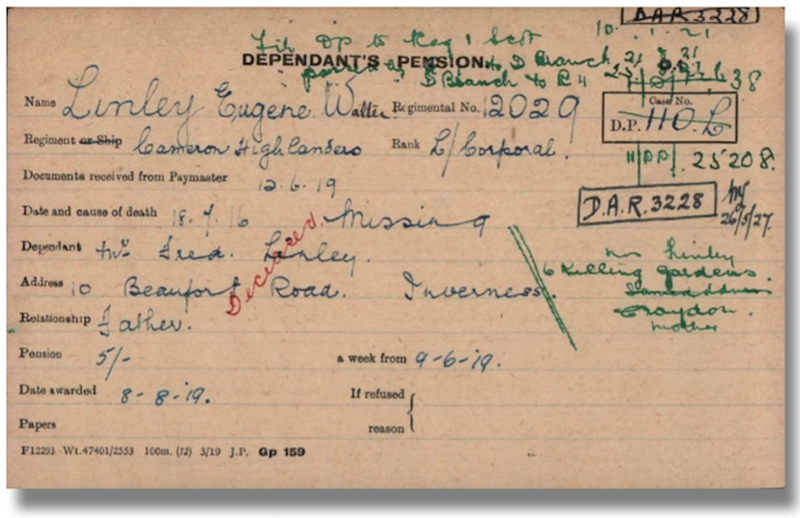 L/CPL Eugene Walter Linley, 5th Battalion, Cameron Highlanders.
18 July 1916
Eugene's older brother Frederick (Kay) served with the Queen's Own Scottish Highlanders before the war, resigning in 1907. He was working as a bank clerk in Slough when he re-enlisted 2nd September 1914 into the London Scottish (14 Bn London Regiment ) until 19 March 1915/. He transferred on 8 September 1915 and received a gun shot wound in the nose and mouth 29 September. He transfreed again 17 June 1918 to a Distribution Depot with the Royal Air Force as a cadet. He had a short period as L/Cpl before being demobilised 17 March 1919.
His younger brother Richard Musgrave Linley also served with 4th Bn London Regiment [London Scottish]. He was wounded on 30 April 1918 and again in October 1918 and was twice gassed later the same month.
Sources : IWM Collections and Faces of the First World War, 1901 Scotland Census.