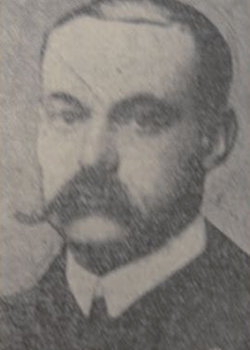 Charles Burrell was born in Burnley in 1883
He had served for seven years in the volunteers before the war and attained the rank of sergeant which facilitated his promotion to Lance Corporal in the 5th East Lancs soon after attestation in August 1914. After training in the UK, he embarked for service at Gallipoli in May 1915 and took part in the 3rd Battle of Krithia.
He fell ill with dysentery in June 1915 and was evacuated to the island of Mudros where he died on 18 June 1915.
Charles is buried in East Mudros Military Cemetery, Greece.
18 June 1915 died from dysentery
2138 L/Cpl. Charles Burrell, 1/5 th Bn. East Lancashire Regt.
Research by David O'Mara.
References:
Ancestry.com. British Army WWI Medal Rolls Index Cards, 1914-1920 [database on-line]. Provo, UT, USA:
Ancestry.com Operations Inc, 2008. Original data: Army Medal Office. WWI Medal Index Cards. In the care of The Western Front Association.
The National Archives of the UK; Kew, Surrey, England; WWI Service Medal and Award Rolls; Class: WO 329
The National Archives of the UK; Kew, Surrey, England; First World War and Army of Occupation War Diaries; Class: WO 95
The History of the East Lancashire Regiment in the Great War- Maj.Gen Nicholson (ed) Pub. 1935 The Burnley Express 30 June 1915
Commonwealth War Graves Commission (www.cwgc.org )