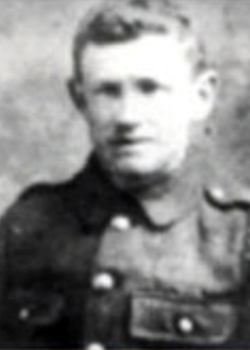 Born in Ballymoney, Co.Antrim in 1888.
Protestant parents James and Margaret. 
At the 1901 Census James was at home with his parents and sister. Ten years later he was still at home and working as a painter. 
He married and had four children. 
James initially enlisted in April 1915 (in Belfast), into the 18th Battalion, Royal Irish Rifles.
After training in Ireland, he was sent to France in mid-1916 to join the 12th Battalion of the same regiment in Belgium. James stayed in the Ypres - Armentieres area throughout his front-line service (mainly involved in routine trench holding duties).
James was killed in action on 2 June 1917 when his position was hit by about fifty 150mm shells in the vicinity of Regent St. Dugouts, near Wijtshaete/Kemmel. It was the day he and his comrades were due to be relieved. Freinds Rifleman Hanna and Rifleman Wade were killed by the same shell.
James left a widow Fanny and four children (James, John, Isabella and Mary Jane) who at the time of their father's death would have been 10, 6, 4 and 2.
18/903 L/Cpl James McCoubrey, 12th Bn Royal Irish Rifles
2 June 1917
Research by David O'Mara