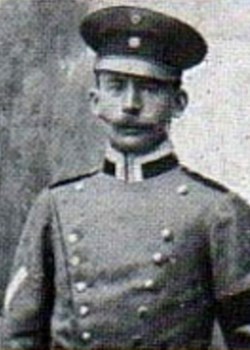 An office worker from Weisenberg, Bavaria.
Born on 7 June 1887, Sebastian was from Dachau. An active reservist at the outbreak of war and, therefore, he saw service from the very earliest days of the war. He was married with one child. 

He was in action from August 1914 in Lorraine, then on the Meuse, at Verdun, the Somme, Arras, Third Ypres, Cambrai, Dixmude and Verdun (1918) to August 1918.
During August he moved up to the frontline near Roye where, on 16 August 1918, Sebastian was severely wounded by a shell splinter.
Transferred to Bavarian Feldlazaretten Nr 20, he died there of his injuries on 21 August.
Buried in the grounds of the hospital in 1918, Sebastian's body was later lost so, as a result, he has no known grave today.
21 August 1918 died of his injuries.
Research by David O'Mara