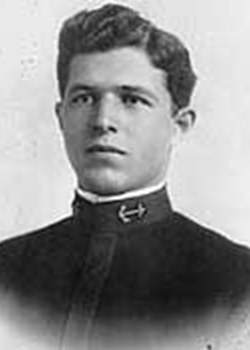 Arnold Marcus was born in Atlantic City, New Jersey, on 26 June 1892.
Arnold attended the U.S. Naval Academy between 1909 and 1913 and was commissioned in the rank of Ensign upon graduation. He subsequently served in the armoured cruiser USS Pittsburgh in the Pacific Fleet.
Beginning in 1914, with the Asiatic Fleet in the gunboats Pampanga and Helena and the monitor Monadnock. The latter was tender to submarines stationed in the Philippines.
In April 1917, Lieutenant (Junior Grade) Marcus became Commanding Officer of the submarine A-7.
On 24 July of that year, while on patrol in Manila Bay, A-7 suffered an internal gasoline explosion and fire that fatally injured several of her crew. Despite his own injuries, Marcus attempted to beach the damaged submarine and refused medical care until his men had been treated.
He died the following day at the nearby Canacao Naval Hospital.
The destroyer Marcus (DD-321), 1921-1935, was named in honour of Lieutenant (Junior Grade) Marcus.
Lieutenant (Junior Grade) Arnold Marcus, US Navy
25 July 1917
Source, courtesy: US Naval Historical Centre, US Naval History, Naval Station at Stangley Point and creation of Canacoa Naval Hospital.