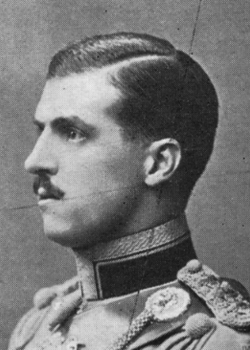 Born 2 June 1880, 56 India St, Edinburgh
Eldest son of the late Mr Russell Bell (died 1904), advocate, sheriff-substitute of Stirlingshire, and the late Mrs Sabina Bell (nee Radford), of The Close, Salisbury,
Educated at St Salvator's; St.Andrews; Fettes College, and the Royal Military College, Sandhurst; gazetted 2nd Lieut. King's Own Scottish Borderers, 20 Jan 1900.
Promoted Lieut.18 May 1901, transferred to the Indian Army 15 March 1902 and obtained his captaincy 20 Jan 1909.
Served against the Darwesh Khel Waziris, on the North-West Frontier against took part in operations in the Zakaa Khel country and the Mohmand country and in France and Flanders.
Killed 26 December 1914 and buried near Le Touret, four miles east of Bethune.
Research by Jonathan Vernon.
Image: Capt Malcolm Arthur Russell Bell © IWM (HU113650)