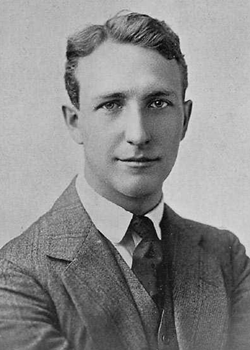 Born in Brooklyn, New York on 15 February 1886
Harold was an American citizen, the son of actress mother Alice.
Harold Chapin become regarded as an 'English' actor and playwright. Working extensively as an actor, director and stage manager both in the UK and the USA, he was associated with some of the biggest names of the theatre of the era.
At the 1891 he is living in London with his mother. His sister was born a couple of years later in Hampstead.
On 4 June 1910 he married Calypso Valetta. 
He enlisted into the Royal Army Medical Corps (TF) at Chelsea on 2 September 1914, and he arrived on the Western Front on 16 March 1915 where he first saw action as a stretcher-bearer in May. Harold was killed in action at Loos on 26 September 1915 during a counter-attack (initially hit by machine gun fire in the foot, then shot through the head). He has no known grave and is thus commemorated on the Loos Memorial to the Missing.
1802 L/Cpl Harold Chapin, 1/6th London Field Ambulance, RAMC.
26 September 1915 killed in action
Research by David O'Mara