Born 8 Lionel Street in Burnley, Lancs
Daniel was born in 1887 to mother Anne Jane. In 1901, the family lived at 19 Oak Mount St, Burnley. In 1911, now a widower, after the death of her husband Frederick in 1905, Anne lived with her two children Daniel and Florence at 20 Brougham St, Burnley. 
Daniel was employed as a weaver, Daniel enlisted into the King's Own Scottish Borderers in September 1915 and served in France and Belgium from June 1916. He married Christina Holt early in 1916.
Daniel took part in the Battles of the Somme, of Arras (where he was to gain the Military Medal) and Third Ypres.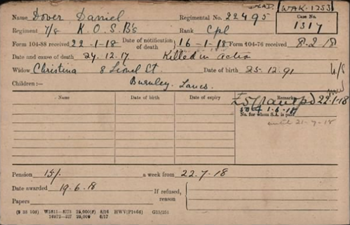 Daniel was killed in action whilst engaged in trench holding duties in the  sector. He was 30 years of age.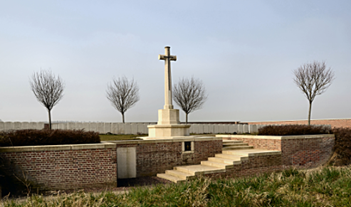 Cpl Dover MM is now buried in Sunken Road Cemetery, Fampoux.
22495 Cpl Daniel Dover MM, 7/8th KOSB.
27 December 1917
Research by David O'Mara with additional detail by Jonathan Vernon.