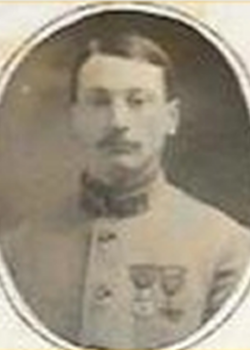 Etienne Benoist was born at Langres, Ht.Marne on 3rd August 1887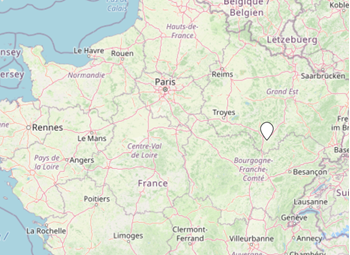 Etienne was an art school graduate.
He enlisted for his compulsory military service at Langres in October 1908 and, by the time he returned to civilian life as a reservist in 1910 had gained the rank of Marichal de Logis.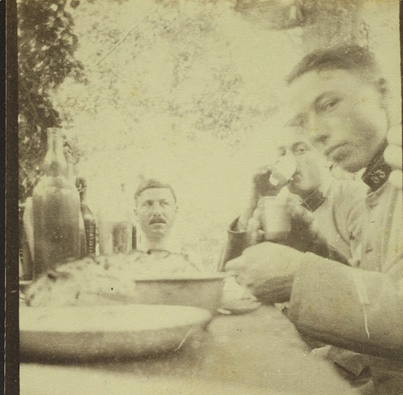 Etienne was recalled on 1 August 1914 and served with the 39e from August 1914 to July 1915.  On 21 August they made first contact with the enemy at La Sambre in the Battle of Charleroi. From 6 September he would have been involved in the Battle of the Marne when Joffre ordered that there would be no more retreat - now was the time to attack.
By February 1915 the 39e RAC were in Reims, Champagne close to Luxembourg and in June, Artois.  
Etienne was temporarily transferred to the 8e RAC in July 1915 and sent to the Aisne and soon after, though on receiving a commission, he transferred to the 53e from July 1915 with whom he remained until July 1916. From February to June 1916 he would have been on the front near Fort Vaux during the Battle of Verdun. 
16 June 1916 the 53e regiment was relieved and taken by truck to the Haute-Marne, Prez-sur-Marne and Bienville for well-deserved rest. Etienne was wounded in action on 18 July 1916 and died in Evacuation Hospital No.15 at Cerisy-Gailly, Somme on 28 July 1916.
On 24 July the 101st relieved the 53rd who moved to the bois d'Hauzy.
The 53e regiment remained on the Western Front until April 1919 when it moved to the interior of France and rejoined its garrison at Perpignan.
His remains were returned home for burial.
1011 S/Lieut. Etienne Benoist, 53e Régiment d'Artillerie
28 July 1916 died of wounds received 10 days earlier
Research by David O'Mara.
REFERENCE
Tableau d'Honneur – Morts pour La France Pub. Paris 1921
Sepultures de Guerre (www.memoiredeshommes.sga.defense.gouv.fr)
Morts Pour La France de la Première Guerre Mondiale (fiches des soldats MPF) ( www.memoiredeshommes.sga.defense.gouv.fr )
Journaux des marches et opérations des unités engagées dans la Première Guerre mondiale ( www.memoiredeshommes.sga.defense.gouv.fr )