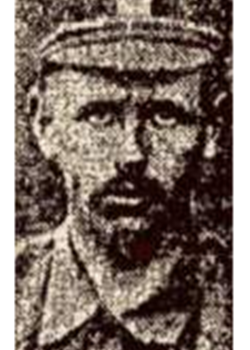 Born at Tobermore, Co.Derry, Ireland on 21 November 1890
David emigrated to Canada in May 1910.
A resident of Toronto at the time of his enlistment, he enlisted into the 35th Bn CEF on 12 April 1915 and was trained at Niagara Camp and in England where he was transferred to the 20th Battalion and then the 14th.
David was killed in action in the Ypres Salient on 28 June 1916. He was buried in Railway Dugouts Burial Ground, West Flanders, Belgium.
28 June 1916 killed in action
Research by David O'Mara
REFERENCE
The Canadian Virtual War Memorial (http://www.veterans.gc.ca/eng/remembrance/memorials/canadian- virtual-war- memorial )
Canadian War Diaries of the First World War (http://www.collectionscanada.gc.ca/archivianet/020152_e.html )
Soldiers of the First World War (Attestation Papers) (http://www.bac-lac.gc.ca/eng/discover/military- heritage/first-world- war/first-world- war-1914- 1918-cef/Pages/search.aspx )
Official History of the Canadian Army in the First World War (Nicholson) Pub: Ottawa 1964
Commonwealth War Graves Commission (www.cwgc.org )
The Toronto Star – 10 July 1916