William Hoggard was born in September 1882, Beverley, East Yorkshire
His parents were William (a farm labourer) and Susannah (née Newlove) land they lived at 172 Ryecroft Street, Crowthorn, Ashton under Lyne, Lancashire. 
William was the last of the Hoggard children. His older siblings were Henry, Jane and Fanny. Their mother died in 1892 when William was only three years old. The family lived at 172, Rycroft Street, Crowthon.
William attended Trafalgar Day School, or 'Stringer's School' and was reportedly 'one of the best pupils Captain Ralph Lees has ever turned out'. After leaving school he worked locally at the Planet Iron Foundry.
Hoggard served in the Boer War and is the possessor of the South African Medal with four bars. On his time of service expiring he joined the reserves. He has since been promoted to full corporal. 
He married 25 year old Hannah Heppenstall on the 14 August 1914 after war broke out as William had been called up and would be leaving imminently. 
23 January 1915 awarded the Distinguished Conduct Medal (DCM) for bringing a wounded captain in under fire. published in Ashton Under Lyne Reporter 12 Dec 1914
Thursday, Dec 3rd, 1914
How Corporal William Hoggard won the D.C.M. 
"We were at a place called …. When the order came for our company, C, to retire to a better position, and he and four men were told to hold the enemy at bay while we do so. The bullets were buzing around galore. I think we lost 91 men that day. They managed to keep them back, and on returning to join us Corporal Hoggard saw his captain lying wounded on the field. Nobody had seen him fall when the others retired, he took his field dressing from his pocket and bandaged the officer as best he could, Then picking him up, he carried him to a place of safety.
This act was rewarded by his Majesty the King on Wednesday, December 2nd, when he inspected us. The Prince of Wales also gave him a little present. We were all lined up, and the King came along and stopped in front of Hoggard and, after pinning the medal on his breast, chatted with him for a minute or two. Then, shaking hands with him his Majesty passed down the ranks, and was greeted with the cheers of the King's Own singing after him."
Acting Sergeant. William Hoggard  6672 King's Own (Royal Lancaster Regiment) 1st Battalion
Photograph added to the Global Find a Grave Index by:  International Wargraves Photography Project on 27 May 2010
He is buried in Tancrez Farm Military Cemetery, Comines-Warneton, Arrondissement de Mouscron, Hainaut, Belgium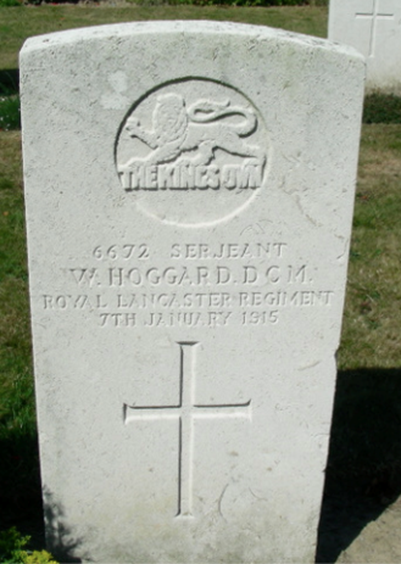 Killed in Action La Bassee
France 7 January 1917 
Research by Jonathan Vernon
Sources: On This Day; Lives of the First World War; UK, World War 1 Service Medals and Awards Roll;  UK Soldiers Died in the Great War; Global Find a Grave Index; UK Army  Registers of Soldiers' Effects; England & Wales Civil Registration of Marriages.
Photograph of William's father and stepmother was originally shared this on 24 May 2013 to Ancestry Public Family Tree by 'juliefosternet'.