Rifleman Monk, 9th King's Royal Rifles, became deaf and dumb through shock at Loos.
An inmate of the Ditchling Red Cross Hospital for four months, the bridegroom gradually regained his hearing and the powers of speech.
On 7 March h1916 he married Emma Stubbs at Ditchling Parish Church.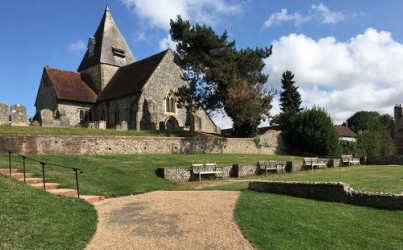 The inmates of the hospital formed an arched with their stick and crutches at the church door.
Henry was born in 1893 in Fulham to parents George Edward and Winifred Monk of 66 Start Road, Fulham.
A French Polisher, he enlisted age 18 and 10 months on 20 February 1911. A short man, 5ft 4 ½ with blue eyes and fair hair. 
He was posted to India from 19 December 1912 to 15 October 1914 when he returned to Britain. He served with the BEF from 20 December 1914 to 28 January 1915 
He had a number of periods at home, recovering from Trench foot, in one instance and returning to France for a month in April/May 1915. He was wounded at Ypres in May 1915, and again wounded at Loos on 25 September 1915. This left him def and dumb. He was then back in Britain another 3 months before returning to the BEF in August/September 1916. His foot was distorted, while a wound to his left arm had header. 
He was in Britain again from the end of September 1915 to 20 June 1916. He was formally discharged from the army as 'no longer physically fit for war service' on 21 September 1916.