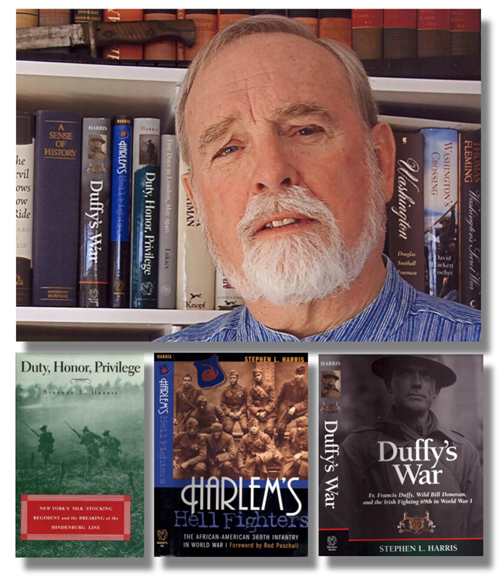 A student at Trinity College, Burlington, Vermont. Stephen L. Harris started his career as a  journalist and freelance writer on his hometown newspaper, The Wilton Bulletin. He then moved into corporate communications and for 12 years, Stephen edited GE's award-winning, company-wide magazine, Monogram. This had a circulation of more than 330,000. It took him around the world covering G.E. stories and promoting CEO Jack Welch's business revolution. His first book was on the Olympics, writing about '100 golden olympians', as part of the 100th anniversary of the modern games. 
Stephen was then offered the letters written by his great uncle on the Western Front so researched the old 7th, first on the National Guard Trilogy. In 1998, he began researching "Duty, Honor, Privilege' which is now part of a new series by Potomac Books, entitled 'The History of War'. He then wrote "Harlem's Hell Fighters: The African-American 369th Infantry in World War I." He finished his trilogy on New York City's National Guard in World War I with "Duffy's War: Fr. Francis Duffy, Wild Bill Donovan and the Irish Fighting 69th in World War I' which he discusses here for the Mentioned in Dispatches podcast.
Duffy's War is published by Potomac Books.