Jonathan Vernon, Digital Editor for The Western Front Association, talks about his research into Lewes during the opening months of the Great War.
Jonathan looks at how the town coped with the deployment of10,000 men of the 22nd Division to the area and how they were  billeted in local homes, public buildings and farm buildings. The research for this podcast was part of Jonathan's MA dissertation for his MA at the University of Wolverhampton (University of Birmingham - where he started his MA). The research focused on the men of the Cardiff Pals and the 9th East Lancs who enlisted in the first weeks of September 1914 and were identified for training at Seaford Camp on the Sussex Channel coast - the camp, initially of tents, not completed, the men found themselves billeted by the town and people of Lewes. In three parts, the dissertation considered the validity of 'enthusiasm' to describe how men enlisted, where the men came from (and who they were), and the experience they are the town had when 10,000 men were billeted for two weeks in a town with only a little over a population of 10,000 itself. 
The dissertation is available here in full : An Enthusiastic Response to War? British Social Responses to the outbreak of the First World War - The Friendly Invasion of Lewes, September 1914' 
TRANSCRIPT
Tom Thorpe [00:00:31] It is the 7th of November 2022 and this is Episode 277. On today's Dispatches podcast, I talk to Jonathan Vernon, the digital editor for The Western Front Association, about his research into Lewes during the Great War. Jonathan spoke to me from his home in Lewes, Sussex. Jonathan, welcome to the Dispatches podcast. Could you start by telling us about yourself and how you became interested in Lewis and the Great War? 
Jonathan Vernon [00:01:13] So my name is Jonathan Vernon, I'm the Digital Editor of The Western Front Association and have been for over seven years now. I came to Lewes 20 years ago and was introduced to this subject by the inhabitants of the town and a quite remarkable 150 year old photographic archive which just happened to have photographs that, amongst others, featured this extraordinary two weeks in September 1914, when 10,000 men landed on the town and the local photographic studio was sent out to take photographs of the men in homes in stable blocks, in the town hall, in the workhouse and more. So that was my starting place.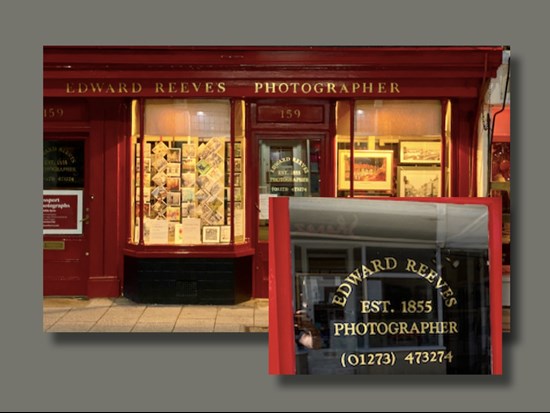 Jonathan Vernon [00:02:03] In terms of my interest in the First World War then, like so many other people, it came from a grandfather who was born in 1897, died in December 1992. That meant for someone who enlisted in the DLI, was sent to the Machine Gun Corps and transferred to the Royal Flying Corps. He was able to attend the 70th anniversary of the formation of the RAF, the 75th anniversary of the formation of the Machine Gun Corps, and courtesy of Lyn MacDonald ... no other, nonetheless, no other. The 70th anniversary of Passchendaele ... because he was so long lived.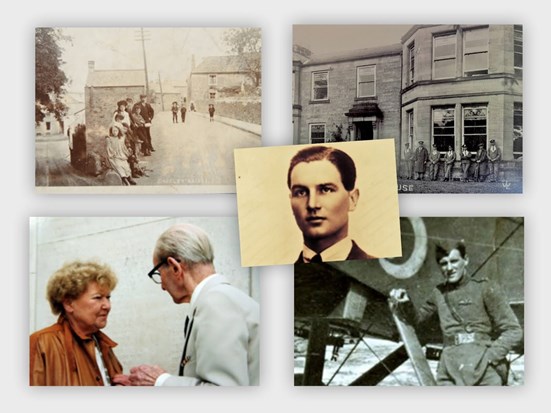 I had nearly 30 years of this old gent telling me his stories. And in a family of cousins and grandchildren, I was the one who'd sit on his knee and listen all day long. So for 20 years plus, I got the detail - every moment of his (Great War) life through his enlistment and his war years. And eventually I moved into the media, TV and so on, and I recorded his interviews on digital audio tape in 1991, 92, before he died. Three and a half hours of interviews with him, which I transcribed. He went through ... added details, added maps and drawings. Eventually, all of this went to the Imperial War Museum Sound Archive, along with his collection of photographs, his RAF logbook and so on. So that totally is where my interest came. His constant desire to talk about machine guns - Vickers Machine guns, Clerget rotary engines on the ... aeroplane he was trained on. So that's the fascination. And we had all sorts of hijinks with his visits to various places, not least Lyn MacDonald to his routes through to Houthulst Forest ... where he manned a machine gun at (pill box) Courage Post and lost a lot of his mates. But also I got a letter from Peter Simkins who, after a letter I wrote to the Imperial War Museum, invited my grandfather down to the armoury, to reacquaint him with the Vickers machine gun. So we have this glorious moment when a 96 year old, very sprightly fit, gets down on his haunches behind a Vicker's Machine Gun in the armoury at the Imperial War Museum. And he set it up to shoot across - down the corridor. Amazing. So that's how it all began. 
Tom Thorpe [00:04:49] So we're going to talk about Lewes now. Where exactly is Lewes in a map of the United Kingdom? 
Jonathan Vernon [00:04:55] Lewes is in East Sussex.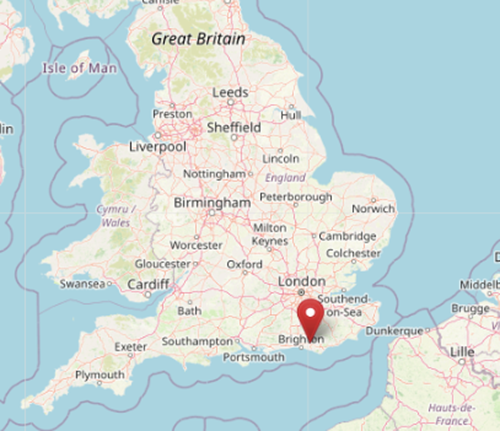 We are 11 miles north of Newhaven on the English Channel. So a key access point to crossing the channel and therefore quite suitable for troops coming in by rail from various different parts of the country. The town of, at the time, around (I misspoke, it was 11,500), essentially agricultural at the time, but some light industry was ... very mixed in terms of the population because you could commute into London so there would be people working in banks, people, bankers, people who ran businesses. So quite a group of ... wealthy people, but also a population where there were back-to-backs, tenement blocks and what we'd now call slums. So it's a very mixed population in quite a small medieval town. 
Tom Thorpe [00:05:48] And this is just a reference, what's the population today?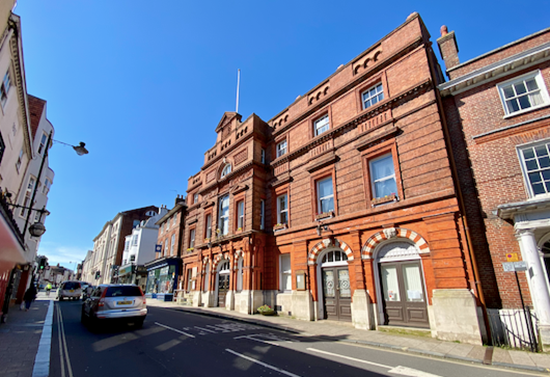 Jonathan Vernon [00:05:51] Not much bigger, 20 to 23,000? I should know, I'm a Town Councillor here. More on that later because the town hall, I use it once a month, was where about 200 of the troops slept for the two weeks. 
Tom Thorpe [00:06:08] So we are going to talk about that now. Now, after the Declaration of War, Lewes and the surrounding area becomes 'invaded' by elements of the 22nd Division. Could you start by telling us about the formation of that unit? 
Jonathan Vernon [00:06:21] So the 22nd Division ... drew on Kitchener's recruits from essentially South Wales, North Wales and the north west (Lancashire, Preston, Burnley). And those troops were then sent to various places for training, including Patcham, just up the road north of Brighton, further north Haywards Heath and Uckfield and down to Seaford camp. And they were being sent in blocks of about 10,000, which ... if I understand correctly, would be ten battalions coming from these different places. The theory was that these, mostly young men, were being sent as far away from home as was possible so that they wouldn't abscond at the weekend or in the evening to their loved ones. Which is funny, given that one or two people we might talk about later thought they were going to be trained in Wales and ended up back home on the south coast. So that's the 22nd Division. 
Jonathan Vernon [00:07:24] As part of my dissertation, I was told, you can't research 10,000 men and tell a decent story in a Master's dissertation. So I was encouraged to pick two or three battalions and I chose the Cardiff Pals who are south Wales, white-collar clerical workers and the 9th East Lancs, which are cotton mill, dockworkers, miners from Burnley, Preston - that part of the world.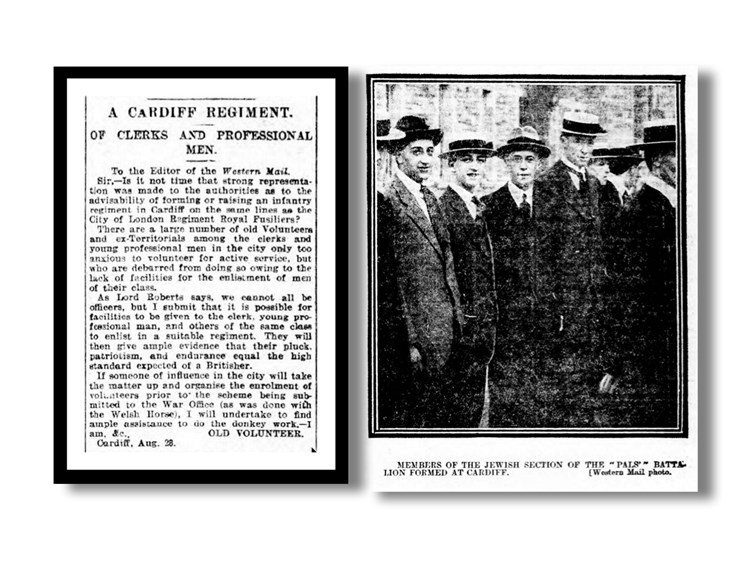 Tom Thorpe [00:07:58] So I think you've done question five by covering who was in the divisions in Division's ranks. I may ask you about what motivated them to enlist. 
Jonathan Vernon [00:08:09] Of course ... 
Tom Thorpe [00:08:10] So what ... motivated these individuals to enlist prior to their arrival in Lewes? 
Jonathan Vernon [00:08:18] I think what motivated them to enlist ... was truly the core of the dissertation which required me to go over all the old ground covered by Catriona Pennel, Peter Simkins and many others - to establish what exactly was motivating young men, and not so young men, to enlist. And in the course of doing a massive literature review and getting to understand the men from the Cardiff area and from East Lancs, it was extraordinary just the variety of reasons why, clearly a person enlisted, or we could suppose a person enlisted - and it varied right across the spectrum from genuine, quite jingoistic, nationalistic patriotism to the other scale, complete desperation of men who had little work, had then had no work, and would not be given any poor relief because basically they were told - you've got to enlist. So there were men in East Lancashire who worked on the docks and in the mills, who were pretty much told we're not going to ... even though we should provide you with Poor Relief because you have no work, they wouldn't, they said you've got to enlist. So there's compulsion at one end of the scale and a sort of jingoistic, 'we want to do our best for King and country' at the other and everything else in between which all the previous writers had concluded: drunken, youthful enthusiasm, enlisting en masse as a group of young men, men who might have had a commission who wanted to enlist to get into the army and see the war before it ended too soon - the whole gamut. And I think I ventured a bit too close towards sociology and social history by thinking in terms of a population pyramid which thinks of populations as having outliers at either end. But I thought it was a very good way of describing what happens in a population of behaviour of people can be expressed as outliers with two extremes at both - and so it has the whole gamut of reasons why people ... might end up enlisting. And what was beautiful with the Cardiff Pals and the 9th East Lancashire, there was quite a contrast between where they were coming from and why they might enlist and then the kind of people they were. 
Tom Thorpe [00:10:56] So why did the Division get sent to Lewes? And what did it do when it got there. 
Jonathan Vernon [00:11:01] So the Division was being sent - the divisions that were being allocated to various camps across Britain. I think there were 20 or 30 camps, someone might correct me on the actual number. And there were several along the south coast, including Patcham, north of Brighton, Uckfield, Haywards Heath - and there's a camp going to be built at Seaford on the coast and unfortunately the camp wasn't ready.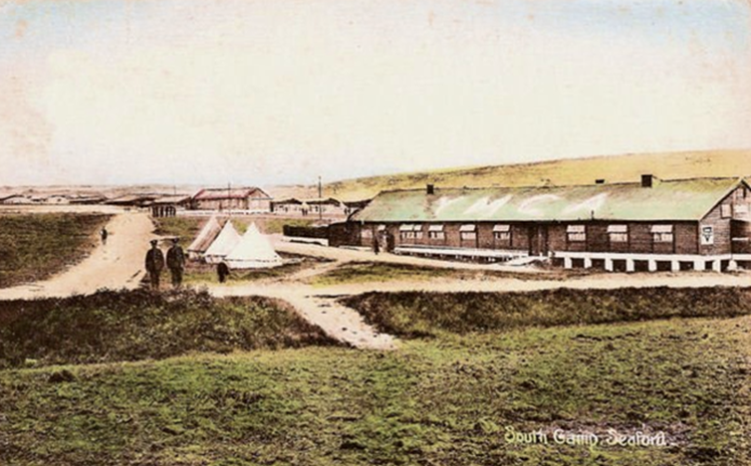 So tents had been sent down to put onto the ground for the men to stay in. They hadn't been built, so the call came out with three or four days' notice, 'can you take 10,000 men and put them on the town for a week or two' - and various towns put their hands up and said, 'yeh, we'll have men'. Lewes got the 10,000 from the 22nd Division - and literally had two or three days' notice to go around houses, knocking on doors, saying 'would you take a couple of soldiers? Six soldiers? Eight soldiers ... whatever, however many ... stick them in the Town Hall, in the old workhouse, in stable blocks - because there was a racecourse up the road. And so it went on, doubling the size of the population overnight and keeping 10,000 men occupied for two weeks became quite an undertaking. And that is part of the story that I told in my dissertation. 
Tom Thorpe [00:12:22] So let's get onto that detail. How did the local population find the invasion and how did the troops find being deployed or so actually say hosted by the residents of Lewes?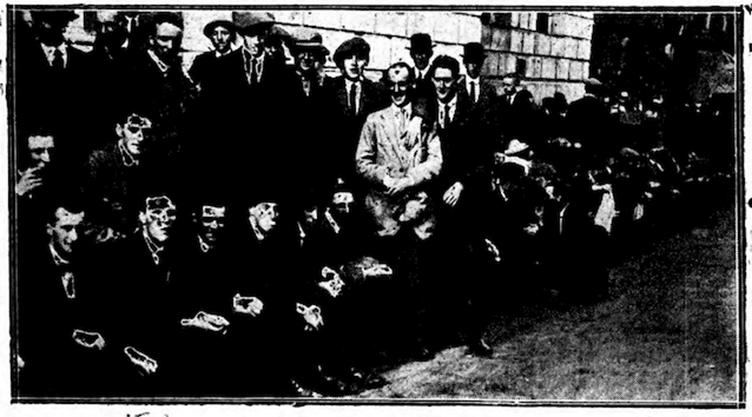 Jonathan Vernon [00:12:33] The easiest way I found to describe it to people is it's not different to having a music festival land on your doorstep, which we had in Lewes a few years ago when Mumford and Sons chose our town for their summer concert. And I think the entire population went to the concert and double the number of people came to enjoy it, and suddenly the town was heathing with people. Now that concert was for 24 hours. The population of Lewes doubled in September 1914 for two weeks; they had to be accommodated somehow. And the Town Hall through, the mayor's office got the local police involved, and they literally went round knocking on people's doors, saying 'how many men can you take?' And in a quite medieval way they'd get a piece of chalk out and put a number on that door. They became quite bullish about it because some people were coming fussy, saying 'we can only take three' and the sergeant would say ' You're having six' or someone would say, 'I only want officers' and they'd say, 'Well, you're taking whatever men we send you'. The understanding being that you've got more money because you got paid, you got more money for an officer than you did for a private soldier, a regular soldier, which was the case. He goes there for a few more pennies for their food and their accommodation. And so it went on. And then the men started arriving in the evening and overnight. [And what would happen is someone would knock on the door and they'd say, You said you take three, you're getting eight. You said you wanted officers.] Well, you've got ten. Put them in the cellar. There's nowhere else for them to go. And so it went on right around the town. And the difference between where you'd end up could not be more extreme. So the Town Hall was ... strewn with straw and men were put into the council chamber, into the local courts on the floor in great big numbers. Others ... people opened up their stables, opened up their stable blocks, put in some fresh straw and chucked men into the stables. Others (  )  ... treated the man as a source of income, and they were basically a bed and breakfast service and they wanted to milk them for the money they were getting and gave them quite short change in terms of the quality of the experience they had. And then, of course, the wealthiest families in Lewes, seven bedroom Edwardian homes, these young lads supposedly still wearing clogs who'd come down from the mills and Lancashire, were being put into a room of their own with the sheets changed every day and a feeling that if you come to the full English breakfast in the morning, entertainments from the surrounding families, an extraordinary difference in experience. And then, of course, they got up at 5.30 in the morning and taken off on route marches and were exhausted as best they could be. And of course, there were pubs, 60 pubs in Lewes ... there's a pub on every (street) in Lewes. They had to close early for good reason, otherwise they could have been real trouble in the town.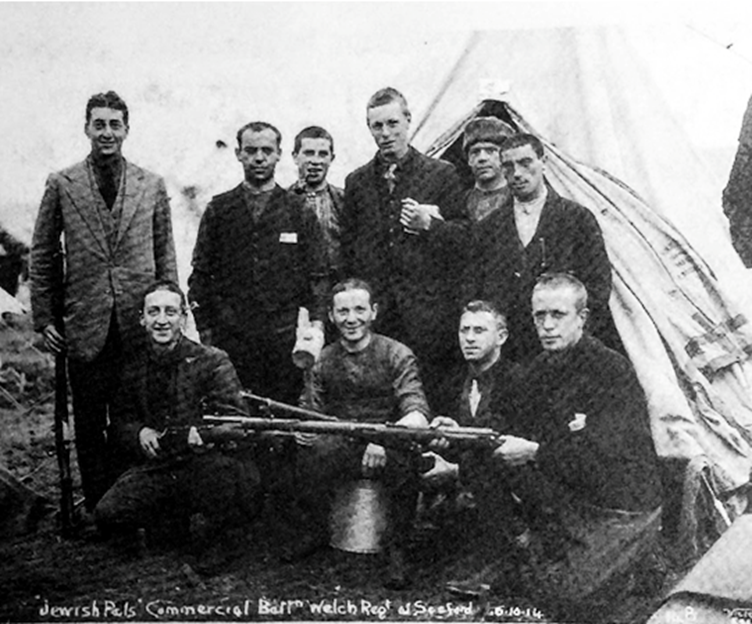 Jonathan Vernon [00:15:44] So quite an adventure for the town for two weeks and photographs. This is a remarkable thing, Edward Reed's photographers, set up in the 1850s still running today, has an archive of 150,000 glass plates and several hundred photographs from that two week period. So I had the joy of going into those photographs and seeing the men and even almost trying to identify some of the men I'd been researching and seeing if I could find a picture of them. And I actually do. I was able to find some pictures of the people who'd come here. 
Tom Thorpe [00:16:18] And were there any tensions between soldiers and local civilians? 
Jonathan Vernon [00:16:22] There's surprisingly little tension, but there was a little bit of misbehaviour. And I think keeping them out of the pubs, kicking the pubs, the you know, they get an hour at the end of the day, if they were lucky - the pubs were closed on Wednesdays, which was payday. So they didn't quite get that chance. But what the town did realise is they had to put on masses of entertainments, musical halls, cinema, football games, all sorts of events going on in back gardens to keep the men occupied until they were put to bed and sent to sleep. All that I've come up with through the newspapers and some of the accounts is a little bit of petty theft ... and the men got a sharp slap on the wrist and told, you know, you're not an upright young man if you think you're going to join the army. if you've nicked someone's watch and a few shillings. And of course, there's that story of all the young men who were put into Lewes Grammar School and the lady next door, her young maid would, of course, go and get pregnant. And she was sent off home for a period and came back, leaving a child in Wales - returned to the job. That's the only sort of misbehaviour I've found. I think most sad is, is someone who got very drunk, jumped off the bridge into a tidal river and drowned and another man committed suicide. So all these stories you uncover, which maybe is what you'd expect out of a population of a new population of 10,000, mostly young men over a two week period. 
Tom Thorpe [00:17:57] And how long did the 22nd Division stay in Lewes? 
Jonathan Vernon [00:18:01] So some of them stayed for two weeks. Some of them only managed a few days or a week because it all fell apart quite quickly. I think the town realised they just couldn't cope. With the best will in the world, they couldn't cope. And I know for a fact a lot of the Cardiff pals who are these young, white collar, middle class clerical workers from the Cardiff docks, weren't put in the nice homes at the top of the hill. They were put into the old workhouse by chance. I don't know who made that decision. The old workhouse had been shut for three years. They tried to fix the plumbing and chucked these lovely young men into the workhouse and all the plumbing went wrong. There were three toilets for 400 people and there was nowhere to put them. A handful ended up in lovely big homes who hadn't opened their doors until now. They took a few men, probably picked the ones they liked the look of -  the rest were marched off to Eastbourne. So after a few days, or a week, certainly a lot of the Cardiff pals disappeared to Eastbourne.
Others had a different experience entirely: the stable blocks I've mentioned already. It sounds like a bit of a rough ride and stable blocks. They were owned by a very wealthy man who had a lot of racehorses. Every day these men got up, they were given a great big breakfast, a pouch of tobacco, a few coins and some food to send them on their way. So they were as happy as Larry. And then there were all sorts of events put on. And I think the biggest event, the most successful event was a football match between Wales and Lancashire. So it sort of is plugged as an international Wales versus England and this match was put on and I just really, really enjoyed it. So I think those sort of events and a lot of other activities they put on, I think many people went away with, with the feeling it was a, it was a great experience and they missed it when they went down to Seaford camp. I know that there were a number of men who kept up correspondence with the people who'd put them up over a few days and correspondences that ... went on for many years. And of course, there's one little love story in there about a young man from Lancaster who meets a young girl and he goes off to Salonika, survives the war, and after four and a half years away, comes straight back to Lewes, marries the girl, and finally goes home, says 'I'm home and I'm also married'. So there's some lovely stories in that. 
Tom Thorpe [00:20:34] One thing that I should have asked earlier was about accents. Did people have difficulty communicating because they were from different parts of the United Kingdom? I certainly found that in my own research, looking at Scotland, Durham and places like that. 
Jonathan Vernon [00:20:46] I imagine so. And I obviously read the press accounts with a certain  pinch of salt, the way they're expressed, because the press seems to think that the Lancashire lads came down wearing clogs and talking in accents no one could understand. And of course, all the men from Wales love to burst into song at the slightest opportunity. So I think there's a bit of stereotypes there, which probably weren't quite right. There's nothing that I've read that indicated there was a problem with communication amongst them. 
Tom Thorpe [00:21:20] My penultimate question is, did the division or its soldiers retain any connection with Lewes after the war? You've indicated there was a bit of love, but was there anything, I suppose, more formal? 
Jonathan Vernon [00:21:30] I don't think there was anything more formal - at all. From what I can tell, the fortunate thing, in a way, is that if I want to follow the story of the 2000 men who I looked at in close detail, most of them did come back because they went to Salonika. They didn't go to the Western Front. So my men, if I followed the story through, they died of sunstroke, malaria and eventually Spanish flu. And once or twice when they went over the top towards the end of the war. But I think 83% of them came back, which is a far, far better record than other divisions. And as I said, the only story of this one story, the man who married someone in the local family. And then there's one other family, the 22 year old woman, Mary Hotblack, kept all the letters she wrote to her brothers and her boyfriend. They had some quite close records of the relationship between the town and the men who were sent off and survived or didn't. In different ways, which makes an interesting story. But I'm not aware of any relationship being maintained with the town after that period. In fact, the town didn't have men billeted on it in those large numbers ever again. I think they'd realised after that two week period that they'd been ... pushed to the limits. And there's one story by way of example, where the food they were providing to the men, the meat that was being provided was stolen. So imagine what happens when you're trying to feed 10,000 men and some miscreant butcher who was brought in to produce the meals, stole all the meat, took it down to Eastbourne and tried to flog it. So they would have had periods when the men were going hungry. 
Tom Thorpe [00:23:27] And finally, Jonathan, where can people learn more about your work and this story? 
Jonathan Vernon [00:23:31] So my Master's Dissertation is published on the Western Front Association website and pretty much as it was presented as my M.A. dissertation under the title "An enthusiastic response to all British social responses to the outbreak of the First World War"  which is essentially what it was about, but includes, of course, the Friendly Invasion of Lewes'. And also my grandfather's story is written up and presented on the Western Front Association website : Cpl John Wilson MM 
Tom Thorpe [00:24:03] Jonathan, thank you very much for your time. 
Jonathan Vernon [00:24:05] You're welcome. 
Tom Thorpe [00:24:11] You have been listening to the Mentioned in Dispatches podcast from the Western Front Association with me, Tom Thorpe. Thank you to all my guests for appearing on this edition. The Theme Music for this podcast with George Butterworth. The Banks of Green, when it was performed by the BBC National Orchestra of Wales, conducted by Chris Rissman and produced by BIS Records. This recording is part of a collection of orchestral works by Butterworth, performed by the BBC National Orchestra of Wales and supported by the Western Front Association. This is available from all global sources under the record code B.S. 2195. Until next time.