The new film '1917' by Sam Mendes is about to be released in the UK (and has already been released in the USA). It has been widely acclaimed for its authenticity, and the cinematography.
But what does it tell us about the men who took part? We can learn very little from the film about the men - our ancestors - who served in the war, but this does not mean that it is impossible to find out about our grandfathers, great uncles and other relatives who served in the trenches in what is arguably the most important war of the 20th Century.
Many family historians have faced difficulties in finding out about their relatives - one of the major reasons for this being the destruction - by the 'blitz' on London in World War 2 - of many records from the earlier war. This has hindered many of us for years, but thankfully a massive resource is now available....These are the 'Pension Records Cards and Ledgers' saved by The Western Front Association.
We have teamed up with Ancestry/Fold3  and they are in the process of digitising nearly 8 million records of men who served in WW1. Many more of these records will be made available during the course of 2020.
Returning to the film, the plot is based on two soldiers who are sent on a mission to in order to stop an attack taking place. These two soldiers are called William Schofield and Tom Blake. If these two were 'real' what could we find out about them?
If we only know their names, there are a number of possible men who could be 'great uncle William'. Below we can see some of these records.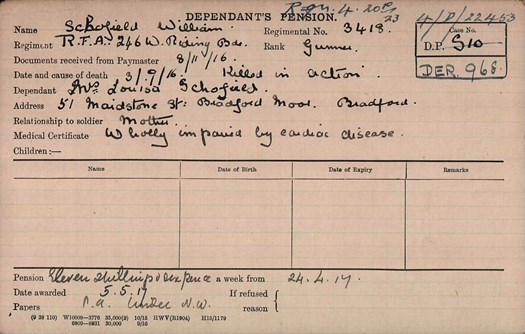 3418, Royal Field Artillery (West Riding Brigade) from Bradford, West Yorkshire. This soldier's mother, we learn, was 'wholly impaired' herself as a result of cardiac disease.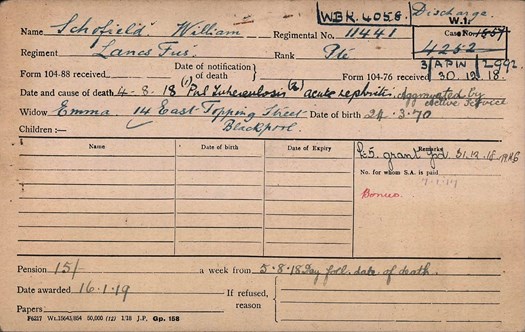 11441 Lancashire Fusiliers from Blackpool died in August 1918 from disease 'aggravated by active service'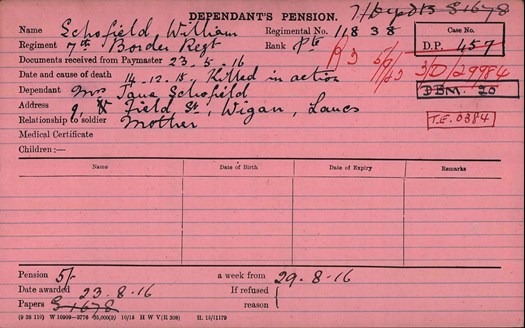 11838, 7th Battalion Border Regiment, from Wigan, Lancashire. This soldier was killed in action in 1915 and his widow was awarded 5 shillings per week.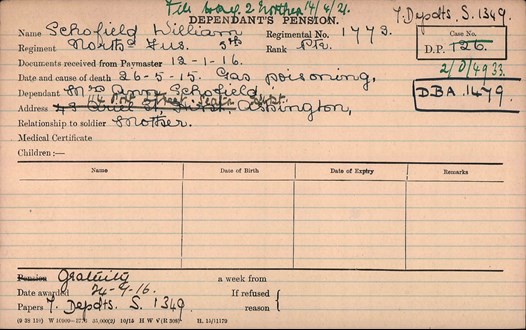 1773, 5th Battalion Northumberland Fusiliers from Ashington (Northumberland). This William was killed as a result of gas poisoning on 26 May 1915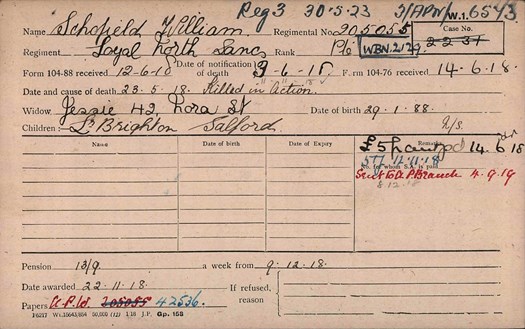 205055, Loyal North Lancs Regiment from Salford. A £5 grant was made to Jessie, his widow, followed by a weekly pension of 13s 9d. 
31727 13th Royal Welsh Fusiliers from Hulme, Manchester. We learn, from this card that William was killed from a gun shot which hit him above the knee. His widow was paid 13 shillings and 9d per week from September 1917.
There are many more men of this name who can be found among the records on Fold3. Each gives differing levels of information, and the examples here are only of those men who were killed in the war.
These records truly come into their own if we do not know much about the military activities of our relatives, and can be a superb stepping stone for finding out about what they were doing when they were killed.
Returning to the film, and without giving away any of the plot, the other character - Tom Blake - has a brother in the 2nd Battalion of the Devonshire Regiment. It is possible to interrogate the search engine on Fold 3 with just this basic information. (Blake / Devonshire Regiment). Below is what can be found: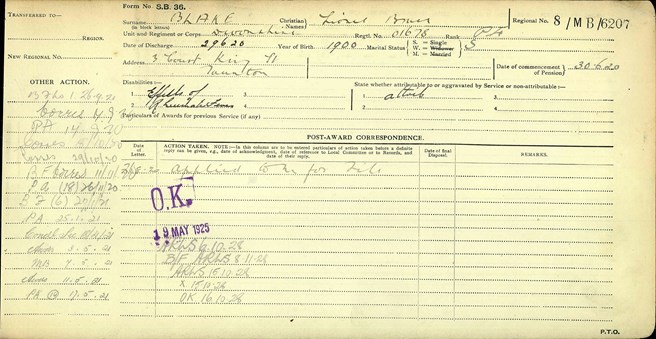 From this ledger we learn that Lionel Blake (who survived the war) was in the Devonshire Regiment, numbered 01678. He was born in 1900, was single and lived in Taunton. He claimed a pension for his disability 'effects of rheumatic fever' (which was attributable to his war service). The pension commenced in 1920.
But what if this 'Lionel Blake' was not our relative? We can look up the records using lots of other criteria, including regimental numbers (if known), regiments and home towns.
For Thomas and his brother Arthur we find this card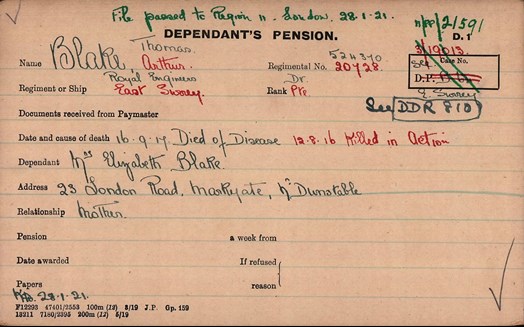 This card tells us that both brothers died - a year apart - one killed in action and the other 'of disease'. They came from Dunstable in Bedfordshire.
This card (below) tells us that Thomas Kingsley Blake's widow (Tump Cottage, Kymin, Monmouth) had a pension refused (Thomas died in 1921 of meningitis and shell shock). The reason for the refusal was that he was married after his discharge from the army).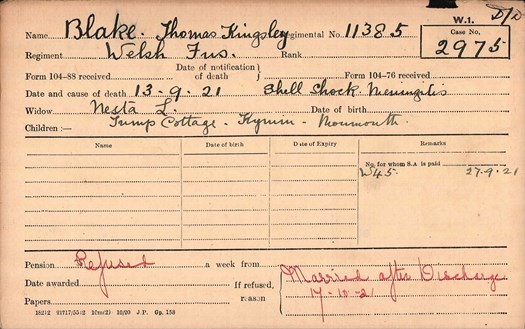 Of course, the joy - or curse - of researching is that sometimes things are not as straightforward as they may appear. For instance the regimental number shown on the card below for Thomas Patrick Blake who came from County Sligo in Ireland is not recognised by the Commonwealth War Graves Commission, who record the 40 year old's number as 200016.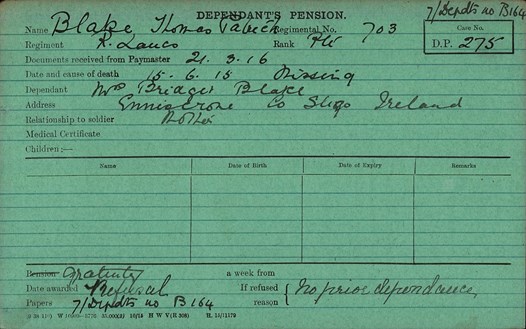 The final record is an excellent example of what 'gems' can be turned up from these records: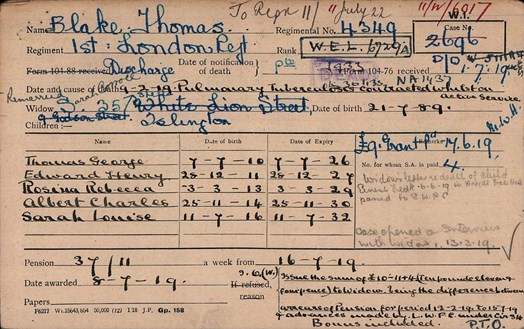 Thomas Blake, of Islington, died in 1919 after discharge from the army (1st Battalion, London Regiment). The cause of death was TB 'contracted whilst on active service'.
He left a widow (Sarah Carol) who remarried and five (named) children who were all born between 1910 and 1916. This kind of information is of course real 'gold dust' in helping fill out a family tree. 
Further Reading (click on these to go to other articles): 
Pension Record Cards - claims for soldiers who were killed
Some numbers (and images) around the WFA's Pension Records
Numerous other articles are detailed here
If you wish to view these records, but are not yet a member of the WFA please do join us.... you can join VIA THE LINK HERE
David Tattersfield Vice-Chairman, The Western Front Association