Acting-Sergeant Jesse Byford was given a pension when he was discharged on the 31st October 1917, as "no longer physically fit for War Service". He was 44 years old and with the Road Troops Depot of the Royal Engineers, although he had been a regular soldier for many years before the war. Prior to enlisting in February 1917, he had worked for two years at the Monk Bretton Colliery Company in Barnsley.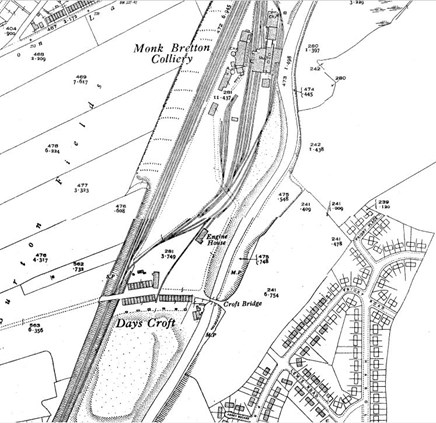 Above: Monk Bretton Colliery map
His Pension Card is in the set of Pension Records under 'Other Ranks who Survived', and filed with it are two further cards which tell of proposed grants by the Military Services (Civil Liabilities) Department.  On 9th September 1919 he was granted £40 to purchase a musical instrument and two months later, on 25th November 1919, a further £18 to purchase a tymphony.  [Spelling should be timpani.  i.e. kettle drums]  These cards have helped uncover the story of Jesse as a musician/drummer, and how his career was nearly ended in the 1930s.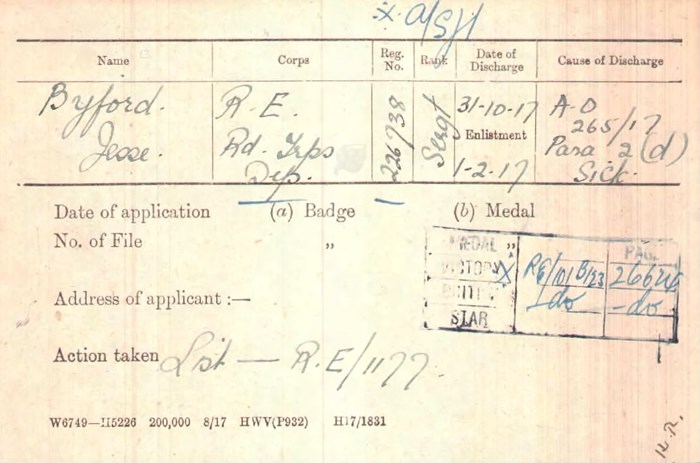 Above: The Medal Index Card showing the award of his War Medal and Victory Medal. He was discharged after just nine months service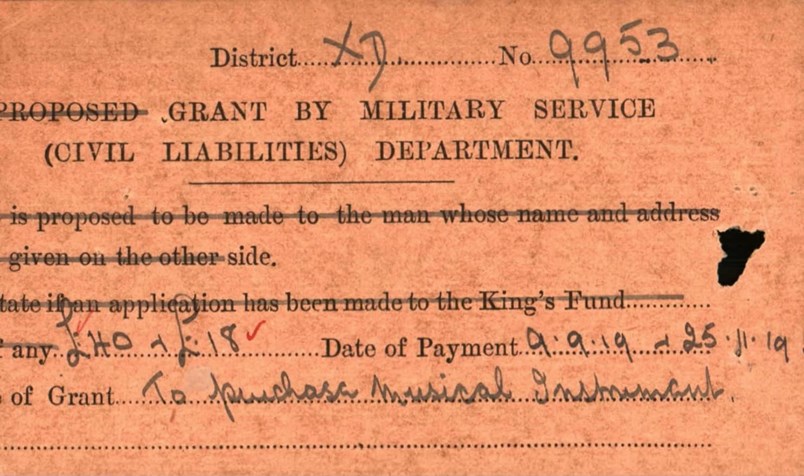 Above and below - two of the cards (one a duplicate) showing the grant paid to Jesse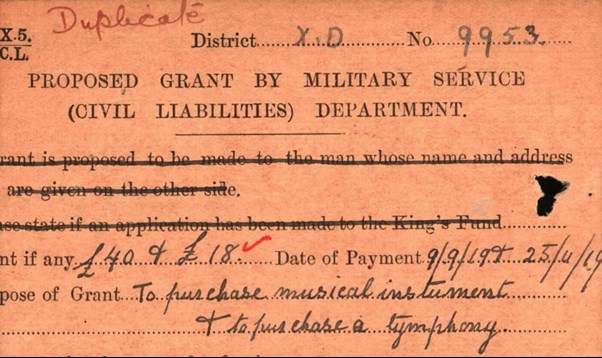 Jesse was born in Clare, Suffolk in 1874 and joined the 2nd Dragoon Guards as a mounted-drummer when he was very young.  He had the honour of playing on his horse's back for sixteen hours at Queen Victoria's Jubilee procession in 1897 and fought with the regiment through the South African War. (Lynn Advertiser, 15 May 1936)
He was married on 20th December 1897, when his occupation was given as Musician, and he was then living in Leeds. On the 1901 census he is still in Leeds but working as a Furniture Carter. Ten years later on the 1911 census he is again a Musician/Drummer, now living in Armley, Leeds, with wife Louisa and daughter Ida, aged 7.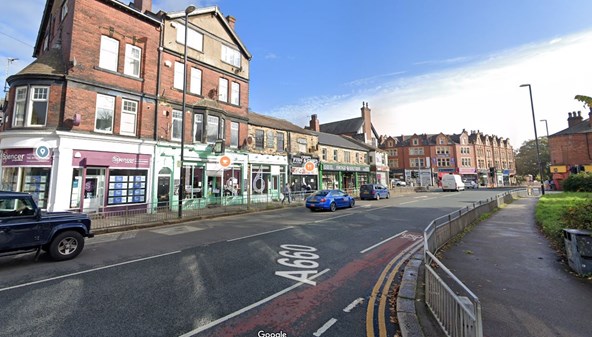 Above: Post war, the family address was Woodhouse Street, Leeds. This has largely been cleared of the houses, but the above date from the era and would have been familiar to Jesse.
Following his discharge from the Army life for Jesse proved difficult. Although he had had the grants for musical instruments he obviously could not make a sufficient living from his music and obtained a job working for a carting agent removing scrap metal to various places in Leeds. In November 1919 he and his fellow worker, Alec Hulton, both appeared in court accused of stealing 13 cwt of scrap metal, valued at £3 5s, the property of the Leeds Forge Company.  Apparently they had, on several occasions, when taking their last load for the day, left a quantity of metal in their carts, and afterwards sold it to a metal broker, whose suspicions were aroused.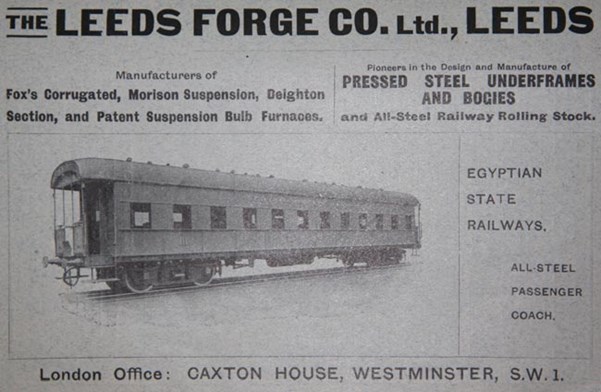 The solicitor, Mr A Willey, appearing for Byford, said the thefts were the result of temptation. His client had been in the Army for twenty years, and was discharged with a pension of 32s 6d a week. Both men he said had lost their employment by their act, and he pleaded for leniency. The prisoners were sentenced to one month's imprisonment. After the prisoners left the dock, Mr Willey, addressing the Bench, said they were probably not aware that the sentence they had passed on Byford would, in all likelihood, throw his pension into jeopardy.  (Leeds Mercury, 28 November 1919).
Jesse, however, does not appear to have lost his pension.  His pension record card shows him receiving a pension for himself and his wife up to 1922, by which time he had become a successful musician, working at the Empire and Theatre Royal in Leeds and the Hippodrome in Richmond.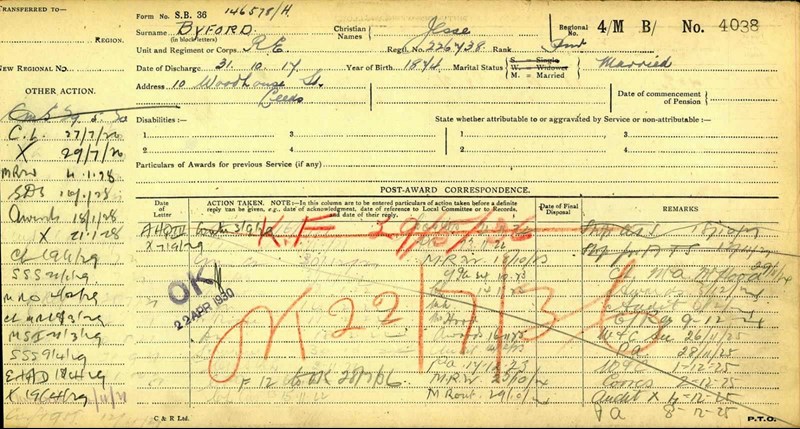 Above and below - the Pension Ledger showing his address and pension entitlement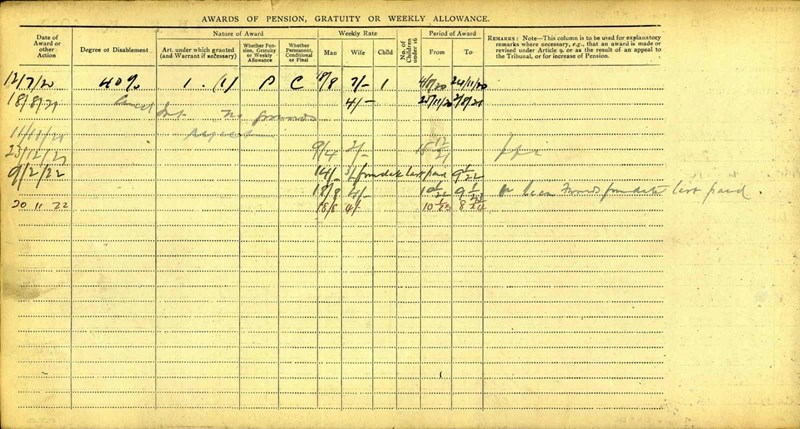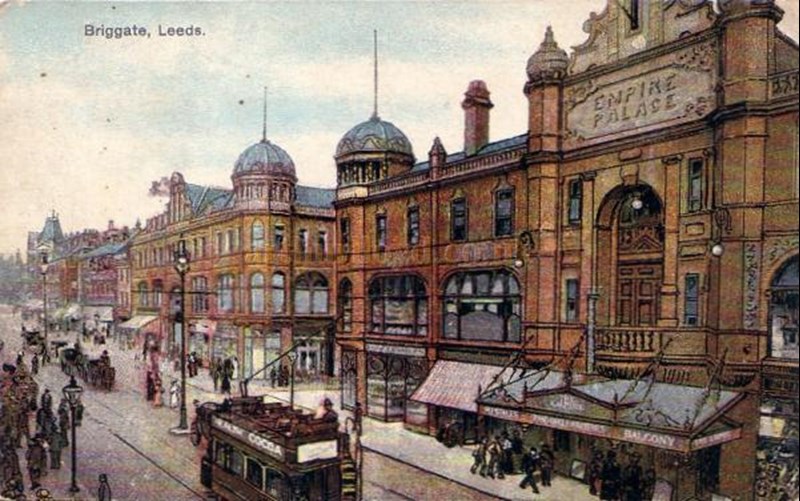 Above - Empire Palace, Leeds and below, a poster from the period. 

In 1925 he joined the orchestra at the King's Lynn Theatre Royal, a theatre noted for its association with famous Victorian players, and it was here that his musical career almost ended.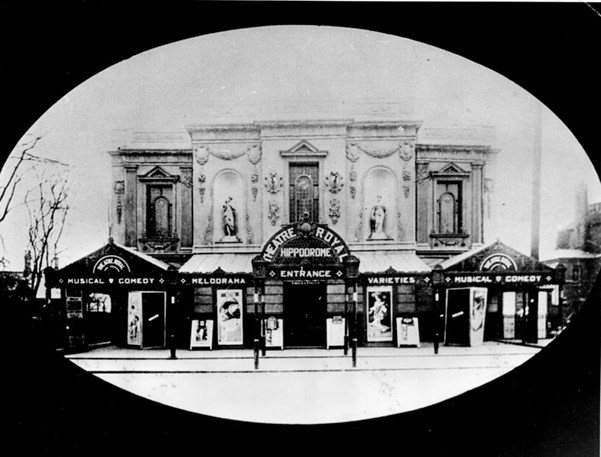 Above: Theatre Royal. King's Lyn and (below) a poster from 1918.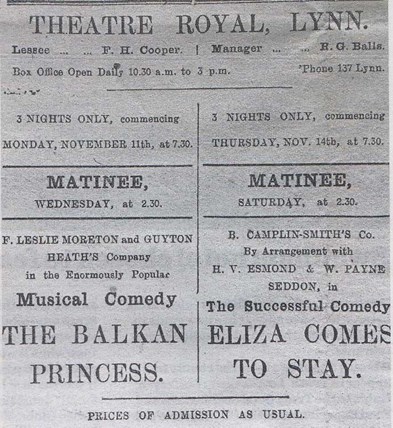 In the early hours of Sunday 10 May 1936 a fierce fire broke out backstage which spread so quickly that within two hours very little of the theatre except the walls remained.  Unfortunately Jesse had left his instruments at the theatre after the Saturday evening performance and all were lost. In an interview with the local newspaper he said, "The instruments were my sole property and consisted of one set of silver-plated tympani, a bass drum, a side-drum, bells, three sets of cymbals, and tambourines; in fact, all necessary instruments required for orchestral use. Unfortunately for me they were not insured."
Other musicians and performers also suffered losses in the fire. The Carlton Sisters, a quintette of jugglers, who were due to appear at The Palace, Blackpool the day after the fire, lost all their scenery and property including costumes and personal attire. They were also uninsured. (Lynn Advertiser, 15 May 1936)
Fortunately the theatre itself was insured and the Corporation planned to rebuild it.
In the meantime a concert was held in July 1936 at the Majestic Cinema, King's Lynn, to aid the artistes and members of the orchestra who had lost their personal belongings and instruments. "Revels of 1936" was put on by Reginald Northall's concert-party and played to a packed house. (Lynn Advertiser, 24 July 1936)The new building was opened in April 1938 but as a cinema rather than a theatre, cinemas by now having become immensely more popular.
It is not known just what employment Jesse had following the fire but on the 1939 Register his occupation is still recorded as "Musician", although he had moved to Gipping, Suffolk, the county of his birth. He died there in 1945, aged 72.
Article by Susan Tall
Information obtained from Census, Marriage and Military Records on ancestry.co.uk and newspaper articles from the Newspaper Collections on findmypast.co.uk
Further reading: