There are of course lots of coincidences in the First World War, but one that is quite remarkable is that of the father and son both of whom were killed in action on the same day - 4 January - but a year apart.
What is even more remarkable is the unusual unit to which the father was serving when he was killed.
Captain Frederick Courtney Selous
Frederick was born on New Year's Eve in 1851 into a wealth family - his father being chairman of the London Stock Exchange. Because of his interest in the adventures of Dr David Livingston (the Victorian explorer) at the age of 19 Frederick went to South Africa, travelling from the Cape to Matabeleland (later part of Rhodesia). From 1870 until 1890 Frederick Selous hunted and explored over the area, His discoveries added to the knowledge of the country now known as Zimbabwe.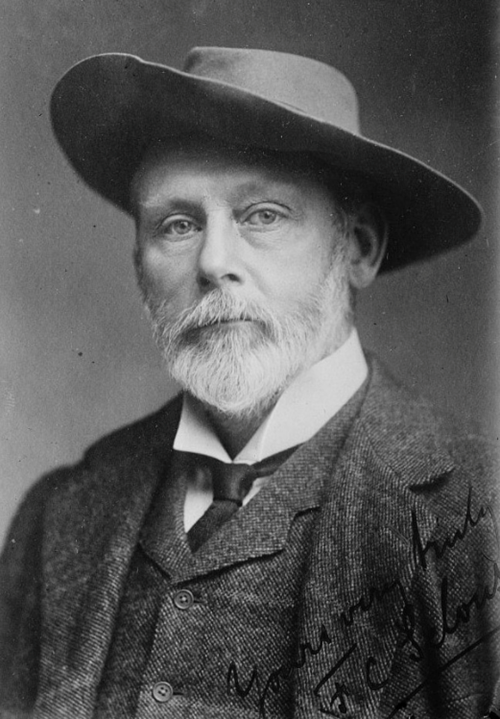 In 1890 Selous worked for Cecil Rhodes' British South Africa Company, as guide to the pioneer expedition to Mashonaland. He spent brief intervals in this period back in the Britain and returned to Africa to take part in the first Matabele War (1893), being wounded during the advance on Bulawayo.
While back in England he married, age 42, he married 20 year old Marie Catherine Glady and returned with her to Africa. They were in Matabeleland when a native rebellion broke out. He took part in the fighting which followed. His account of the campaign ('Sunshine and Storm in Rhodesia') was published in 1896 and shortly after he once again returned to the UK.
Outbreak of the First World War
In February 1915 a unit was formed called the 25th (Service) Battalion, Royal Fusiliers (Frontiersmen). It had taken many months of badgering for the unit to be accepted by the British War Office. The men who were recruited into this battalion came from a quasi-military force (formed in 1904) called the Legion of Frontiersmen. This 'Legion', although having its headquarters in London, had branches throughout the world. Men came forward following an appeal by its founder and commandant Daniel Driscoll. Despite the nature of the organisation, many of its members had no military experience and were probably no better (or worse) than other recruits to other wartime raised units.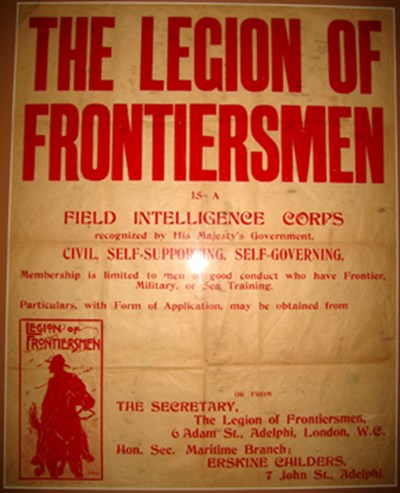 Above: a recruiting poster for the Legion
Recruits included Frederick Selous, plus other 'exotic' individuals including a millionaire, several American cowboys, a Scottish lighthouse keeper, a naturalist, a circus clown, an Arctic explorer, an opera singer, a famous photographer, and a lion tamer.
The unit was despatched to Africa in April - barely two months after formation.
During its service, the battalion was used mainly in the East African theatre and it was with this unit that Lieutenant (later Captain) Frederick Selous was awarded a DSO and served an active part, despite being in his early 60's.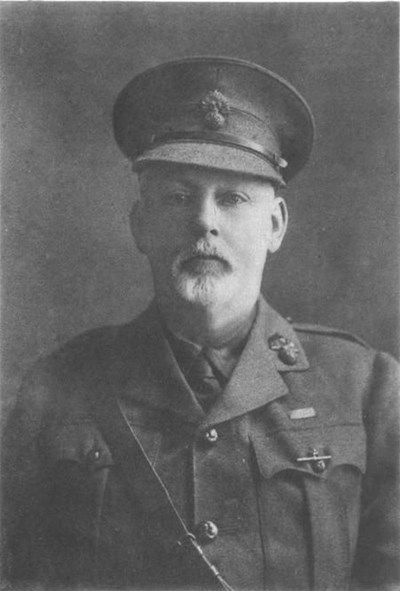 Above: Selous in uniform. 
The citation for Frederick's DSO - which was awarded in September 1916, read as follows:
For conspicuous gallantry, resource and endurance.
He has set a magnificent example to all ranks, and the value of his services with his battalion cannot be overestimated.
January 1917
In early January 1917, the battalion was fighting on the banks of the Rufiji River against German colonial Schutztruppen (colonial troops, led by white German officers) but was vastly outnumbered.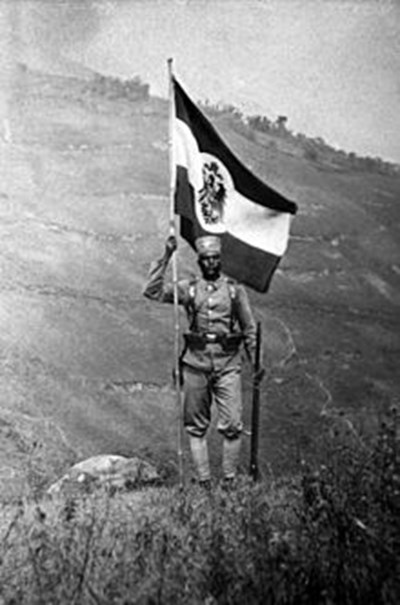 Above: a Schutztruppen
On the morning of 4 January, Frederick was creeping forward in combat when he raised his head in order to locate the enemy. He was shot in the head and was killed instantly.
The battalion's war diary for the day records the following
Marched out at 5.30 hrs. and engaged enemy in dense bush at 10.30 on our front and right flank simultaneously and drove him from his position 2 miles west of BEHO-BEHO (TCHOGOWALI) casualties sustained as follows:-
Killed.
Capt. Selous D.S.O., 1 N.C.O. and 2 men.
Wounded.
Capt. Welstead (slight), 2nd Lt. Buchanan (slight), 2nd Lt. Dutch (serious – since dead) 2 N.C.O's and 5 men.
Enemy retreated towards the RUFIGI RIVER.  We camped for the night at TCHOGOWALI.
Frederick Selous was buried under a tree close to the place of his death, in what is today the Selous Game Reserve, Tanzania.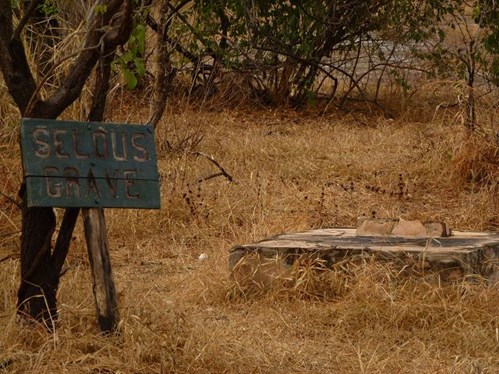 Above and below: the Selous grave in Tanzania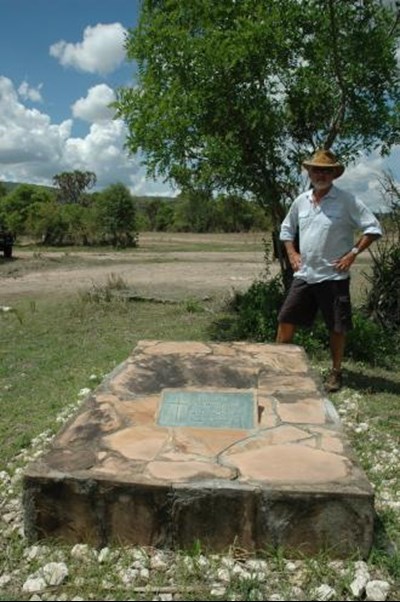 His grave is recognised as a war grave by the CWGC who were prevented from 'concentrating' the grave into the Dar es Salaam (Upanga Road) Cemetery, where other men killed in this action are buried.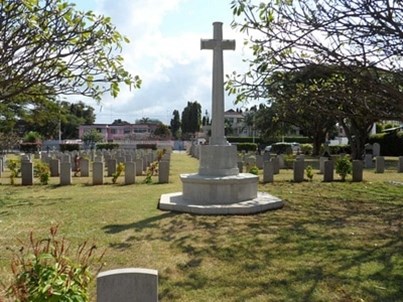 Above: Dar es Salaam (Upanga Road) Cemetery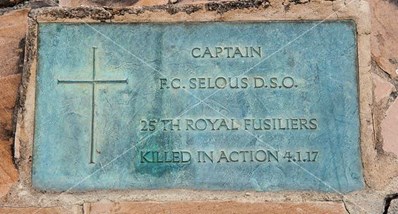 Above: A simple bronze plaque marks his grave.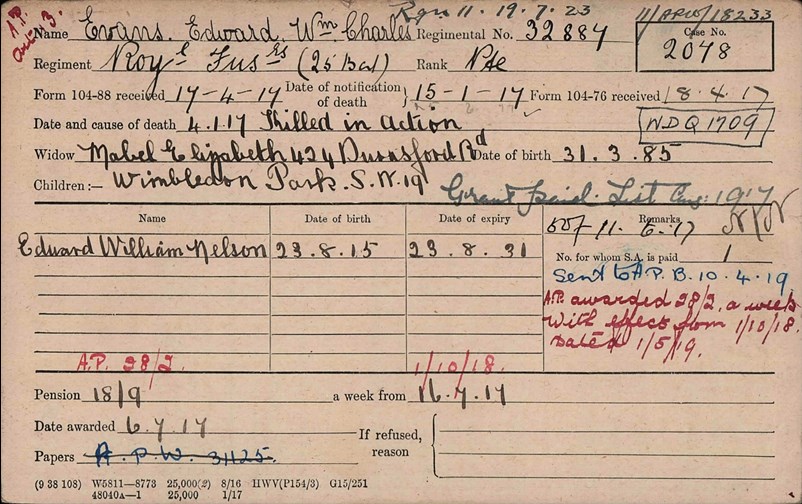 Above: images of the Pension Records of men killed at about the same time as Frederick Selous.
Frederick Hatherley Bruce Selous was the son of Frederick Courtney Selous and was born in 1898 in Wargrave, Berkshire. He was educated at Rugby School.
He entered Sandhurst in September, 1915, and on leaving in April, 1916 was gazetted to the Royal West Surrey Regiment and attached to the Royal Flying Corps. After going through pilot training, in July 1916, he was sent to the front and was awarded the Military Cross. Returning to the UK in April 1917 Frederick joined the Central Flying School as an Instructor.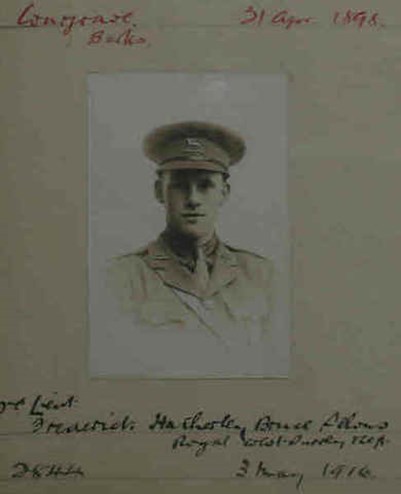 Above: Capt. Freddie H.B. Selous  3 May 1916 (From the album Marcus Peter Hatherley Ford's photos by Marcus Peter Hatherley Ford)
After a few months as instructor (itself a very dangerous role), he was - in September 1917 - returned to operational duties, with No. 60 Squadron, RFC. (60 squadron also had - at various times - Albert Ball and Billy Bishop as pilots). The squadron flying S.E. 5as. On 8  November 1917 he was credited with a victory over a German reconnaissance plane over near Ypres, and on 28 December was credited with another victory.
Above: 'A Bad Day at the Office' A lonely SE5A is harried by a couple of Fokker Dr1s: an image designed by Pat Speirs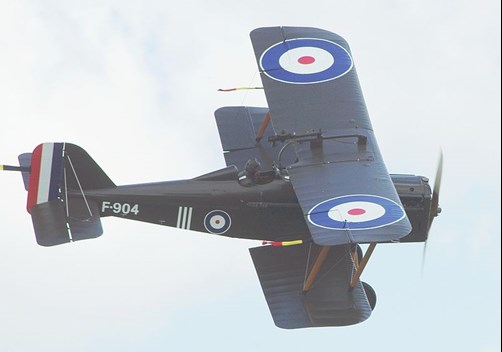 Above: The Shuttleworth Trust's SE5A at Old Warden's Summer Show 2009
On 4th January 1918 the younger Frederick (still only 19 years old) was in action - a year to the day after his father was killed. A report from a fellow pilot (Lieutenant Edward Thornton) describes what happened...
'I was up at 15,000 ft. over the German lines, when I saw Captain Selous take a dive at a German machine some 2000 feet below. What actually happened I do not know, but all at once I saw both wings of the machine collapse, and he fell to the earth like a stone. We were terribly upset at this, as he was idolised by us all.'
The officer commanding No.60 squadron, wrote a letter of condolence his mother:
'It is a severe blow to the squadron to lose him, for he was beloved by officers and men alike. In fact, his popularity extended to a much greater area than his own aerodrome. In the short time that I have known him I have been struck with the courage and keenness of your son—always ready for his jobs, and always going about his work with the cheeriest and happiest of smiles. He was the life and soul of the mess'.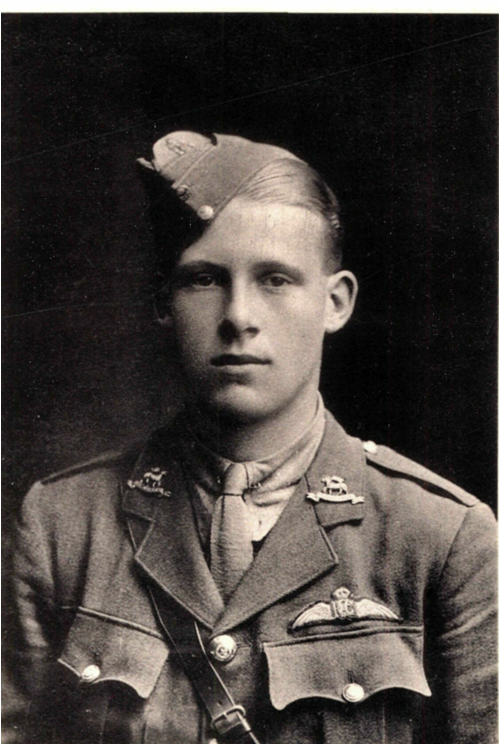 Above: Another photo of Frederick H.B. Selous (Image, Lives of the First World War, IWM) 
More recent investigation has suggested that he was buried by the Germans at Nachtegal which was also known as 'Vieux Chien' some miles southeast of Ypres. After the war the graves from this German Cemetery were concentrated to Perth Cemetery China Wall (approximately 69 British graves were moved). These seem to have been moved to plots 10 and 11 in this cemetery.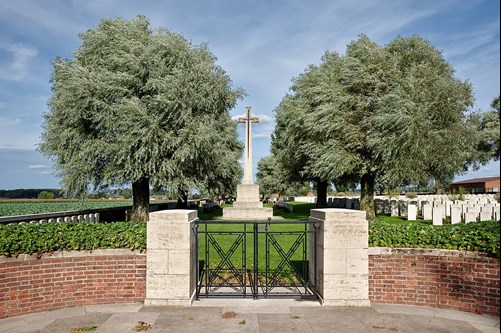 Above: Perth (China Wall) Cemetery (Photograph by Benoit Brummer CC SA BY 3.0)
It is possible that Captain F.H.B. Selous is buried there now, although his official commemoration is on the Arras Flying Services Memorial.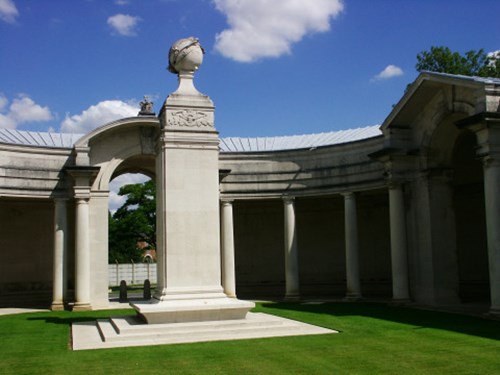 Above: Arras Flying Services Memorial (Photograph from Carte des Routes. First World War) 
Article by David Tattersfield, Vice-Chairman, The Western Front Association