The Pension Cards and Ledgers that were saved by The Western Front Association are a valuable resource which will massively assist those undertaking research into aspects of those soldiers who served in the British Army in the First World War.
In September 2019 a further set of 1 million records, Soldiers Who were Killed, were published by the WFA's partners Ancestry on their Fold3 site. As WFA members will be aware, these records are available for free for WFA members by logging onto the WFA's website and following the links on the Pension Records pages. 
As mentioned, the records are a fantastic resource for those undertaking either family research or research into a particular war memorial. By means of an example into the war memorial research I'd like to look at one name on one war memorial that was able to be researched in less than two minutes using the WFA's Fold3 Library. This has clarified the individual named on the war memorial - a puzzle that had only previously been guessed at, and would have taken many hours of research to fully resolve.
The War Memorial at Kirkhamgate, near Wakefield is on a busy road and is not particularly unusual. It lists the names of 28 men from the local community who were killed in the First World War. These are listed using the surname and initials rather than full names, and do not detail the regiment the soldier served in. The only helpful feature to assist a researcher is the names are grouped by year of death.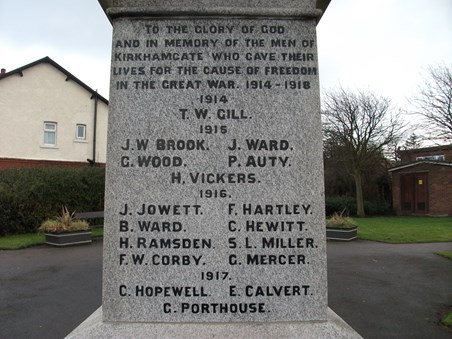 Most of the names have been identified by researchers in the past, but some defy 'definitive' identification.
One of these is H Pickersgill who apparently died in 1918. Using the CWGC's web site, a total of nine men of this name were killed in the war, four of them in 1918. One of them had a middle initial and came from Middlesborough, so this leaves three reasonably likely candidates. None of these three have any next of kin detailed on the CWGC web site, and all served in northern regiments. Locating which of these three is the man named on the Kirkhamgate War Memorial would probably not be impossible but would be time consuming.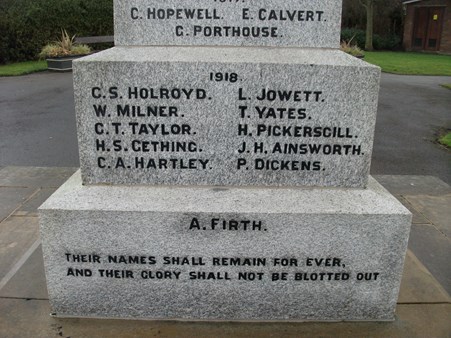 By simply tapping "Pickersgill" into the Fold3 search engine, a total of 201 images are provided. Refining the query to include "Wakefield" reduces this to nine images, including a man called Horace from Kirkhamgate. (Similar, results were obtained by typing 'Kirkhamgate' instead of 'Wakefield'.) Looking at the records for this man, it is clearly the individual named on the war memorial.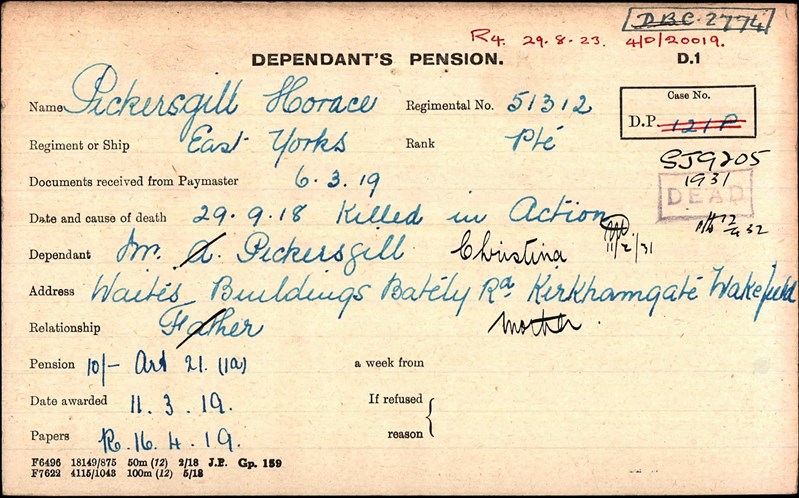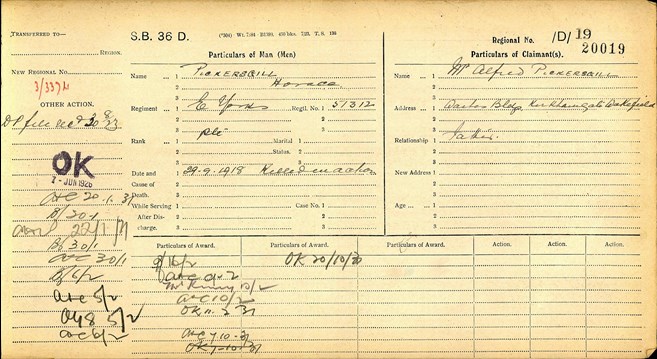 Above: The Pension Card and Ledger for Private Horace Pickersgill from the WFA's Pension Record archive
This search took less than two minutes and has positively identified the potentially elusive 'H Pickersgill' named on the war memorial.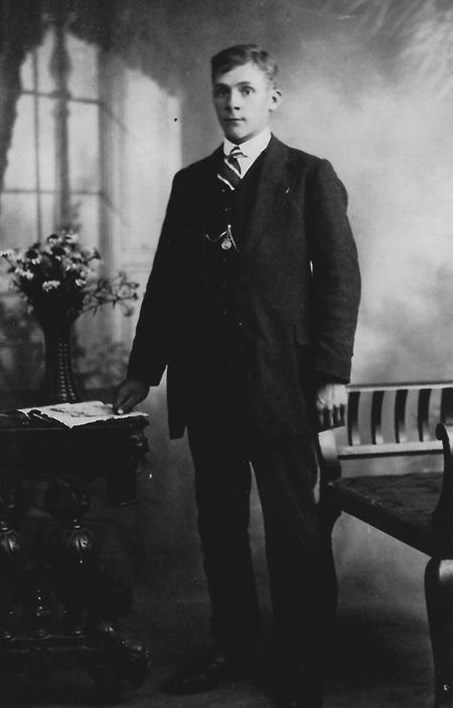 Above: Horace Pickersgill. (c) Lives of the First World War IWM 2019 
David Tattersfield, October 2019