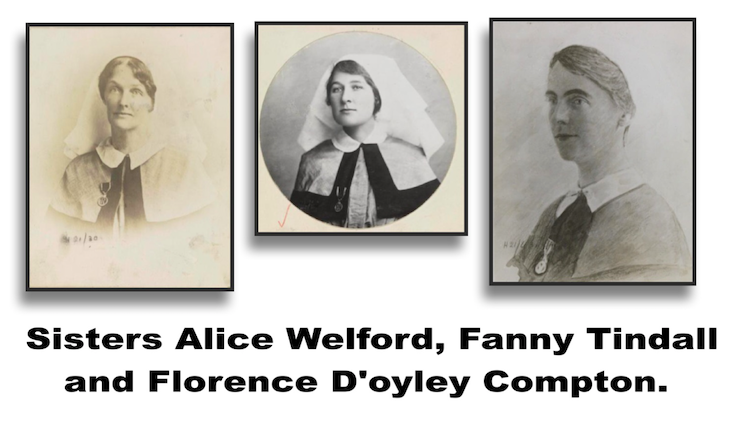 A permanent reserve for Queen Alexandra's Imperial Military Nursing Service Reserve (QAIMNS) was formed in 1908, but during peacetime recruitment proved difficult, never successfully competing with the popular Territorial Force Nursing Service.
It was intended that the Reserve be held at a constant 500 members; in peacetime they would fill gaps in military hospitals caused by the under-establishment of the Regular Service, and, in the event of war, would be available to provide, at short notice, suitable nurses to supplement QAIMNS.
Members were required to sign a contract for a period of three years, and paid a  retaining fee of £5 per annum, or if actually employed, received allowances on the QAIMNS scale appropriate to their rank [1]. In the event, recruitment was slow and patchy, and on the eve of war there were less than two hundred nurses of the QAIMNS Reserve available for mobilization.
However, the Reserve flourished following the outbreak of war, with trained nurses flocking to join the military nursing services on yearly contracts. By the end of 1914 more than 2,200 women had enrolled in the service, and in total more than 12,000 served with the Reserve at some time during the Great War in all theatres [1]. 
In the immediate post-war period, members were retained for employment in the increased number of military hospitals and also in Ministry of Pensions establishments. Some were engaged for the regular QAIMNS, their social and professional pedigree already established by their wartime service, but the majority were demobilized between January and September 1919, returning to civilian life to pick up the threads of their former lives, or venturing overseas to seek new opportunities.
[This piece on Queen Alexandra's Imperial Military Nursing Service Reserve forms part of a longer article - Guide to British Military Nurses in the Great War by Sue Light]
[1] The National Archives, WO243/26, A Scheme for the Organization of a Reserve of Nurses, 1908
[2] Army Medical Services Museum, undated report with handwritten notations, signed by Anne Beadsmore-Smith, Matron-in-Chief, QAIMNS, 1919-1924