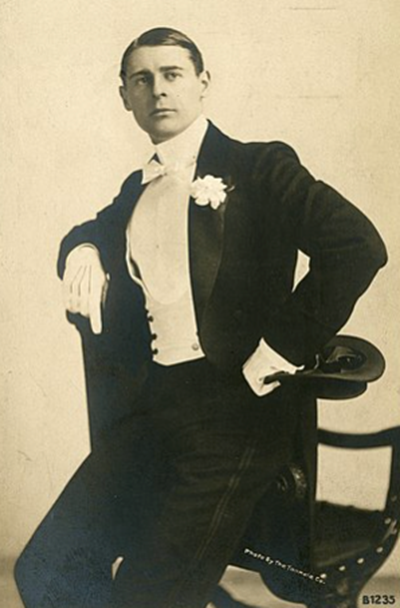 The once-renowned Robert 'Bobbie' Lorraine is now an obscure figure.
Born on 14 January 1876 in New Brighton, Merseyside, he was known in his heyday as the 'Actor-Airman'. He became a matinee idol before gaining his Royal Aero Club pilot's certification in 1910 at the age of thirty five. The first man to land an aircraft on the Isle of Wight in August 1911, he had a reputation for being a rather unpredictable pilot.
On the outbreak of war he volunteered his services as a pilot to the RFC - and proceeded to wreck several aircraft. The Director of Military Aeronautics, Major Sefton Brancker, was persuaded to send Loraine to France only as an observer; the London Gazette for 15 December 1914 confirmed Second Lieutenant Robert Loraine (RFC, Military Wing, Special Reserve) in his rank, on probation.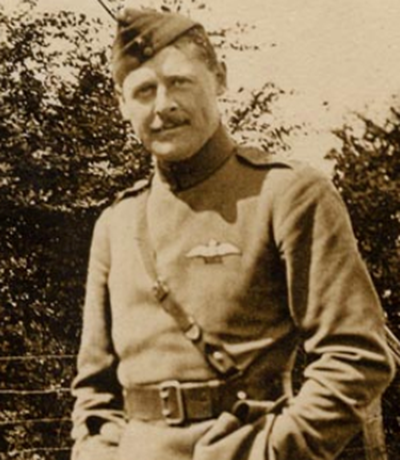 Eventually, however, the RFC's pressing need for pilots, coupled with Loraine's own insistence, ensured that he became a flying officer. By 15 September 1915 Loraine was a flight commander, as a temporary captain. His greatest moment was when a military aviator was at hand.
On 18 November 1915 The London Gazette recorded the following commendation for the Military Cross:
For conspicuous gallantry and skill on 26 October 1915, when he attacked a German Albatross biplane, getting within fifteen yards of it. When the hostile machine dived he dived after it, and followed it from a height of 9,000 feet to 600 feet. The enemy pilot was hit, and his camera and wireless transmitter were subsequently found to have  bullet-holes through them. The Albatross fell in our lines.
It was typical of Loraine that he later flew back over the German lines to drop a note of condolence onto the German airfield.
Lorraine had always been popular with the mechanics but was seen by his fellow pilots as an inconsistent disciplinarian, and not a good pilot, and worst of all he was an actor! However, after the award of the MC, his senior lieutenant (himself only 19) said: "we had to admit that there was something in Loraine."
On 24 April 1916 Captain 'Bobbie; Lorraine MC' was elevated from command of a flight to that of a squadron, with the rank of temporary major 'whilst so employed'. Further promotion was to follow; on 13 February 1917 he became the commander of a wing as a temporary lieutenant colonel. Between January and July 1917 Loraine assumed command of the airfield at Northolt on the edge of London's western suburbs. His complex character was once again in evidence; he was by turns charming and then annoying.
Undoubtedly brave as a pilot, he remained erratic and accident-prone. Lorraine;s own mechanic described him as a lunatic and a hero - often both at once! Whilst at Northolt Loraise was described by Ewart Garland, a fellow pilot, as " - a holy terror as a CO, but I found him good company off duty."
He returned to France attached to a night-bomber squadron. A London Gazette memorandum records the promotion to the rank of Lieutenant Colonel from 11 December 1918 to R.Loraine DSO, MC (late Major, RAF). However, he was forced to relinquish his commission on those days because of a gunshot wound to his left knee. He was granted the honorary rank of Major and returned to the stage, and the life of an actor.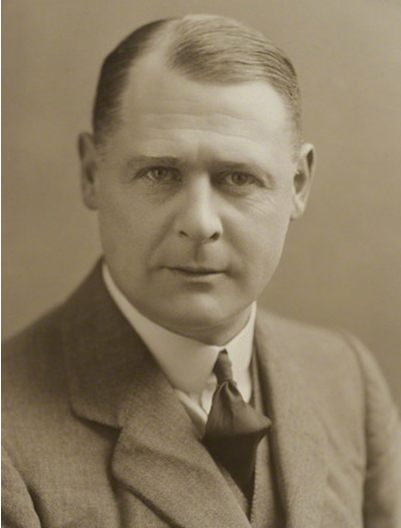 Robert 'Bobbie' Lorraine, DSO, MC, the Actor-Airman, died in London on 23 December 1935.
[This short profile of the film actor Bobbie Loraine MC first appeared in a piece by Mark Bristow titled 'Seven British Actors Who Served during the Great War'. It appeared in Firestep Vol.7. No.1 The Western Front Association London Branch magazine, all volumes of which are available for access by members using their member login].