This item first appeared in Stand To! No. 74 September 2005 p.54. All these articles can be enjoyed by WFA Members using their Member Login and then browsing the entire Stand To! Archive of 116 publication.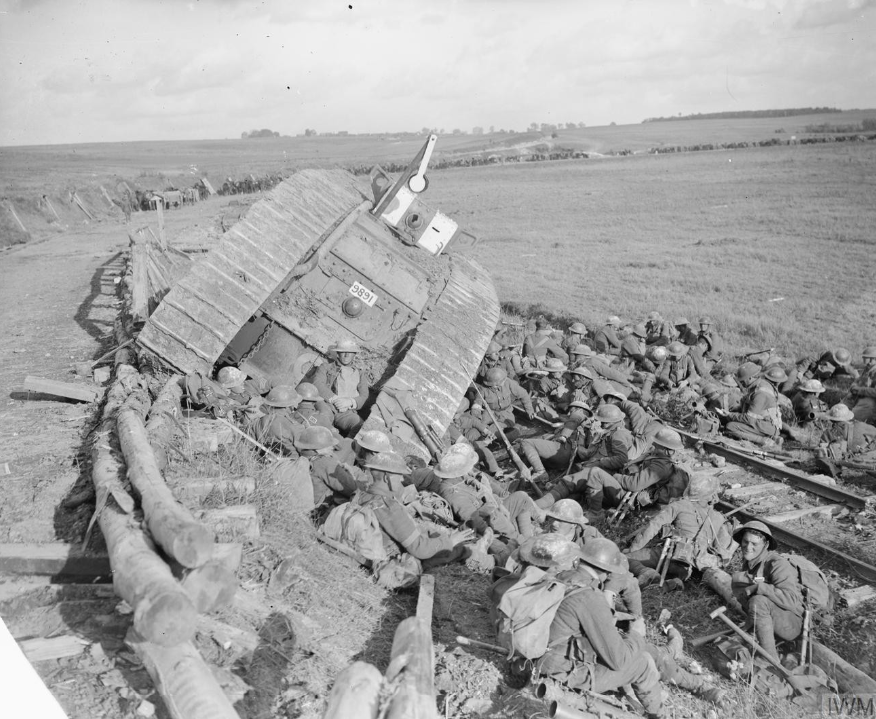 Taken on a clear October morning in 1918, this fairly well-known photograph, IWM Q7111, [Top Image of Two] shows men of the 20th Bn, Manchester Regiment, resting beside a tank which had been disabled after 'slipping down a railway embankment' near the village of Premont. The Manchesters were part of the 25th Division, Fourth Army, which operated in the area with the 30th American Division. 
We were able to obtain extracts from the Manchesters' Regimental History from Michael Keane of Tameside Local Studies & Archive Centre; strangely, the History did not mention Premont in its account of the fighting on 8 October, the day the photograph was taken. It does, however, mention the tank, a Mark V* female, which was a 'stretched' version of the Mark V, and A Coy which successfully attacked Foal Copse and the adjacent area of scrub. The History tells us that 'meanwhile the fire from the scrub did not diminish, so the services of a tank were requisitioned and the spot effectively cleared during the morning'. 
We discovered that Q7111 was taken 1 ½ miles west of Premont at the junction of an unmarked track and the D932 road from Le Cateau. The photographer is looking back along the track towards Premont which can be seen on the horizon in both photographs. If one studies the photograph with a magnifying glass, it is possible to identify two Lewis guns, a sergeant with a cigarette in his mouth, a corporal and two lance corporals. The white painted device on top of the tank is part of a semaphore signalling apparatus and the number 9891 is the tank's individual number, given to it when it was built. The column of troops in the background is almost certainly elements of the First Cavalry Division; they also feature in another photograph taken within 200 yards of this one on the same day.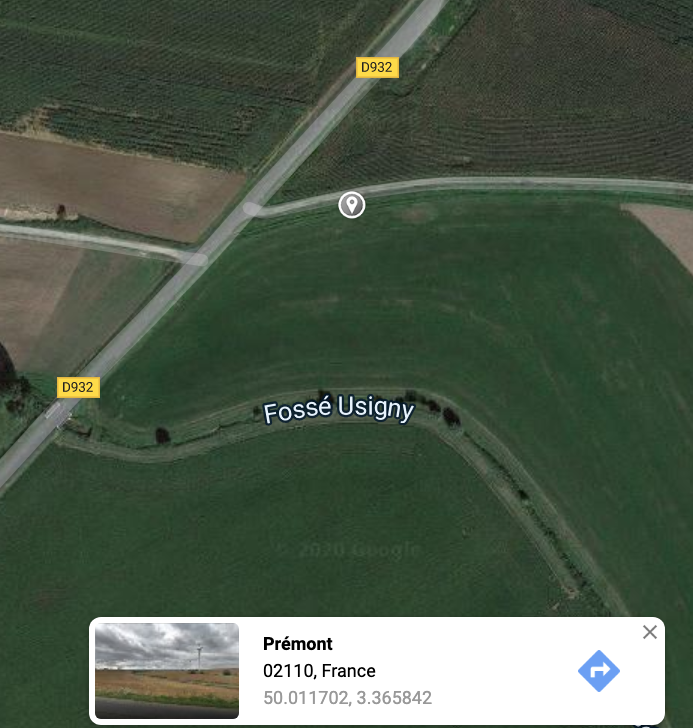 IMAGES: Battle of Cambrai. Men of the 20th Battalion, Manchester Regiment (25th Division) resting by a tank (serial number 9891), disabled by side-slipping down a railway embankment. Near Premont, 8 October 1918. (C) IWM Q 7111 https://www.iwm.org.uk/collections/item/object/205238960 Google. D932 Premont, Hautes-de-France.