James William Thornton was born in Bethnal Green London in 1895 and worked initially as an indoor messenger boy for the General Post Office. His Attestation papers for the Territorial Force survived and show that on 11 February 1914 he was deemed fit to join up.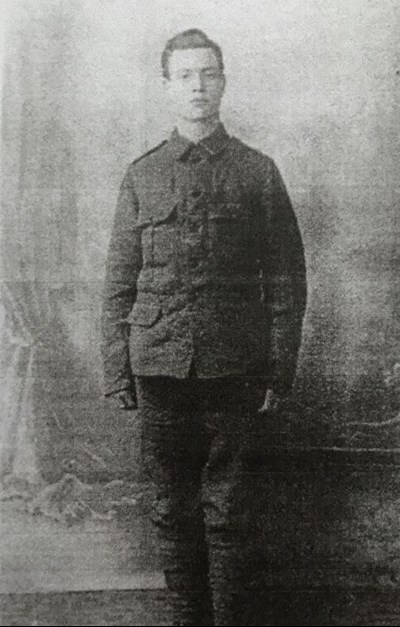 Above: James in army uniform 1914
The Post Office Rifles were initially formed in 1868 as a Volunteer force.  It was made up mostly of Post Office employees and provided most of the riflemen for the 1/8th City of London Regiment. They spent four months training in Hertfordshire, before arriving in France in March 1915.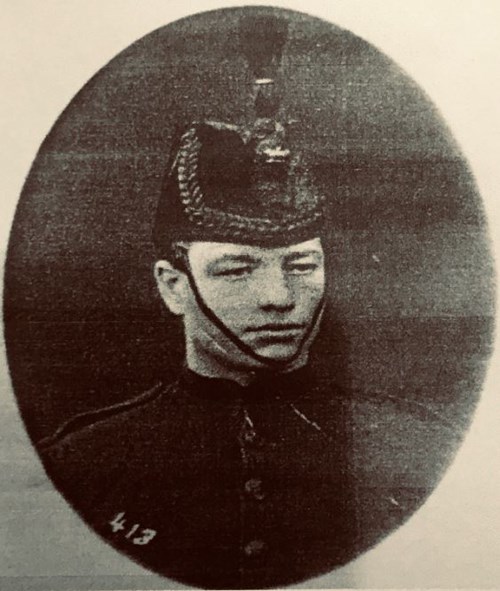 His Military History Sheet indicates James' initial Home service was from 11/02/1914 until 16/03/15 when he embarked from Southampton for France.  His overseas service lasted from 17/03/1915 to 24/06/1916, but only two months after landing James was in action on 24/05/1915 south of Festubert when he received a gunshot wound to his chest.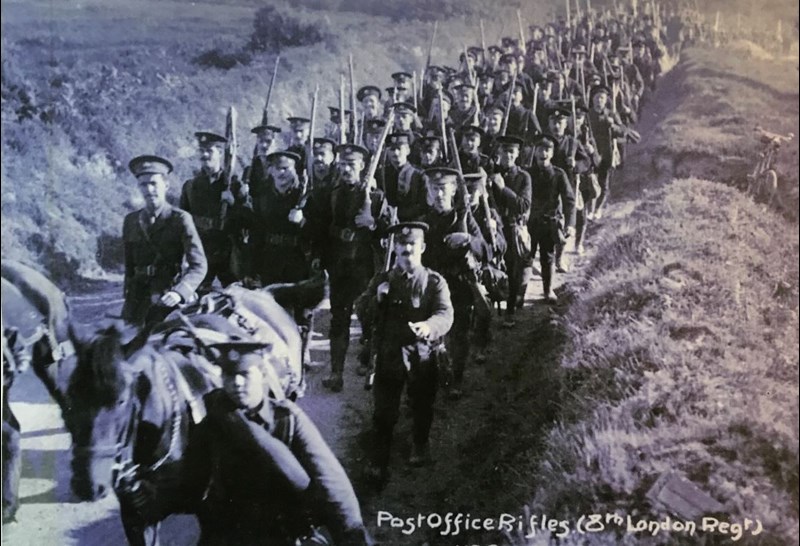 Above: Post Office Rifles marching
The Rifles entered the front line near Givenchy on 11 May, and although not in the main attacking companies, suffered heavy casualties due to German artillery fire.  Canadian troops relieved them on 20 May, but after only two days they were ordered back into the line. On 24 May, James' platoon took part in some fierce fighting, bombing and using bayonets to clear newly captured trenches when he was shot.   Fortunately, his chest wound was not serious, and he was able to receive initial aid at a dressing station.
After treatment at a field hospital, James returned to his regiment, but on 2 November 1915 he was sent down the line noted as suffering from shellshock.
The third, and most serious medical event of James' service occurred on 21th May 1916. To give an official outline of the circumstances, the War Diary (TNA-WO 95/2731/3), Operation Order of 18th May 1916  no. 10 refers.
 (1)  The Bn. will relieve the 11th Lancashire Fusiliers in the Left Sub-Section (Berthonval) sector tomorrow night.
(2)  Guides of the 11th Lancashire Fusiliers will be at Cabaret Rouge at 9.30pm.
(3)  Bn. will parade in Column of Route, head of the Column at the outer gate of the Chateau, ready to move off at 5.55pm. and will move with a two minute interval between Coys.  To Villers au Bois where there will be a halt for about an hour.  Order of march: Hqrs, 1, 2, 3, 4, Bombers, Lewis Gun Detachment.  Buglers, Coy. Signalers, Stretcher Bearers & Bn. Orderlies with their bags.
(4) Coys. And their detachments will proceed to the trenches in the following order. No.1 Coy and 1 section of Bombers, No. 4 Coy., No. 3 Coy., Hqrs with remainder of Bombers, Lewis Guns.   They will not move from Villers until ordered.  Route via Cabaret Road and Ersatz Alley except for Lewis Gun detachment for which separate orders will be issued.
(5)  Rations will be distributed after the completion of relief.  Full water bottles will be carried.
(6)  Copies of Receipts given for Trench Stores will be sent to Bn. Hqrs. as soon as possible after completion of relief.
A schedule showing dates and details of reliefs, gives the route in and out for the right sector:- move via Villers au Bois, Duck Walk (Vimy trench map ref. 36cSW3) and Cabaret Rouge Road to Cabaret Rouge.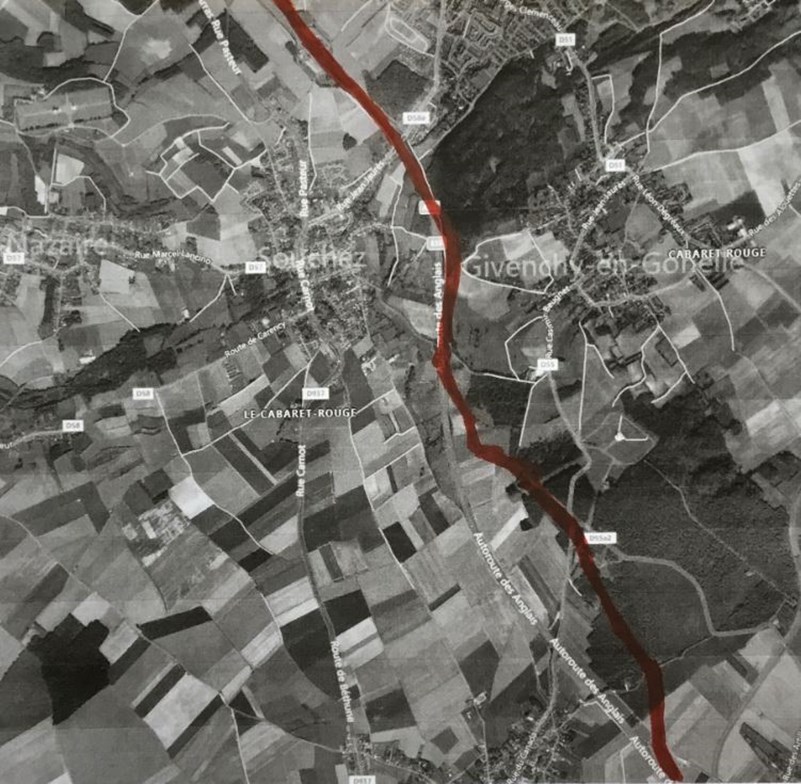 Above: National Library of Scotland georeferenced map (1:10k) 36B.SE4 /36C.SW3
The red line marks the British front line in April 1916 and follows roughly the modern A26 Autoroute des Anglais in the Souchez - Givenchy area. The reference to a relief route via Duck Walk in battalion orders is reflected by a road just south of Cabaret Rouge British Cemetery called Chemin du Canard.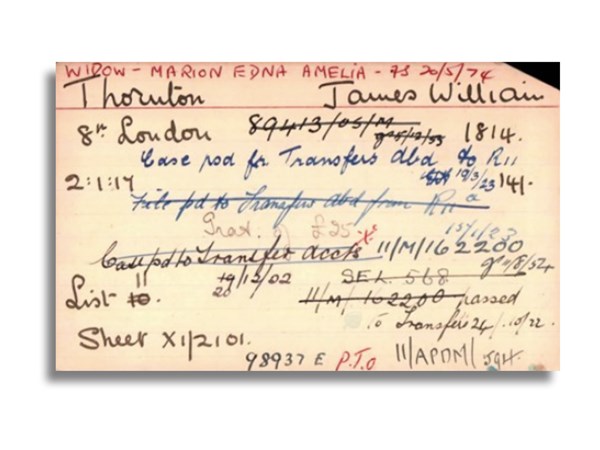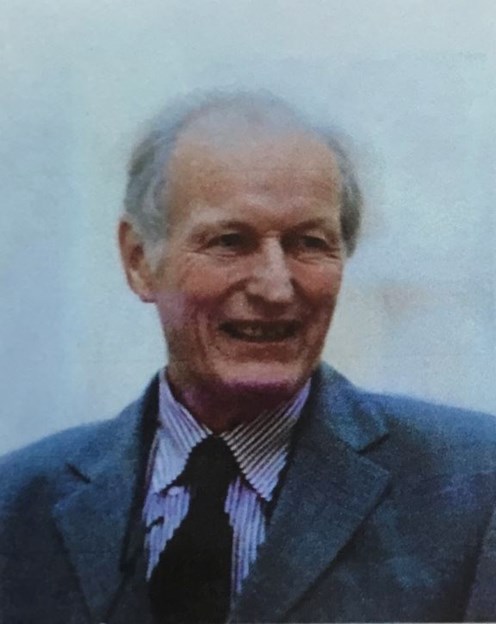 Above: David Thornton
Article submitted by Dora Ringland