In July 1916 the GOC II Anzac Corps, Lieutenant-General Sir A.J. Godley, 'loaned' his 5th Australian Division to the GOC XI Corps, Lieutenant-General R.C.B. Haking, for a proposed attack at Fromelles, which took place on 19 July.[1] In Terry Kinloch's biography of Godley, a book I only recently became aware of, Kinloch explains that after the attack Godley had to sack one of the 5th Australian Division's brigade commanders.[2]  Kinloch names neither the brigade nor the commander, but the dismissed officer was Colonel Harold Pope, temporary commander of 14 Australian Brigade.  The Australian official historian, C.E.W. Bean, gives this account of Pope's sacking and his replacement.  'Colonel Pope, on disciplinary grounds not affecting the control of his brigade during the action, was returned to Australia, but was afterwards appointed to the 52nd Battalion, which he led into the Battle of Messines in 1917. On the recommendation[my italics] of General Godley, the command of the 14th Brigade was given to Lieutenant-Colonel C.J. Hobkirk.'[3]  I found myself asking the questions 'why a British officer? and why Hobkirk?'  The answer to the first question is probably apparent; the answer to the second is not.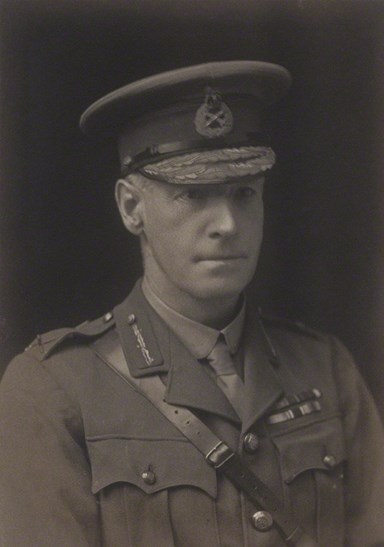 Above: Lieutenant-Colonel C.J. Hobkirk
Bean's use of the word 'recommended' is significant.  Godley did not have the last word.  Others had to approve his recommendation.  One of these would almost certainly have been the GOC Australian Imperial Force [AIF] and I Anzac Corps, Lieutenant-General Sir W.R. Birdwood.[4] As Dr Christopher Pugsley explains, 'had it been a NZ divisional appointment, Godley [as GOC New Zealand Expeditionary Force] had the power to confirm it, but as it was 5th Australian Division, he would have to clear it first with Birdwood as GOC AIF'.[5] However, the ultimate decision may not have rested with Birdwood either.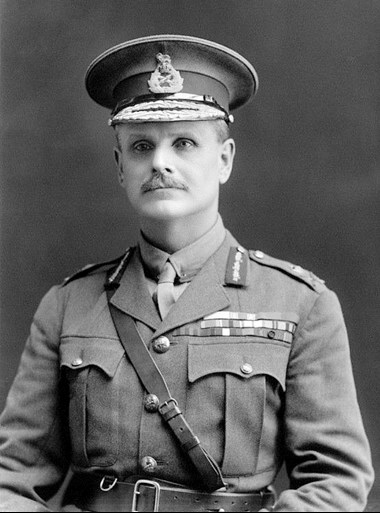 Above: Lieutenant-General Sir W.R. Birdwood
The Australian Minister for Defence, George Foster Pearce was a key figure in pre-war Australian defence policy, overseeing the beginnings of the Royal Australian Navy and air force and establishing the Universal Service Scheme for compulsory military training.  Pearce believed that Australians should fill as many positions as possible in the AIF, but not at the price of appointing officers who were professionally incapable.[6]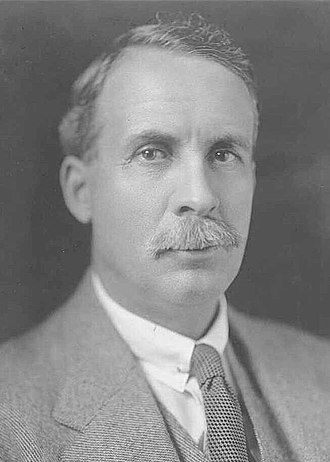 Above: George Foster Pearce 
On 31 January 1916 Birdwood had recommended two British officers to command 4th and 5th Australian Divisions, but Pearce demurred and J.W. McCay, an Australian who had been wounded at Gallipoli while commanding 2 Australian Brigade, was given 5th Division, although H.V. Cox, like Birdwood an Indian Army officer, got the 4th.[7] Given Pearce's preference for appointing Australians and his determination to enforce his will, it seems apparent that neither Birdwood nor Pearce thought there was a suitable Australian officer available to succeed Colonel Pope.[8]  That leaves the very considerable question, 'why Hobkirk?'  The answer is far from obvious.
Clarence John Hobkirk was born in Edinburgh on 16 July 1869, the son of John Hobkirk (1825-76), corn merchant, and Marietta Robina Tatton Leishman (1846-1934), later Baroness Farina, daughter of John Leishman, Writer to the Signet.  Her husband was twenty-one years her senior. He died shortly before Clarence's seventh birthday.[9] He seemingly left his family well provided for, enough to put his sons through public school.  Hobkirk was educated at Cheltenham College and the RMC Sandhurst and was commissioned in the Essex Regiment on 3 May 1890.  He emerges from his pre-Great War career as a serious professional, though his record was hardly stellar.  He had combat experience with 1st Essex in the South African War (1899-1902), in which he was twice mentioned in despatches and awarded the Queen's medal with five clasps and the King's Medal with two clasps.  He later passed courses of instruction in signalling and musketry.  He was Regimental Signalling Officer, 1st Battalion Essex Regiment, 1900-2,Brigade Signalling Officer, Bangalore, 1904-5, Machine Gun Officer, 14 Brigade, Curragh, 1909-11,and Military Attaché Rome and Berne, 29 April 1914-13 August 1914.(He had displayed an ability in foreign languages while at Cheltenham College, where he won the Hornby Prize for French and German, and later qualified as a First Class Interpreter in a Modern Foreign Language, which may explain why he was posted (temporarily) as a Military Attaché.)  When the war broke out Hobkirk was 45 years old and seventh in seniority among the majors of the Essex Regiment.[10] The two Regular battalion COs, Lieutenant-Colonel F.G. Anley (2nd Battalion) and Lieutenant-Colonel O.G. Godfrey-Faussett DSO (1st Battalion) were only two years and one year into the usual four-year tours of battalion commanders.  In normal circumstances, there would have been no vacancy for a Regular battalion command in the Essex Regiment until February 1916, by which time Hobkirk would have been nearly 47.  He had not passed staff college, but he had been away from his regiment for considerable periods.  His prospects for advancement did not appear rosy.  Nor did the outbreak of war have a dramatic positive effect on his career.
In August 1914 Hobkirk made his way from his posting in Rome direct to the Western Front, where – presumably – he hoped to join up with the 2nd Battalion Essex Regiment, which had deployed with the BEF as part of 12th Brigade, 4th Division.  For whatever reason, this did not happen.[11]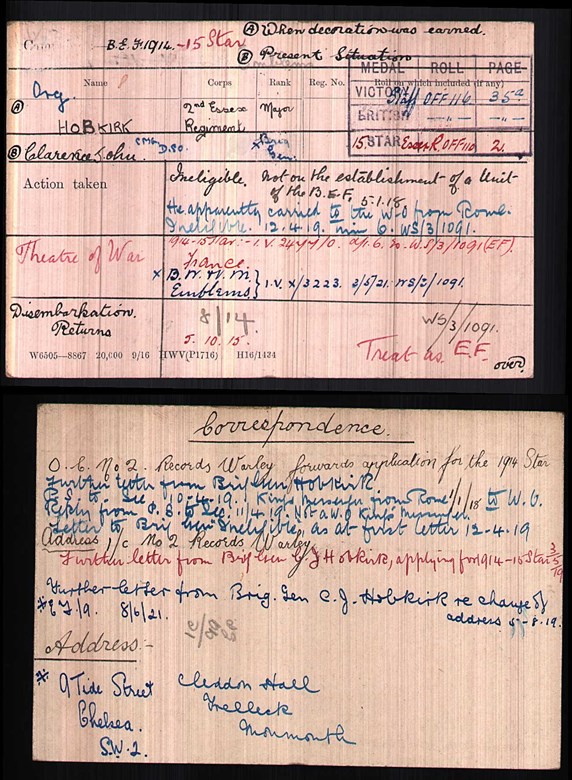 Above: Hopkirk's Medal Index Card, showing the refusal to award him the 1914 Star
Instead, Hobkirk found himself back in England with a Special Appointment at the War Office.[12] The War Office appointment may have advantageously enlarged his range of contacts, but it could also be argued that it kept him side-lined at a time when the British Army was creating an unprecedented number of new battalions, all in need of COs.  It is unclear what Hobkirk did between the termination of his War Office appointment, on 7 October 1914, and his appointment to command the 11th Battalion Essex Regiment a year later.  The Army List merely shows him as '2nd Battalion Essex Regiment, attached 3rd (Reserve) Battalion'.[13] Neither the army nor the Essex Regiment appears to have been clamouring to find Hobkirk a job.  The Regiment raised four New Army battalions during the autumn of 1914.  Command of the 9th was given to Major C.G. Lewes, who had been OC Essex Regiment Depot.  (It was common for Depot Commanders to be given command of their regiment's K1 battalion.) Command of the 10th Battalion was given to Lieutenant-Colonel E.R. Scott, a retired officer of the Leicestershire Regiment.  Scott held the post until March 1915, when he was replaced by a retired major of the Gloucestershire Regiment.  Command of the 11th Battalion was given to Lieutenant-Colonel C.E. Radclyffe DSO, Rifle Brigade, and the 13th to Hon. Major (Retd.) P.R. Papillon, Sussex Militia.[14]
More than a year into the war, Hobkirk had seen no active service and not been promoted.  He was 46 years old.  How well did he seize his opportunity when it eventually came?  It is difficult to make a strong case, though there is some evidence for him beginning to create a reputation. Hobkirk took command of 11th Essex on 9 October 1915.[15]  The battalion was part of 71 Brigade, 24th Division, which received its chaotic baptism of fire at the Battle of Loos as one of the two New Army divisions whose botched deployment from the reserve led ultimately to the dismissal of the COC-in-C BEF, Field-Marshal Sir John French.  24th Division had been so badly handled at Loos that it was thought necessary to reorganise it with a 'stiffening' of Regular troops. 71 Brigade was accordingly exchanged with 17 Brigade from the Regular 6th Divisiontwo days after Hobkirk assumed command.  A few days later, on 27 October 1915, 11thEssex was transferred to 18Brigade, 6th Division, which is where Hobkirk spent the rest of his time as a battalion commander.[16]
Hobkirk was faced with a considerable rebuilding job.  Besides its CO, Lieutenant-Colonel Radclyffe, 11th Essex lost a further eight officers at Loos, with several others, including the Adjutant, wounded, as well as 350 Other Ranks killed.[17] At least Hobkirk had plenty of time to affect a renewal.  According to Peter Hodgkinson, 6th Division did little of note during Hobkirk's service with it, spent mainly in the Ypres Sector.[18]  There were, however, indications that Hobkirk was well thought of.  On 19 April 1916 he was given temporary command of 18 Brigade, after its GOC, Brigadier-General Robert Bridgford, was 'incapacitated'.  Hobkirkheld the command for ten days.  On 3 June 1916 he again assumed temporary command of a brigade, but this time outside his own division, as Acting GOC 61 Brigade, 20th (Light) Division, a vacancy created by the wounding of Brigadier-General W.F. Sweny. His 46 days in command of 61 Brigade included the Battle of Mount Sorrel.[19] He had been awarded the DSO on 3 June 1916.Hobkirk was still in command of 61 Brigade when he was appointed GOC 14 Australian Brigade.
The late Victorian and Edwardian British Army has been portrayed as operating a 'personalized' system with regard to appointments and promotions, based on  patronage and membership of certain military cliques.[20] The rapid and massive expansion of the army, however, meant that the system of appointments and promotions had become (and had to become) thoroughly bureaucratized.  My own research into how officers were 'hired and fired' in the BEF has – I believe – established that the patronage powers even of the GOC-in-C were limited.  When Haig had to find a replacement for General Monro as GOC First Army in August 1916, he noted in his diary that 'The M.S. [Military Secretary] sends me four names to select from, Byng, Birdwood, H. Wilson, Horne and Cavan …'[21] Similarly, when Hubert Gough (GOC Fifth Army) had to find a replacement commander for 2nd Division in December 1916, he was given a list of names to choose from.  Helen Pereira, wife of the new commander, wrote to her husband: 'I heard from Horace [Cole] who knows someone called George Colthurst very well, A.D.C. to Gough, and he said three names came up to Gough for the 2nd Division. Colthurst took the names to Gough who picked out your name at once as the one he wanted.'[22] These two accounts put the Military Secretary's Office at the heart of the promotion system.  Herein lies a problem.  The notorious Luftwaffe raid of 7/8 September 1940 entirely destroyed the Military Secretary's Office papers.  The historian is left with scraps from which to try and reconstruct the system.  If this was, indeed, the method followed in the case of Hobkirk's appointment, Godley would have received a list of names from the Military Secretary from which he chose Hobkirk. No system, no matter how bureaucratized and allegedly 'transparent', however, is impervious to the operation of personalities, personal preferences and patronage.
It is doubtful whether Godley's recommendation of Hobkirk was 'personal' in the sense that they knew one another or had some other close connection.  Godley was Irish.  Hobkirk was Scottish.  They did not attend the same schools.  They did not belong to the same regiments.  Other than possibly coming across one another in the South African War, they never served together.  In particular, Hobkirk had no connections with New Zealand, where Godley had been GOC from 1910 to 1914, or with Australia and had not served at Gallipoli.[23]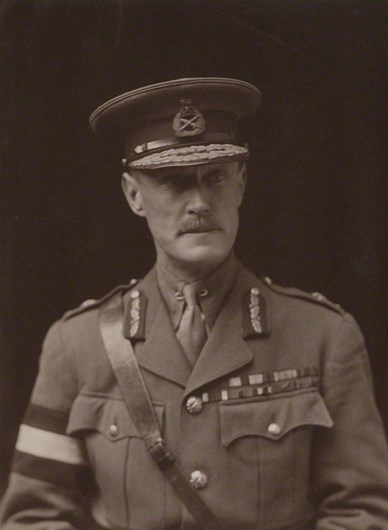 Above: Lieutenant-General Sir A.J. Godley
Hobkirk had been on the Western Front since October 1915.  Godley only arrived there in late March 1916.  There remains the possibility, however, that the recommendation did not proceed through the normal BEF Military Secretary channels.  Hobkirk's brigade was in XIV Corps.  So was 61 Brigade, the other formation he temporarily commanded.  XIV Corps was in Second Army.  So was II Anzac Corps.  Hobkirk's periods of temporary brigade command would have been known in XIV Corps and in Second Army.  For what it is worth, the GOC XIV Corps, the Earl of Cavan, was a guardsmanlike Godley, though they were from different regiments.  This is all very circumstantial, but there was perhaps enough to provide Godley with a quick link to Hobkirk.  A brigade commander was needed in 5th Australian Division.  Hobkirk had presumably demonstrated some capacity for brigade command and he was at hand and available.  In the absence of a paper trail, this is probably as close as we can get to how and why Hobkirk was appointed.
However it was brought about, Hobkirk's appointment does seem to have been a success.  He remained GOC 14 Australian Brigade until 23 March 1918, when he succumbed to the final 'Australianization' of AIF appointments.[24]  Bean described him as 'a careful, level-headed British Regular'.[25]  Hobkirk was not replaced until a suitable British appointment for him became available.  This was 120 Brigade, 40th Division, in command of which he was immediately thrown into desperate fighting, first on the Somme and then on the Lys.  The division was so badly knocked about that it was threatened with dissolution before being completely reorganized over the summer.  Hobkirk remained in command until 18 October 1918.  J.H.C. 'Harry' Graham, ADC to the GOC 40th Division, Major-General John Ponsonby, described Hobkirk at the height of the fighting in April 1918 as 'a strong, decent man, quiet and reliable'.[26] Besides his DSO, Hobkirk was six times mentioned in despatches and made CMG in 1918.  After the war he commanded 1st Battalion Essex Regiment from 5 May 1919 until his retirement through ill health on 3 March 1920.  He retired to Cleddon Hall, Monmouthshire.  This was the family home of his wife, Nora Bosanquet (1872-1958), daughter of Arthur Bosanquet(1828-95) of the Indian Civil Service, whom he had married on 4 November 1897.[27] He died at Cleddon Hall on 9 September 1949, aged 74.
J.M. Bourne
John Bourne taught History at Birmingham University for thirty years before his retirement in September 2009.  He founded the Centre for First World War Studies, of which he was Director from 2002 to 2009, as well as the MA in British First World War Studies.  He has written widely on the British experience of the Great War on the war front and the home front.  He is currently completing a multi-biography of Britain's Western Front Generals.  He is a Vice President of The Western Front Association, a Member of the British Commission for Military History, a Fellow of the Royal Historical Society and Hon. Professor of First World War Studies at the University of Wolverhampton.
Acknowledgements
The author wishes to acknowledge the following for their help in preparing this article: Dr Richard Farrimond, Dr Peter Hodgkinson, Dr Roger Lee, Dr Christopher Pugsley, Brigadier Chris Roberts, Professor Peter Simkins, William Spencer and Dr William Westerman.  They bear no responsibility for the opinions expressed.
[1] It is not known whether Godley or someone else chose the 5th Australian Division as the formation to be 'loaned'.
[2] I owe my awareness of Terry Kinloch's book, Godley: The Man Behind the Myth (Dunedin: Exisle Publishing, 2018), to Professor Peter Simkins.
[3] C.E.W. Bean, The Australian Imperial Force in France 1916 (Sydney: Angus & Robertson, 1929), p. 447, fn. 147.The GOC 15 Australian Brigade, Brigadier-General H.E. 'Pompey' Elliott, had accused Pope of being drunk, when it seems he had really suffered a breakdown.
[4] The expansion of the Australian Imperial Force, post-Gallipoli, necessitated the formation of two corps, I Anzac and II Anzac.  Haig favoured Godley, a British Regular, but the Australian government preferred Birdwood, an Indian Army officer, and it was Birdwood who was confirmed as GOC AIF and GOC I Anzac Corps.  Godley, who was already GOC NZEF, became GOC II Anzac Corps.
[5] Personal communication from Dr Christopher Pugsley, 24 February 2023.
[6] John Connor, Anzac and Empire:George Foster Pearce and the Foundations of Australian Defence(Cambridge: CUP, 2011), pp. 82-83.  I owe this reference to Brigadier Chris Roberts.
[7] Birdwood seems to have worked hard at keeping Pearce onside through their considerable correspondence.  The principal bones of contention involved the appointment of Australians to the higher commands.
[8] I am indebted to Dr Richard Farrimond for pointing out Birdwood's familiarity with British 'personnel procedures'.  He had been Temporary Military Secretary to Lord Kitchener in South Africa, then went to India as Kitchener's Assistant Military Secretary and finally as his Military Secretary.  Birdwood followed Kitchener's example of visiting units and assessing their commanding officers when he became GOC AIF.  He appointed Colonel Thomas Griffiths, an Australian officer, as the de facto military secretary/adjutant-general of the AIF.  Griffiths had been Sir William Bridges's military secretary in 1st Australian Division. There seems little doubt that Birdwood had his finger on the personnel pulse of the AIF.  Dr Farrimond's biography of Birdwood, Birdie – More than 'Soul of Anzac'.  Field Marshal Lord Birdwood of Anzac and Totnes, 1865-1951 (Warwick: Helion) is due for publication in spring 2023..
[9] Hobkirk had an older brother, Stuart William Tatton Hobkirk (1868-1940), who became a landscape and figure painter, and who served during the war as a Postal Censorship examiner.  He also had a half-brother, Raphael Lewis Julian Farina (1877-1947), as a result of his mother's second marriage to Luigi Farina-Farrao (1835-1903), Baron of the Kingdom of Naples.  Raphael Farina was born out of wedlock, but Baron Farina accepted paternity.  Raphael Farina was a sometime mining engineer, member of the Secret Intelligence Service and aeronautical innovator.
[10] The six officers senior to Hobkirk in the Essex Regiment were: Major George Murray Tufnell, who commanded both Regular battalions of the Essex Regiment during the war (2nd Battalion, 14 September 1914-10 January 1915; 1st Battalion, 29 August 1915-21 September 1915);  Major Hugh Rosceter Rice, who commanded 1st Essex on two occasions, 1 May 1915-28 August 1815 (w) and 23 January 1916-13 March 1916; Major Walter Kaye Legge psc, who spent the war on the staff, finally as DA&QMGX Corps, 1 December-Armistice; Major Charles Wynn Barlow DSO, who also spent the war on the staff, mostly in the United Kingdom, until being appointed GSO2 Egyptian Expeditionary Force in the autumn of 1918; Major Charles George Lewes, who was CO 9th Essex, 10 August 1914-2 July 1916 (w) and later GOC 147 Brigade, 49th (West Riding) Division TF, 13 September 1916-2 September 1918; and Sir George Murray Home Stirling Bt. DSO, who began the war as an Assistant Provost Marshal, 28 December 1914-15 November 1915, before commanding the 2nd Essex, 15 November 1915-2 July 1916 (w) and the 1st Essex, 24 April 1917-12 April 1918.
[11] Hobkirk's presence on the Western Front in August 1914 encouraged him to apply, post-war, for the award of the 1914 Star, but this was denied as 'he was not on the establishment of a unit of the BEF'.  After some haggling, he gave up and applied for the 1914-15 Star, which was awarded, his date of disembarkation in France being shown as 5 October 1915.
[12] It is not known what his Special Employment entailed, but during this period such attachments were often to do with recruiting.
[13] Hobkirk's service file is silent on his whereabouts between October 1914 and October 1915.  The service files of Regular officers are normally to be found in record series WO339. Curiously, Hobkirk's file is to be found in record series WO374 (WO374/33800), usually the preserve of Territorial Force officers and others.  I raised this issue with William Spencer, author of the definitive Army Service Records of the First World War(Kew: Public Record Office, 3rd Expanded Edition, 2001).  William confirmed that Hobkirk's service did not meet the criteria for inclusion in WO374, but thought that his being on 'extra-regimental attachment' when the war broke out might explain it.  The ways of bureaucracy are often unfathomable.
[14] Four Essex TF Battalions, the 1/4th, 1/5th and 1/6th and 1/7th, were deployed to Gallipoli as part of 54th (East Anglian) Division in August 1915.  All necessitated changes of command by the end of 1915, but only one Essex Regular officer, Captain (T/Lieutenant-Colonel) C.R. Roberts-West, found brief employment (27 days) as a TF battalion commander, as CO 1/6th.
[15] This is the date his arrival was noted in the 11th Battalion War Diary, TNA:PRO WO95/1616.
[16] During this period 6th Division was in VI Corps, then XIV Corps, Second Army.
[17] TNA: PRO WO95/1616 War Diary of the 11th Battalion Essex Regiment, October 1915.
[18] Personal communication from Dr Peter Hodgkinson, 4 March 2023.  Dr Hodgkinson has written an outstanding history of the 6th Division, A Complete Orchestra of War: A History of the 6th Division on the Western Front 1914-1919 (Warwick: Helion, 2019).
[19] Mount Sorrel was mainly a Canadian battle.  61 Brigade was the only British formation involved.
[20] Tim Travers, The Killing Ground.  The British Army, the Western Front and the Emergence of Modern Warfare 1900-1918 (London: Allen & Unwin, 1987) was among the first to stress the weaknesses of the army's hierarchical and personalized structure.
[21] Robert Blake, ed., The Private Papers of Douglas Haig1914-1919 (London: Eyre & Spottiswoode, 1952), p. 160.  Haig chose Horne.  The Military Secretary [MS] in question was the MS at the War Office, not the MS at GHQ France.
[22] Helen Pereira to Major-General Cecil Pereira, 12 June 1917, see Edward Pereira, Spencer Jones & Michael LoCicero, eds, Catholic General: The Private Wartime Correspondence of General Sir Cecil Edward Pereira, 1914-19 (Warwick: Helion, 2020), p. 261.
[23]David Clare Holloway, in Combat Colonel of the AIF in the Great War (Newport, NSW: Exisle Publishing, 2014), Kindle Edition, Location 1082, describes Hobkirk as being 'posted to Australia on the staff at Duntroon' and having 'joined the AIF in August 1914 as lieutenant-colonel in staff appointments at Gallipoli'.  Neither of these statements is correct.
[24] By the end of the war there were only five British officers in the AIF in France: Major-General Ewen Sinclair-Maclagan (GOC 4th Australian Division); Brigadier-General Stuart Milligan Anderson (CRA 1st Division); Lieutenant-Colonel Jeremy Taylor Marsh (CO 1st Divisional Train); Lieutenant-Colonel Arthur Murray Ross (GSO1 1st Division); and Lieutenant-Colonel Charles Stewart Davies (CO 32nd Battalion).  All except Davies had served in Australia before the war.
[25] C.E.W. Bean, The Australian Imperial Force in France (1917) (Sydney: Angus & Robertson, 1933), p. 797.
[26] See Michael Anthony Taylor, No Bad Soldiers: 119 Infantry Brigade and Brigadier-General Frank Percy Crozier in the Great War (Warwick: Helion, 2022), p. 189
[27] Under its original name of Ravenscroft, Cleddon Hall was the birthplace of Bertrand Russell.