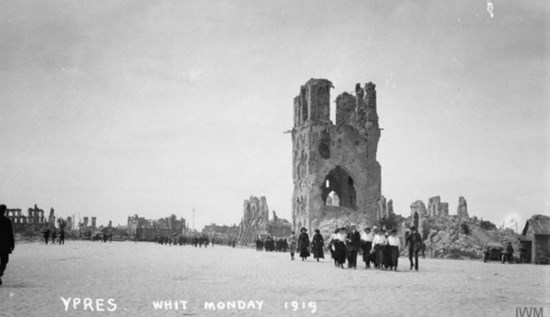 Tourists in Ypres, Whit Monday, 1919. Image from the Imperial War Museum collection (c) Jeremy Gordon-Smith 

By Prof. Mark Connelly
Throughout the Great War the battlefields and the hinterland behind them held a fascination for people. Trying to understand what the major theatre of operations was actually like remained a preoccupation of huge numbers of British people for fairly obvious reasons: family members and friends were fighting and dying out there and often their own work was fairly and squarely aimed at supporting the war effort on the Western Front. The British and Dominion governments understood this desire to know and understand the texture of the front and the operations of the army as a whole very well indeed and attempted to engage the public interest through lavishly funded war art and photographic programmes which often drew huge crowds when the output was exhibited. (1)  At the same time, a steady stream of civilians managed to visit the battlefields and the rear zones throughout the conflict. Of course VIPs were the most likely to get glimpses of the actual front through very carefully controlled visits. (2) A wonderfully evocative remnant of that phenomenon can still be felt today in Motor Car Corner Cemetery between Ploegsteert and Bizet marking the point at which not just military personnel, but all visitors, had to alight from motor vehicles and make the rest of their journey on foot. For others, the journey to France and Belgium was to visit a loved one in hospital or pay their respects at the grave. However, as might be guessed, this was the preserve of relatively few. (3)
Almost as soon as the conflict ended the desire to visit and see the actual conditions in which the army operated became even stronger. On 12 November 1918, Labour MP Charles Stanton asked the Under Secretary of State for War whether the government would now give provide families with free passes to visit the graves of their relatives. In reply, he was told that the government was considering the matter. (4) On the previous day the Daily Chronicle reported that the travel agent, Thomas Cook and Son, had 'practically completed their arrangements for visits to the battlefields by persons who have lost relatives'. A representative of the company was said to have stated that Thomas Cook employees currently serving in the army could be utilised to assist with this scheme. (5)
Visits were certainly underway at this time, but it was mainly a continuation of the wartime practice of taking influential groups and organisations which were instigated to maintain the commitment to the war effort. With the ending of hostilities the focus switched to the stimulation of trade between Britain and France which resulted in commercial bodies often taking the opportunity of visiting and establishing links with their French counterparts. (6) Important labour organisations were also invited allowing them to see how their efforts had contributed to the allies' victory. (7) Most famous of these early visits were the progresses made by the King accompanied by King Albert of the Belgians, which achieved widespread press coverage.(8) As such tours generally conformed to the arrangements and processes formulated during the war and thus did not put too much of a strain on the system.
However, what no one in France or Belgium was ready for at this point was a deluge of independent travellers. The War Office acted swiftly to dissuade those considering making the journey across the channel. A public statement was released on behalf of Winston Churchill, Secretary of State for War, on 18 November 1918, acknowledging the huge influx of correspondence regarding war graves and that he 'wishes to make it known generally, to prevent disappointment, that at present, and probably some months to come, it will be impossible owing to military reasons, to make arrangements by which these visits could be made.' (9)
The reasons behind this decision are not difficult to understand. At this point, hostilities had ceased but no peace deal had been formulated or agreed meaning the armed forces were still keeping a close watch on Germany. At the same time, the former battle zones were a devastated wasteland utterly impassable in many places made even more hazardous by the vast quantities of unexploded ammunition and emotionally harrowing by the massive task of recovering the bodies of the dead. Authorities were also competing as the first, tiny movements towards re-establishing a civilian governmental structure were underway and there were almost inevitable frictions with the military powers which remained a vital presence across West Flanders and North-Eastern France. With transport links and facilities for civilians limited in the extreme, the last thing many in positions of responsibility wanted was an influx of outsiders adding to the strain and difficulties. (10)
Nonetheless, visitors started arriving stimulated by the restoration of civilian cross-channel services during 1919 and the intensive effort dedicated to re-establishing the railway networks. Realising that it was almost impossible to halt the arrival of visitors entirely, particularly to areas outside direct military control, efforts were made to regulate the flow. The time required to meet the administrative demands was considerable leading the South Eastern and Chatham Railway to warn those wishing to see the Ypres Salient in a 1920 advertisement that 'owing to the existing conditions affecting Continental Travel, intending passengers are advised to make their journey arrangements well in advance'. (11)
Arrival in France or Belgium could then prove bewildering, particularly to those anxious to locate the grave of a loved one. Realising the sheer difficulty of navigating the devastated zones, the Reverend Michael Mullineaux, who had served as a chaplain to the forces during the conflict, established the St Barnabas Society to aid the bereaved, particularly widows and mothers, to visit the cemeteries. For Mullineaux, the need for such a society 'was forcibly brought home… in the summer of 1919, when he frequently came across pilgrims vaguely wandering about in search of cemeteries miles from their hotels and with no sign-posts to guide them thereto.' (12)
The St Barnabas Society found itself operating alongside the Church Army, Salvation Army and YMCA. These organisations rapidly reoriented their wartime role and facilities dedicated to servicing soldiers to the new clientele of visitors. Wishing to put down a strict dividing line between tourists motivated by the desire to seek cheap thrills at the awesome sights of the devastated zones, and the genuine visitor trying to understanding something of their lost beloved's experiences, these organisations made their priorities clear: 'Nearly all the accommodation [provided by the YMCA and Church Army] is reserved for relatives visiting graves' [emphasis added] declared Ward, Lock and Company's revised guidebook to Belgium and the Battlefields. (13) Such statements were reinforced by a potent shift in terminology: the real visitor with a direct family interest in the war, almost invariably bereaved, rapidly became known as a 'pilgrim'; others were 'tourists'.
At the time the perceived solidity of the division reflected the depths of emotion provoked by the sense of loss. However, viewed in retrospect it can be argued that individual visitors often acted both as tourist and pilgrim alternating their demands and behaviours between the two positions. Thus, the person who considered her or himself to be a true pilgrim intent on a cathartic journey of engagement with a dead loved one might also buy souvenirs, send postcards, and sit down at a café for tea, beer, a sandwich or an omelette. In turn, this both demanded and stimulated an industry to service these needs, which then grew with amazing rapidity.
Stephen Graham stayed in one of 'a string of wooden hotels' in Ypres where he tried 'to sleep in a little bed in a cubicle with a tiny doll's house window'. (14) J.O. Coop, who visited the battlefields in October 1919 and subsequently wrote a guide, noted that the accommodation was 'somewhat primitive in character' and 'improvised', but added that 'the traveller must be thankful to be able to secure food and lodgings at all' given the circumstances.(15) The hotels formed but one link in the chain. Getting out to cemeteries and precise sites in the battlefields required transport and expert local knowledge. Guiding services sprang into life to meet this demand, and they provided plentiful employment for ex-servicemen, particularly ex-officers. Ex-RASC officer, Malcolm Cockerell, ran a guiding service from Albert station on the Somme. 'Trains met for battlefield tours or visits to cemeteries with reliable cars and English drivers (speaking French)' declared his business notepaper. (16)'Battlefields Tours De Luxe' were offered by the Franco-British Travel Bureau which promised 'personally conducted tours by ex-officers [in] high-class private motor cars'. (17) As the advert implied, this was an operation aimed at the wealthy. For those unable to meet these costs, the Church Army ran subsidised trips requesting that the bereaved should 'state what you can afford' in a 1919 pamphlet. (18) Churchill was sympathetic to the needs of bereaved relatives of more modest means and wondered whether the government could put pressure on the railway companies to provide special rates for such people. (19) Eventually, the government settled a sum, largely drawn from the profits of armed forces canteens, onto the YMCA, Salvation Army and Church Army to be used to subsidise the visits of poorer people. (20)
Another phenomenon inspired by the desire to visit the battlefields was the specialist guidebook. This form of publication was split into two forms. The first was the highly practical and flatly descriptive type as exemplified by the now famous Michelin battlefields guides which were produced with amazing rapidity after the war. (21)These guides provided little more than directions and a bare outline of the historical facts. A second form emerged which was far more value-laden and provided the visitor with a strong moral structure through which to interpret the landscape and the experiences of the British Army. Thus, a text such as J.O. Coop's, A Short Guide to the Battlefields (1920), told the reader to:
try to imagine in addition to the darkness, a pitiless rainfall on ground inches deep in mud, with pitfalls at every step, he will probably also be able to picture, in mind at least, those endless chains of silent figures who tramped in hail and wind and rain and snow, in darkness and in light, with death or mutilation imminent at any moment, and he will then understanding something of what those fellow-countrymen endured in order that the present peace might be secured for him and his. (22)
If this advice was heeded, the casual visitor was to be transformed into the spiritually aware pilgrim.
Therefore, by late 1921 a framework for accessing and interpreting the former battlefields of the Western Front was in place. During the course of the twenties battlefield visiting would mature into a truly remarkable expression of popular culture keeping the war alive for thousands of people and, often, the memory flame of a lost loved one burning brightly through a direct engagement with places he experienced.
NOTE: This project has now completed its work. 
Visiting and Revisiting the Battlefields, 1919-1938
At Gateways to the First World War, we are exploring the phenomenon of battlefield visiting through exploration of stories in British newspapers. To date little extensive work has been carried out, and few studies have been undertaken on the topic, in marked contrast to the amount of work on other forms of war commemoration particularly memorials and literature.
By undertaking a full survey of stories on battlefield visiting we aim to ask:
Whether people went as individuals or in groups; were they made up of a mix of classes; did men, women and children go; what effect did the presence of veterans have?

Whether some areas of the UK witnessed more people going on battlefields than others and whether this indicates any particular regional sense of identity or affinity with certain battlefields?

If a 'classic' battlefield itinerary emerged in this period, what did it consist of, and what language newspaper reports used to describe them?
We will be researching and recording data from material published in British newspapers, local and national, from this period. The newspapers are held in the British Library, although some of the important national dailies, such as The Times, can often be accessed via a local library, and many are now accessible through digitised collections such as the British Newspaper Archive.
References  
(1)  For further details Jane Carmichael, First World War Photographers (London: Routledge, 1989); James Fox, British Art and the First World War 1914-1924 (Cambridge: Cambridge University Press, 2015; Martyn Jolly, 'Composite Propaganda Photographs during the First World War', History of Photography, Vol. 27, No. 3, Summer 2003, pp. 154-165.
(2) For a good impression of such visits see Lord Northcliffe, At The War (London: Hodder and Stoughton, 1916), pp. 35-50.
(3) See Dundee Courier, 6 August 1915 for a report on War Office regulations regarding visiting France; Dundee Evening Telegraph, 7 September 1917 for a report on Harry Lauder's visit to his son's grave.
(4) Debates, House of Commons, 12 November 1918, Vol. 110, c.2477.
(5) See report Sheffield Evening Telegraph, 12 November 1918. 
(6) For examples see Burnley Telegraph, 25 January 1919; Scotsman, 25 December 1918.
(7) See Western Morning News, 17 January 1919 for coverage of Redruth miners' tour. 
(8) See for examples, Sheffield Independent, 5 December 1918; Manchester Evening News, 4 December 1918; Liverpool Daily Post, 25 November 1918.
(9) The Times, 18 November 1918.
(10) For a study of the truly amazing situation along the old battle zone in France and the attempts to make sense of the chaos see Hugh Clout's exhaustive study, After the Ruins. Restoring the countryside of Northern France after the Great War (Exeter: Exeter Press, 1996).
(11) The Pilgrim's Guide to the Ypres Salient (London: Herbert Reiach for Talbot House, 1920), p. x.  
(12) The Secretary (Rev. M. Mullineaux), The Hallowed Acres in France and Belgium and How to Reach Them (London: St. Barnabas Society, 1923), p. 3.
(13) Ward, Lock and Co. Belgium and the Battlefields (London: Seventh Edition, n.d. 1923?), p. 54.
(14) Stephen Graham, The Challenge of the Dead (London: Cassell, 1920), pp. 33, 36.
(15) J.O. Coop, A Short Guide to the Battlefields (Newcastle: Newcastle Chronicle, 1920), p. 12.
(16) Public Records Office Northern Ireland, PM7/4/9, letter from Cockerell, 17 September 1924
(17) The Pilgrim's Guide, p. xxxii.
(18) TNA WO 32/5879, Church Army, Guide for Graves Pilgrims (G.P.) to the Ypres Salient.
(19) TNA CAB 24/106/45, Memorandum by Winston Churchill, 1 June 1920
(20) Hansard, House of Commons debates, Vol. 130, 23 June 1920, c. 2192w. See also Commonwealth War Graves Commission Archive, WG 783 Pt. 1 War Graves Association: letter from Kenneth Lyon to British War Graves Association, 30 July 1921.
(21) For examples see Michelin & Cie, Rheims and the Battles for its Possession; Ypres and the Battles for Ypres (Clermont-Ferrand, 1919); Ypres and the Battles for Ypres.
(22) J.O. Coop , A Short Guide to the Battlefields (Liverpool: Daily Post, 1920), pp. 32-3.