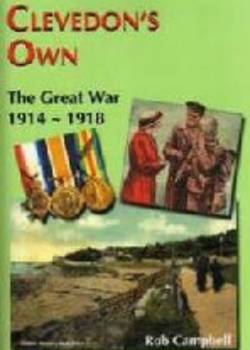 ISBN: 1 901 084 41 8  PB 112 pp £9.95 (2008)
Published by Clevedon History Publications.  

Western Front Association member Rob Campbell has produced a fine book about the Somerset seaside town of Clevedon. Rob has lived in the town for many years and has collected medals awarded to residents of the town.
Clevedon's Own is the result of years of research.

The book examines the effects of the Great War on a small town. As well as the inevitable rush to join the Army, the town received troops billeted on them, Belgian Refugees, and wounded who were looked after in two large houses, which were converted for the duration into hospitals. There are some splendid photographs of the hospitals, and descriptions of hospital life. There is also a nominal roll of those who served in the hospitals. 

Letters and poems received from men of Clevedon are included, which make fascinating reading. There is also a section regarding the work of women during war time with photographs and descriptions of the women involved and the work they did. Written by B Wood, a very interesting account of life in Salonika, which tends to be forgotten aspect of the Great War. 

One of the great strengths of the book is the rolls of honour.
Mr Campbell has a roll of those who were killed their grave or memorial location, and where possible, biographical details of the casualty, and sometimes a photograph. This is also enhanced by mention of where each casualty is commemorated in the town, a boon for researchers. There is also a complete roll of those who served, including details of any gallantry medals awarded. A separate section gives citations for the gallantry medals received.

This book is a fitting tribute to the men and women of Clevedon who took part in the Great War, and to the 208 from the town and surrounding area who did not come back home.
Reviewer: Michelle Young