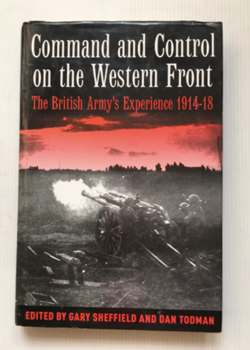 Spellmount, Staplehurst, £20, 223pp, maps, illustrations, notes, references, index. ISBN 1-86227-083-X BECKET (Prof IAN) AND CORVI (STEVEN): 
Haig's Generals, Pen and Sword Books, Barnsley, £19.99, 217pp, maps, illustrations, notes, references, index. ISBN 1-84415-169-7 
Published in 2004, it is, in the words of Stand To! Review Editor, Bob Wyatt, an 'important title'. True. Edited by - the now ubiquitous - Dr Gary Sheffield and Dr Dan Todman, it is, not without justification, described by Spellmount as a 'path breaking study' in its detailed examination of British leadership and 'the practicalities of command at all levels on the Western Front'. Command and Control on the Western Front offers a series of nine sharp, concise, essays from the latest generation of revisionist historians - more properly those who have gone back to original sources and genuinely re-evaluated the performance of the British Army between 1914 and 1918. 
The authors range from Gary Sheffield to Peter Simpkins and from John Lee to Chris McCarthy. Each reconsiders a particular aspect of British performance at war ranging from the role of GHQ to the transition from mobile to static warfare between 1914 and 15 and from Gough's lamentable performance on the Somme to control at corps, and separately, at brigade level, an element of command now seen as an increasingly crucial component in ultimate victory. 
Of particular value to this reviewer is Todman's overview of GHQ on the Western Front, a vital topic which he notes 'has been the subject of bitter polemic but little actual study'. Although only adequately mapped the book is more than adequately, and valuably, referenced; primarily from evaluation of National Archive sources overlooked and considered by popularist writers, as ever busy with paste and scissors, and unoriginal thought, as simply tedious and lengthy graft. 
The fact is that, clearly, most commanders both learned from and applied what they learned through hard lessons. Nevertheless, I fear that despite its scholarship Command and Control on the Western Front will still fail to convince a certain reader, who has recently taken me to task, accusing me of simply writing 'advertising' when reviewing of books which disagree with the 'Butchers' school. 
Those who object to 21st century re-evaluation will, sadly, remain immoveable, as entrenched in outdated opinions as the Germans in their dugouts before the 100 days - despite the strength of new scholarship! Conveniently, shortly after receipt of Command and Control a very specific reexamination of British generalship, Haig's Generals, arrived for review. It is commendably edited jointly by Ian Beckett and Steven Corvi. 
Haig's Generals employs the same style and approach as Sheffield and Todman's offering; a very similar essay format which features nine pieces on Britain's 1914—18 army commanders. A number of the essays are from the pens of by authors featured in Command & Control on the Western Front; yes, the usual revisionist suspects. 
As well as Sheffield and Helen McCarthy on Gough, Lee on Birdwood and Simpkins on Plumer, Matthew Hughes writes on Allenby, Nicholas Gardner on Byng, Simon Robins on Home, and John Bourne on Monro. Ian Becket writes on Rawlinson and for completeness Corvi on Smith-Dorrien, who despite the book's title did not serve under Haig; his fate was to be wastefully degummed by 'choleric' Sir John French. Haig's Generals is, as claimed, both 'original and revealing' and does offer 'fresh insights' into Britain's Army Commanders. 
Some, but not all, have been subject to more detailed, if now elderly, analysis before. Others, like Monro and Horne are relatively little researched and understood. Becket and Corvi's editorial template works well, careers are both summarised and reviewed, relationships with Haig, and others, evaluated, and valuable overviews offer scrutiny of one particular battle in each chapter. Above all the book is distinguished by clear, concise copy written by skilled and deeply knowledgeable writers. 
It is also frequently judgemental, aware of the many and complex skeins of obligation and undercurrents of political and personal affinity which bedevil, then, as know, any major competitive corporation facing a major competitor and highlights military failures and successes objectively. 
Haig's Generals brings its subjects alive, displays the warts of their performance but above all shows them as dedicated soldiers facing the greatest challenge which the nation had ever faced. As both a valuable primer on the army commanders and a good pacy read, it - like Command and Control - is a valuable addition to any serious modern collection of books about the Great War I have often lamented the apparently immoveable objections raised by the Clarkists and Laffinistas in my reviews of the new irresistible studies of the British Army. But these two works, like a number of others following in the re-evaluationary Terraine tradition, really do chip even deeper against the bricks - and effectively kick against the pricks - which remain in the convinced minds of those who consider that British generals neither learned nor applied education in a new kind of war. 
Review by David J. Filsell
[This review first appeared in Stand To! no. 79 April 2007. Members of The Western Front Association recieve three issues of this and our sister publication Bulletin each year. The entire Stand To! Archvie of over 115 editions, is available online via your Member Login.]