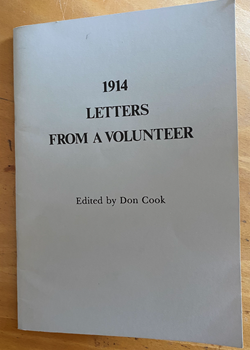 [This review first appeared in Stand To! No.12 Winter 1984] 
Charles St.G Coook 1914
Letters from a Volunteer. Ed. with intro,
edited by Don Cook.
40pp., pbk £1.95 (post paid). (Copies can be found for £4 in 2021)
Copy 15 of 500 shown here. 
Despite the huge output of books relating to the Great War there are still many aspects of the conflict and in particular the history of the development of the British Army between 1914 and 1918 that have received scant attention from historians. 
One such neglected area is the raising and training of Kitchener's armies and indeed the training of the army in general. I can think of only two, Raising and Training the New Armies by Basil Williams (1918) and The Kitchener Armies by V.W. Germains (1930), so any new publication that adds to our knowledge of the experiences of the 1914 volunteers is to be welcomed.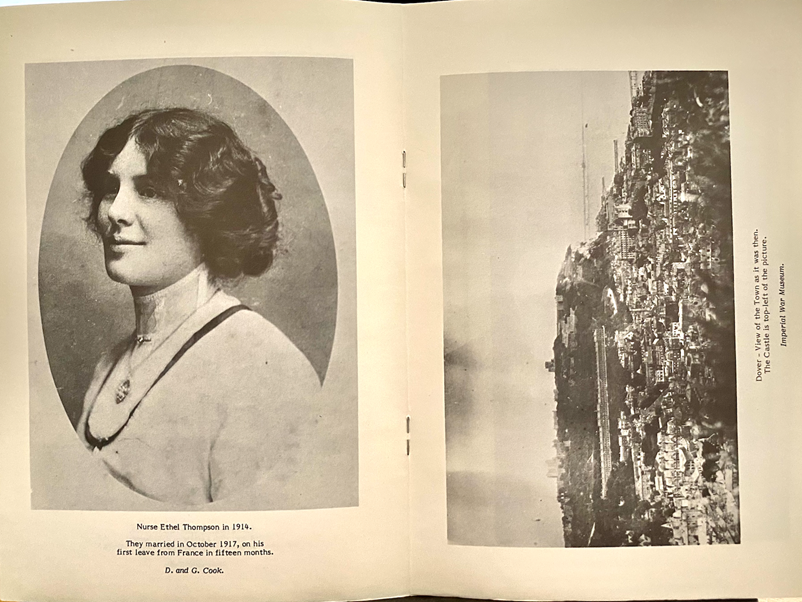 Charles Cook joined the East Surreys soon after the outbreak of war and by mid-October was with the 3rd Battalion in Dover, where he remained (following a transfer to the 10th Battalion) until early 1915. Don Cook has made an excellent job of editing his father's letters home that provide a mass of detail about the life of civilians in uniform. The editor is unnecessarily deprecatory when he says the letters "have no literary style". Not only do thev have stvle, they also have such a strong sense of time and place that they easily transport the reader back to a fuller understanding of the trials and tribulations of the volunteer army of 1914.
The illustrations are excellent including a superb photograph of the gloomy Oil Mill Barracks in Dover in 1915. 
Highly recommended.
Reviewed in 1984 by the then anonymous book reviews editor. 
Comment in 2021 by the Digital Editor, Jonathan Vernon 
Of course, since 1984 there have been quite a number of publications on recruitment and Kitchener's Army, not least:
Kitchener's Army: The Raising of the New Armies 1914-1918 by Peter Simkins (1988) 
Kitchener's Army by Ray Westlake (1990) 
A Kingdom United by Catriona Pennell (2012) 
Kitchener's Mob: The new Army on the Somme by Peter Doyle (2016) 
 Find out more about this period in Dover in the History of Dover from the Dover Historian.