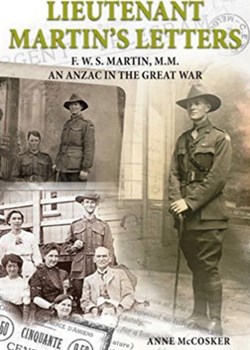 Reviewed by R. Buckley, B.A., Ph. D. Cantab.
Lieutenant Fred Martin, M.M., the author's uncle, was born in Queensland in 1895. He died at Polygon Wood, September 20th, 1917. Training as a teacher when war broke out, Martin was a fine writer whose wartime letters to his family bring images and characters vividly to life and throw light on contemporary Australian attitudes to the war.
A territorial, Martin was involved in the German New Guinea campaign in 1914.  In early 1915, he joined the 9th Battalion, A.I.F. and travelled to Egypt.  Wounded at Gallipoli, he caught typhoid fever and from October 1915 and convalesced in England, mainly at the Australian camps in Weymouth, Dorset.  Once recovered, he was posted to the Western Front in September 1916 and participated in the later Somme battles. Awarded the Military Medal in February 1917, and became a Lieutenant and only weeks before his death was seconded to the 10th Battalion A.I.F. He has no known grave.
The author has woven a seamless account of his life and the war. He describes the aftermath of Martin's death and its effect on his family to the present day. His poignant letters are cheerful throughout, joking about typhoid, playing down details of actual combat. His comments from Gallipoli also contrast markedly with the modern attitude of many Australians toward the campaign - that it was a disaster, caused by the English, and in which the Anzacs bore the brunt of the battle.
No recognition was given by the Australian military authority for the extra responsibilities undertaken by NCOs. In early 1916 most in the 9th Battalion lost their rank, pay difference was backdated and deducted from pay. In effect, Fred and his comrades received in effect no pay! Lieutenant Martin's Letters is thoroughly to be recommended.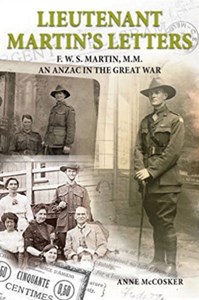 Lieutenant Martin's Letters:  F.W.S. Martin, M.M., an Anzac in the Great War by Anne McCosker
£14.99. Reveille Press, 2013, 274 pp, softback, illustrations, maps, notes and refs., bibliography.
ISBN  978-1-908336-65-1