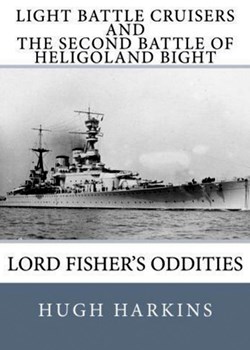 By Hugh Harkins
Centurion, soft covers, £10.95, 72 pages  ISBN: 10: 1903630525, 13: 978-1903630525
Book Review by Niall Ferguson
This slim volume covers the Repulse, Renown, Courageous, Glorious and Furious during their service in The Great War (the last not entering service until after the Second Battle of Heligoland Bight, as a quasi-aircraft carrier). Furious, Courageous and Glorious were converted to fully-decked aircraft carriers in the 1920s and all five served in the Second World War; only Furious and Renown surviving it.  Of the 72 pages only nine are devoted to Battle, a disappointment since my grandfather served in the action on HMS Caledon.
Early pages cover the genesis, construction, and modification of the ships, their intended role in the Baltic and whether they should be considered as battle cruisers at all. Coverage of the Second Battle of Heligoland Bight  would have been helped by maps; as ever in a naval battle  the manoeuvring of the various British and German units is quite hard to follow.
Although the book contains  a considerable number of photographs of all five, ships, which entered service in mid 1917,  line drawings showing differences would also have been helpful. Although there are a significant number of typos in the test, they do not detract from the coverage of a minor and often neglected aspect of the Great War at sea.