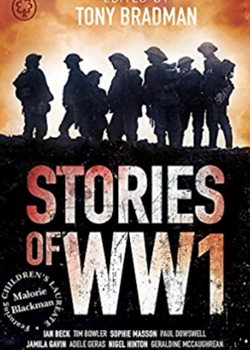 At first sight, a review of an anthology of short stories written for children about the Great War is not what you might expect to find on The Western Front Association website. However, education and the inculcation of an interest in the First World War must be an essential part of the mission of the WFA. What better way, I suggest, than to introduce children to the history of the Great War than through stories that may stimulate further enquiry.
Stories of WW1 is a collection of twelve short stories each penned by a well-known children's author.
Although three authors base their stories in the trenches with two, perhaps predictably, opting for the Battle of the Somme as their backdrop, there is an encouraging diversity amongst the remainder. One of the continuing fascinations of the First World War is the plethora of ways it affected society and the lives of the men, women and children who lived through it. A notable strength of this book is that the stories in this collection mirror the many and varied impacts of the conflict. Xenophobia on the home front, the Easter Rising in Ireland and the contribution of the Empire are just three aspects of the Great War that authors explore here.
Although it might seem unfair to pick out any one story above others, I am going to promote two that were particular favourites. Geraldine McCaughrean's Fireworks is a story about a son's excitement on the return of his hero-father, replete with a battlefield commission and medal for bravery. The fireworks of the title set off a chain of events that has entirely unforeseen consequences and the narrative very sensitively shows that injuries are not always obvious. Berlin in November 1918 is the setting for Leslie Wilson's The Day The War Ended. Through the eyes of the young people who populate Wilson's story we witness the collapse of the German home front and the germination of Dolchstosslegende, the 'stab in the back' myth.
This is a book that would be ideal for an upper KS2 reader (ages 9-11), although it could just as easily be read aloud to a younger audience. Being short stories, they are especially suitable in this regard. Lastly, at the back of the book, there are plenty of suggestions for further reading if someone's interest is piqued.
Recommended.
Stephen Manning
March 2021