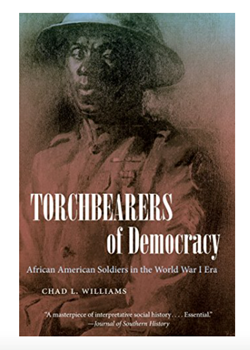 472 pp., 6.125 x 9.25, 18 halftones, notes, bibl., index
PAPERBACK ISBN: 978-1-4696-0985-0
Published: August 2013
The University of North Carolina Press (2010) 
EBOOK ISBN: 978-0-8078-9935-9
Published: September 2010
Author Awards and Distinctions
2011 Liberty Legacy Foundation Award, Organization of American Historians
A 2011 Choice Outstanding Academic Title : Choice Reviews gives subscribers access to a comprehensive archive of 200,000+ reviews brought together over 25 years. An Introduction to Choice. 
Chad L. Williams is associate professor of African and Afro-American studies at Brandeis University.
The war inspired the optimism of many African Americans.
This is an important, distinctive and scholarly articulation of an important confluence of people, behaviours and events that has had repercussions throughout the 20th century
When African American's volunteered to serve, or received the draft, during the First World War they did so against a background of Jim Crow segregation, state sponsored suppression, fear, injustice and violence. Their hope was that by showing they could serve in France 'in defence of democracy' as citizens and men under the United States flag that on their return they would be given greater freedom, more opportunities and protection under the law. Far from it, returning uniformed African Americans faced even greater, violent suppression and injustice.
'African American' is the preferred descriptor for a population otherwise defined by their black skin colour, sub-Saharan African roots and the long challenged and now thoroughly eschewed term 'Negro' with its roots in slavery. Although just a short period in the early part of the Century, the author Chad Williams considers the First World War, which for Americans can be counted in months rather than years as 'one of the most significant periods in African American history'. (p.9). 
'Torchbearers for Democracy' begins by placing African American's in an historic, legal and geographic context so that we have an idea of the scale and depth of segregation, disenfranchisement, job discrimination, racial violence in the USA at the time. According to Williams 'racial violence and the general disregard for black life … infected the entire social, economic, and cultural fabric of the nation.' (p.17) From the top, to the very bottom, as  evidenced by the words of President Wilson, a white supremacist and race hypocrite, who could say for the record that 'The World must be made safe for democracy' while supporting segregation and Jim Crow in the south of the country. (p.27) 
Racial denigration was systemic, with the America War Department itself believing that African American soldiers 'lacked the required attributes of manhood - mental sturdiness, self-control, objectivity - to become officers.' (p.39) And that paternalistically, as if that were an excuse, only white officers, not dissimilar to the British regarding the Indian Army, could manage black troops and instil discipline. With a commitment to war pending President Woodrow Wilson forced the country's only African American senior officer, Colonel Charles Young into retirement which 'ominously foreshadowed the militaries' concerted efforts to devalue and discredit African American officers and soldiers under their command'. (pp 46-48) 
290,527 African American's enlisted, but they would be segregated and used primarily for labour. Those selected to go through officer training were, to put it bluntly, culled ruthlessly to keep their numbers down and leave the impression that only a fraction warranted officer status. The War Officer continued to blunder when ignoring advice about sending African Americans from the North of the country to the South for training. And having put them there 'White officers with the authority to "kill the first nxxxxx that don't do as he is told". (p.85) As a result, "black servicemen fought a war, often for their very survival, before even setting foot on European soil'. (p.103) 
The American Army Command were unwilling to countenance any opportunity for an African American to give orders to a white soldier, let alone serve along side him other than in a subservient or labouring role. On American soil African American soldiers were dispersed rather than training together so that they were always outbumbered two to one, white to black.
Friction was expected but advice not heeded regarding sending African American guardsmen from the North to the South where racial tensions would be greatest. 'Groomed for failure'.
In France the 309th, 370th, 371st and 372nd Infantry Regiments were incorporated into the French Military.  Their AEF equipment taken away and replaced with French weapons - rifles, carbines, machine guns, automatic rifles, pistols, helmets, gas masks and knapsacks.' (p.120) Leaving the 93rd 'better prepared for combat than many of the AEF divisional counterparts'.
Britain were complicit in this as the 92nd Division, comprising African American troops would have been  trained by the BEF but for the intervention of Minister of War Lord Milner,  a committed white supremacist, objected. (p.121) After all, colonial black South Africans had been limited to labour, so men other men of African descent could hardly been seen baring arms. 
The African diaspora and the First World War is a story of West and East Africans, South Africans, Sub-Saharan or Central Africans, as well as African Americans or British or Caribbean Africans - together forming a diverse African descent dispersed from their original homeland and scattered throughout the globe as a result of various streams of movement and resettlement .
The road to redemption for African Americans has been a long one, the issue of racism still a pernicious element in American society, but on 25 June 1941, as much as a result of the work of the First Lady Eleanor Roosevelt, the President issued Executive order 8802 banning racial discrimination in defence industries and creating the Fair Employment Practices Commission. 
Review by Jonathan Vernon 
Further Enquiry
Visit the Facebook page 'Torchbearers of Democracy' : Includes videos, images and comments. 
Follow the author on Twitter @Dr_ChadWilliams.
Mentioned in Dispatches Podcast
Additional Book Reviews 
Ely Green 'Too Black, Too White'
Further Reading
David M Kennedy 'Over Here'. OUP 25th Anniversary Edition 
'The Complete History of the Colored Soldiers in the World War enc. John A Jamison
(Available as a PDF) 
J Cooper 'The Great War and American Memory'
Harry Haywood 'Black Bolshevick. Autobiography of a Black American Communist.' 
Richard S Fogarty, Race and War in France: Colonial Subjects in the French Army, 1914–1918
P.J.Carisella & James W.Ryan The Black Swallow of Death, Hardcover. Marlborough House, 1972.