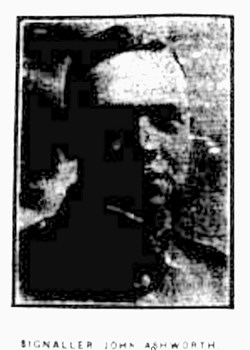 Enlisted on his 18th Birthday
37152 Signaller John Ashworth died of his wounds on this day
John Ashworth was born in the spring of 1898 to Joseph and Margaret, 46, Cleaver St, Burnley, Lancashire.  By the time of the April 1911 Census, and still only 12, John was a part time weaver while still attending school. There were 7 in the family, living in the 4 rooms of 84 Waterbarn Street, Burnley.
John enlisted in January 1916 and went out to Salonica in late December 1917. He died of his wounds on 19 September 1918.
REFERENCE
'John Ashworth' (1911) England Census return for Burnley, East Ward, Burnley, Lancashire. PRO 24809 Registration District Number 472. Available at Ancestry.co.uk (Accessed 12 July 2017)
Birth, Marriage & Death. Burnley Express 19 October 1918 p.7 Available The British Newspaper Archive (Accessed 18 July 2017).