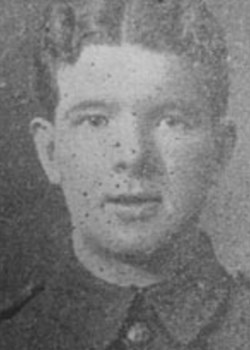 4151 Pte Alexander McNab, 2nd Bn East Lancashire Regt
A Special Reservist at the outbreak of war, Alexander was born in Burnley, Lancashire in 1890. In civilian life, he was employed at West's Mill, Harle Syke but had enlisted into the 3rd East Lancs at Blackburn in 1911 and was in camp at Workington when news of the outbreak of war came through. Immediately mobilised into service, he arrived in France on 26 August 1914 and joined the 1st Bn East Lancs during the retreat from Mons.
After serving through the Battles of the Marne and the Aisne, he was wounded in action during 2nd Battle of Ypres and invalided home. After recovering in hospital in Sheffield, he returned to the front, this time with the 2nd Battalion, with whom he served through the Battle of the Somme (following which, his brother Andrew was killed whilst serving in the same regiment in November 1916) and 3rd Ypres.
He was killed in action following the conclusion of the battle and posted as missing. His remains never having been suitably identified, Alexander's name now appears on the Tyne Cot Memorial.
22 November 1917
Research by David O'Mara