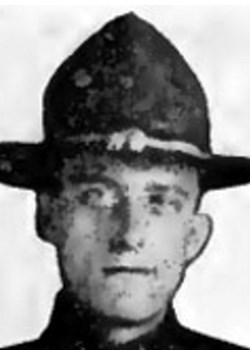 Cpl John Valentine Bildner, Co H 115th Infantry Regt
A machinist fro Aurora, Indiana, John was born on 31 August 1894. Drafted into service with the 159th Depot Brigade at Lawrenceburg, Indiana on 29 March 1918, he was trained at Camp Taylor, Kentucky, Camp Gordon, Georgia and Camp McKlellan, Alabama before embarking for the American Expeditionary Force in France on 16 June 1918.
Whilst fighting in the Meuse-Argonne offensive, John was killed in action in Consenvoye Woods on 28 October 1918. Initially buried in Consenvoye Cemetery, Meuse, John's body was repatriated to the USA post-war.
28 October 1918 killed in action
Research by David O'Mara