SECOND LIEUTENANT ERIC ARTHUR WALKER 9TH BATTALION KINGS SHROPSHIRE LIGHT INFANTRY
Eric Walker was attached to the 6th Battalion KSLI and in trenches at La Boutillerie south of Armentieres when on 29TH December 1915 he was shot and killed by a German sniper.  His 'servant' Private William Lewis was also shot and died the following day.
Eric Walker had been a member of the Officer Training Corps at Denstone College and at the age of 17 years and 11 months on 1st March 1913 he enlisted in the Warwickshire Yeomanry.  The Yeomanry were mobilized in August 1914 and on 12th August they volunteered for 'service abroad'.  They were given permission to be armed with swords and rifles. After a short time in Warwick they made successive moves to Bury St Edmonds, Newbury, and Norwich. They departed for Egypt on 11TH April 1915 but Eric Walker was not with them. He had been commissioned into the 9th Battalion KSLI on 26th February 1915.
Amongst Eric Walker's papers there is a receipt for items he purchased from The Leyland & Birmingham Rubber Co, 124 New Street, Birmingham for items to be sent to his Battalion HQ at Pembroke Dock.  He purchased one each of the following:  lantern, ground sheet, washstand, bucket, mattress, folder bed, chair, holdall and pillow. These must have been considered to be the essential items for a young officer going off to war.
Eric Walker arrived in France in September 1915 and in his first letter home describes his first visit to the 'firing line' in charge of a draft of men from another regiment. He was allowed to stay the night there before returning to base the next day 'feeling very fed up as there is a real fascination about it, when you are actually in it'.
In a letter written on October 30th he describes how he has been in resting billets in a farmhouse, 'the most habitable farmhouse within two or three miles of the front line as every building in the fighting area is shelled beyond recognition'.  He comments that it had rained for about a week and that 'I took a working party up to the trenches yesterday and the water in most places was up to our knees'.
The weather had not improved according to a letter sent on 5th November.  'We have been in the front trenches for five days and expect to be relieved tomorrow.  It has rained like hell for about a week and we are up to our waists in water but I have managed to get a pair of waders, so keep dry after a fashion.  The Huns who are in trenches are only about 100 yards away and have been very quiet lately but they have some queer shells. The Tommies have names for them coal boxes and whizzbangs. I don't say I love them but you get accustomed to it, that you don't notice them except when they explode about 10 yards away or on the parapet and then they are a damn nuisance'
In a letter addressed to 'My dear mother' on 19th November one section provides her with some detail as to what he had been up to, 'I used to have a bit of fun in the last line, as I used to do a bit of sniping on my own at odd times and find I am a little better in the field than on the range. Night patrols are the best as one Officer has to go and have a look at the German wire, just to see what alterations are going on and it is a bit of a game'
By 15th December he writes that he is on a Grenade and Bombing course, 'in other words what is termed the Suicide Club. It is a very interesting if dangerous game but there are a good many bombing stunts now and I and one other officer in the Battalion who are the officers for the job will get a good deal of work to do soon'
His last letter home was sent on 20th December to his brother.  He spent some time trying to account for why some of his letters have not been received at home but goes on to share his current news, 'Anyway old boy, we have been pretty busy up to the end of last week and moving in and out of trenches, working day and night, but we are going on the same as ever with a great deal of bombardment. At present I am on a grenade and bomb throwing course for a few days while we are in rest billets. Bombing is a real stunt out here now. Someone is always going over to the Boche lines and chucking bombs into their trenches for a bit of amusement, and it usually seems to put the wind up them. The weather is absolutely bloody, but we all keep remarkably cheery. It does not occur to us that Christmas is near and really we don't care a damn. I hope you will have a topping time at home. I should like very much to be with you, but I expect I shall manage it next year. Thanks for offering to get me something, but there is really nothing I want out here but we will have a bust up when I get home if I can manage it. Well old boy I must close now so wishing you a very happy Christmas and the best of luck, with love, believe me, your loving brother, Eric. Tell Mater I have just received the crate.'
Nine days later the Commanding Officer of B Company, 6th KSLI, Captain SF Thomas, wrote to his father:  'Dear Sir, It is with the greatest regret that I have to inform you of the death of your son, 2nd Lt EA Walker, which took place this morning in the front line. He was in a part of the line that is only 70 yards from the German front trench, and was trying to locate a sniper when a bullet struck him in the head, killing him instantly. I had passed along this line only a few minutes before and had warned him he was in a very dangerous place and told him to be careful. He must have forgotten the danger for the moment in his eagerness to locate the sniper and kept his head above the parapet too long'.   
The Padre, Roger Bulstrode CF wrote to Mrs Walker,
'We laid your boy's body to rest yesterday afternoon in a little military cemetery where the grave will be marked by a simple cross and the exact site carefully recorded by the Graves Registration Commission for further identification. I used the 23rd Psalm as a short lesson and we did not forget to commend to God all those who loved your son and would have wished to stand at the graveside. The stretcher was borne by four of his brother officers, Major Welch being one of them. The Colonel was also present. 
I cannot claim to know your son well, as he had only been with us a short time, but I know how much his loss will be felt by his Company and the Battalion. He has given his life in a noble cause and you have indeed given your best for your country. We know the sacrifice will not be in vain, and you into whose hearts and homes the war has brought the same sadness, will often be in our thoughts and prayers'.
There was also a letter from Lt.Colonel E A Wood, Commanding Officer, 6th Battalion KSLI and on 6th January 1916 a telegram from Buckingham Palace. 'The King and Queen deeply regret the loss you and the army have sustained by the death of your son in the service of his country. Their majesties truly sympathise in your sorrow'
2nd Lt Eric Walker aged 20 is buried in the Rue Petillon Military Cemetery Plot 2 Row G Grave 23. He is also commemorated on a number of War Memorials.
His name is on the Sutton Coldfield War Memorial, King Edward's Square, Sutton Coldfield. He is also remembered on the Four Oaks Memorial, All Saints Church, Sutton Coldfield.  In Holy Trinity Parish Church, Sutton Coldfield, where he was a chorister, there is a magnificent stained glass window dedicated to his memory.
He is commemorated on the memorial at Bishop Vesey Grammar School , Sutton Coldfield, where he was a pupil in 1907/08. I have recently confirmed that he was a pupil at Warwick School for a short period in 1906 and that he will now be acknowledged on their records. He was a pupil at Denstone College from 1908 to April 1911 and is commemorated on the College War Memorial Wall in the College Chapel and is included in their Book of Remembrance.
He is commemorated in the Birmingham City Battalions, Book of Honour, (p302) edited by Sir W H Bowater. His 'Memorial Book' can be viewed at the Shakespeare Centre Library and Archive, Stratford on Avon.
I believe that as he worked in Birmingham when he was mobilized in 1914, and his parents had an address in Birmingham, he should also be commemorated at The Birmingham Hall of Memory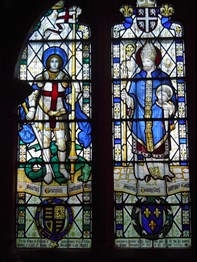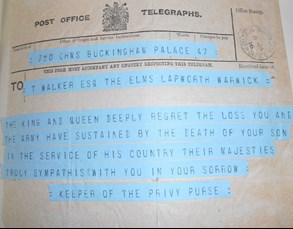 Richard Lloyd
 @LlanbadarnsRL