CORONAVIRUS
I think we have possibly been doing President Trump an injustice as he is clearly something of a historian.  Many newspapers in 1918/1919 contained an advertisement for Jeyes' Fluid which they recommended for daily use as a spray in bathrooms, home and factory to guard against influenza and other infectious diseases.  They did not go as far as suggesting it should be injected.
THE IMPACT OF THE INFLUENZA EPIDEMIC ON THE 'HOME FRONT' 1918/1919
The manufacturers of Jeyes' fluid were not the only ones to attempt to take advantage of the Flu Pandemic. People were urged to purchase and carry a tube of Crimson Cross Influenza Tablets. Claimed to be 'the latest result of Science', they were 'Handy to take, Safe to cure' and all for the equivalent of 25p.
If Crimson Cross Tablets failed an alternative might have been 'Dr Williams' Pink Pills for Pale People' which were suggested as a way of avoiding infection but were also claimed to be an aid to recovery.  An advert for Oxo claimed that its use would fortify against infection.  It reported that they had received a communication from 'A Doctor' suggesting that 'a cupful of Oxo two or three times a day will prove an immense service as a protective measure. It's invigorating and nourishing properties are most rapidly absorbed into the blood, and thus the system is reinforced to resist the attacks of the malady'.  A similar product Brands Essence of Beef was said to conquer influenza.
It was also suggested that some Doctors had recommended that Whisky might be a good remedy. This proved a very attractive suggestion to some and as a result shortages of Whisky were reported in some areas. This remedy, however, did not meet with the approval of the many Temperance Societies. Venos cough mixture was widely promoted as effective against influenza, but with hindsight it was the Lifebuoy Soap adverts were potentially the most effective. They mirrored the handwashing campaign that was one of the first Government responses to Coronavirus. The Lifebuoy advert pointed out that the danger of contagion was everywhere and that its soap provided the surest protection with its frequent use in hand washing.
A key issue was that the nature of the illness was not properly understood.  Although it was a virus many thought it was a bacterial infection and there were efforts to produce a vaccine.  There is some evidence to indicate that pupils at the Birmingham Blue Coat School, which in those days was located on the north east corner of St Phillips Square, were vaccinated in October 1919.
The official number of deaths from Influenza in Birmingham was 3,800.  However, the Medical Officer of Health believed that an additional 500 deaths were also caused by influenza, the death certificate often stating the person had died of pneumonia.  The average number of deaths from flu in Birmingham was 129.  It is believed that over 228,000 died from influenza across the United Kingdom.  Perhaps the single figure that most people recall from World War 1 is the figure for those men lost on the first day of the Battle of the Somme, 19,240.  The number of civilians killed in the UK by enemy action in World War 1 was 1,413.
All Wards in Birmingham were affected, but the greatest number of deaths was in the densely populated Central Wards such as Balsall Heath and Small Heath while Erdington and Kings Heath were amongst the least affected.  It was during the second wave of the epidemic in October/November and there were 400 deaths in a single week at the end of November.  The 25 – 45 age group were the most affected, and 55% of the deaths were among women.  Five hundred children died.
Soldiers in France were aware of the dangers of influenza and wrote home to their wives advising them to take care. They after all had seen men who in some cases had survived the fiercest battles of the war succumbing to influenza. The names of some of those are on the Sutton Coldfield War Memorial.  They include, Private Albert Spokes who died from pneumonia on 1st November 1918, Captain Bertram Russel Townley who died from Influenza on 7th November 1918, and Private Shears who died from influenza 24th July 1918.
One lady living in the 'Back to Backs' in Benacre Street, Balsall Heath died while her husband was serving with the forces in India. Two other ladies who died in Balsall Heath aged 29 and 38 left four and seven children orphaned. These were among the areas of Birmingham that contributed so many of the men recruited in 1914.
The increased death rate highlighted the shortage of grave diggers, undertakers, and coffin makers and a number of victims were buried in 'pauper's graves' in Brandwood Cemetery.  During the first wave of the epidemic in June/July we were still at war and although people were urged to avoid crowds they were still required to work in the industries that were crucial to the countries war effort.
More measures were required in November/December as the death rate soared, elementary schools were closed, and large assemblies were discouraged but closures were not enforced until late November.  Home visits by soldiers recuperating from their wounds were stopped to prevent the spread of the disease. There were reports of soldiers being refused entry to cinemas and even being turned away from St Andrews!!
Miss Bodley the Matron at Selly Oak Hospital appealed for volunteers as there was such a shortage of Nurses. By November 1918 some Nurses were returning from military service. VAD Phyllis Burn had worked in France but returned to the UK for treatment and recognising the symptoms chose to 'self-isolate' to protect her mother and sister. She died two days later aged 20.
Basil Hood was the Medical Superintendent of St Marylebone Infirmary. Hood made all the nurses wear lint masks and advised them 'not to interpose their faces too near the blast of those coughing'.  The nurses were prepared to take any risks when they were looking after their fellow nurses. Many of his nurses had been decorated for bravery, but by the end of December seven of his nurses had died of influenza and of the 850 influenza cases admitted to the hospital 187 had died. Mary Courtney, a probationer at Guys Hospital in 1918 noted that Nurses there who became sick were looked after in the 'Nurses Home'. Those that died are remembered in Guys Hospital Chapel.
Endell Street Military Hospital London had treated military influenza victims from October but with the Armistice, civilians began to be admitted. This hospital established in 1915 was entirely staffed by women, the majority former Suffragists and members of the Women's Social and Political Union. Its founders Flora Murray and Louisa Garret Anderson had run two small hospitals in France before they took over Endell  Street. It had 560 beds and during the war had treated 26,000 casualties. Of the civilians admitted some were already suffering from pneumonia, often the final stage of the illness.  By November and December 1918 there were as many as three deaths a day, a higher death rate than among the soldiers admitted during the war.
What has struck me most in writing this and April's Brumrations are the parallels between the 1918 Flu epidemic and Covid 19. I am far from convinced that we have learnt the lessons from history, but as in 1919 we will have a great task of rebuilding to return to anything resembling normal.
Richard Lloyd
 @LlanbadarnsRL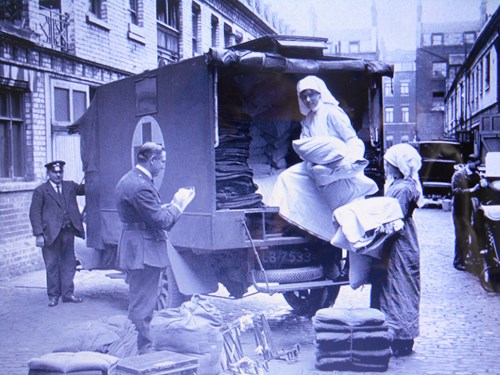 The Endell Street War Hospital, London